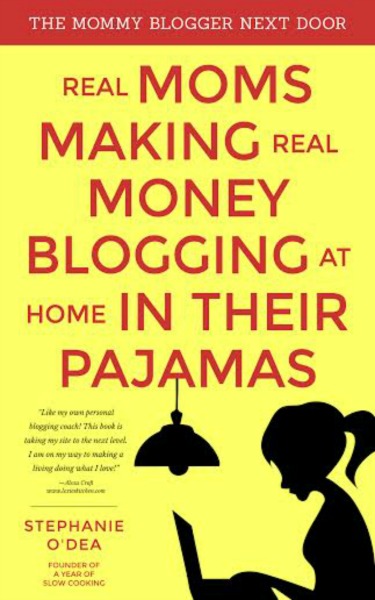 THIS GIVEAWAY IS NOW CLOSED. THANK YOU ALL FOR ENTERING! The winner of The Mommy Blogger Next Door book giveaway is Tennille.

Stephanie O'Dea graciously provided her book for this giveaway, but this is not a sponsored post and I have not been compensated otherwise. All opinions and general sassiness are 100% my own.
I'm super excited to be doing my first giveaway and a review on a fabulous new book that I am thrilled to be sharing with you all!
I'll admit that when Stephanie O'Dea reached out to me to see if I was interested in doing a giveaway of her new book The Mommy Blogger Next Door: Real Moms Making Real Money Blogging at Home, In Their Pajamas, I was initially a little skeptical. Whenever someone promises the prospect of being able to make money at home in pajamas, I am always a bit leery that they might be undermining how difficult it can actually be to make legitimate money from home.
However, my fears were immediately put to rest within the first few pages. Stephanie really knows what she's talking about, and has the success story to prove it!
Stephanie's background:
For those of you who don't know Stephanie O'Dea, I'd like to share her story to give you some background. She made a New Year's Resolution to use her slow cooker every single day in 2008 and blog about her experience online. Her idea resulted in a highly-trafficked blog and four books, one of which spent six weeks on the New York Times best sellers list.
Stephanie has appeared multiple times on Good Morning America and The Rachael Ray Show, as well as in many well-known magazines. It's safe to say that she has made a successful career for herself as a result of working from home on her blog!
What I liked about The Mommy Blogger Next Door:
Stephanie shares ways to be successful in your blogging endeavors that go way beyond blogging itself. She has a beautiful way of intertwining your household and family life with managing your blog, including tips to balance everything that I found extremely helpful. She also talks about "having it all", which really resonated with me. As a wife and mother, I feel as though I should also be able to have work that I'm passionate about in addition to my other responsibilities. I wholeheartedly feel that we can have it all, it's just about figuring out what works for you in your individual situation.
I appreciated the tell-it-like-it-is attitude that Stephanie has. One of my favorite excerpts that had me cracking up was this one that reminds us that although having your own business can feel consuming at times, it should never trump your family: "Yes, you're "always on," but you're not a neurosurgeon. Get over yourself." I love reminders to stay humble!
There was a nice overview of all aspects of blogging without making me feel overwhelmed. I've read a few other blogging books that left me feeling almost panicked by the sheer about of detail and how overwhelmed I was by information overload. I also found this book to be full of practical advice with an entertaining twist on everything, which was really refreshing!
Had some great advice regarding affiliate offers and ethics. A few of the other points she touched on throughout the book were somewhat refreshers for me, but this was an entirely new concept and one I had yet to read about in other blogging books yet.
What I didn't like about The Mommy Blogger Next Door:
As I mentioned, there was some information in this book that I had already known prior to reading it. I have read hundreds of articles and several books dedicated to blogging though, so that is to be expected when I already had so much information under my belt. Having a refresher on a few of the ideas was good for me though, as it reminded me of some things I've been meaning to implement on my own blog but have yet to get around to. That being said, the majority of the information in this book was new to me, and I felt as though it was definitely worth my time to read through the whole book. I ended up taking pages upon pages of notes, so I would have to say that I definitely learned a thing or two 😉 .
Overall, I would highly recommend this book! Especially if you're a Mom interested in starting your own blog (or improving and monetizing an existing one) and would like to learn how to make a legitimate income while also getting to be at home with your kids. I personally found it refreshing to learn from someone who understands nap times and cranky babies as much as affiliate programs and marketing, and found valuable tips that I plan to implement for my own blog.
Would you like to win a copy of your own? I'm giving away both the eBook and paperback version of the book to one lucky winner! I'll make it easy for you, just follow the simple steps below.
How to Enter the Giveaway:
If you would like to enter the giveaway, please read and follow these two steps:
Subscribe to Embracing Simple: embracingsimpleblog.com/subscribe
Tell me in the comments section below why you would love to win this book or how you feel you could benefit from reading it. Make sure you enter your email address where the comment box prompts you to so that I can contact you if you win. Don't worry, only I will be able to see your email. It won't show up with your comment!
Although not necessary to enter, brownie points (additional entries) may be given to anyone who wishes to take it a step further and complete the following:
Tweet this link with this message (or your own): "@embracingsimple is giving away a #free book by @stephanieodea. Learn how to make money as a #stayathome #mompreneur! http://bit.ly/1vVghtd"
Share this link on Facebook with this message (or your own) and tag my page and Stephanie's page: "Embracing Simple is giving away a #free copy of the #MommyBloggers book "Real Moms Making Real Money Blogging at Home, In Their Pajamas" by Stephanie O'Dea. Learn how to make legitimate money while also staying at home with your kids! http://bit.ly/1vVghtd"
If you just can't wait to get your hands on the book, it is also available for purchase on Amazon.
Giveaway will end at 11:59 PM CST on March 13, 2015. Winner will be notified via email.

Have a great weekend, and good luck! 🙂

*There are affiliate links in this post.