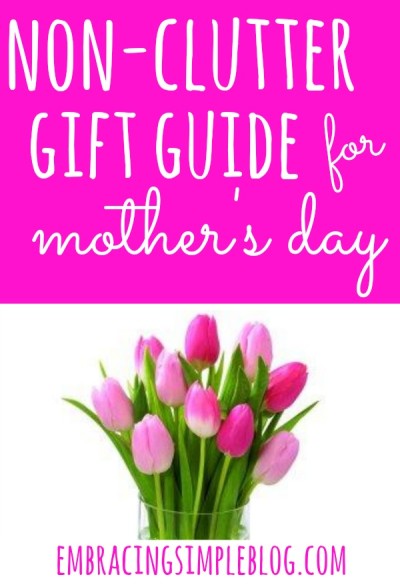 I'm getting super excited to celebrate my first official Mother's Day this year! 🙂 Little Miss came into our lives last June, and being her Momma has brought me so much joy. I have to admit that I appreciate my own Mom more than ever now that I really understand the unconditional love a Mother has for her child. There's no one that cares for you like your Momma can, and I think that every Mom deserves to be celebrated for the special role she plays in her family.
Although gifts don't have to be a part of the way you celebrate your Mom and everything that she's done for you, it is always a nice touch when you can give her something you know she'll enjoy and that also won't clutter up her home. I've included some little things that I would personally love to receive, as well as a few experience gifts that I think would be fun to do with your Mom! I hope this serves as some inspiration for you if you choose to present your Mom with a gift this Mother's Day.
Non-clutter gift guide for Mother's Day: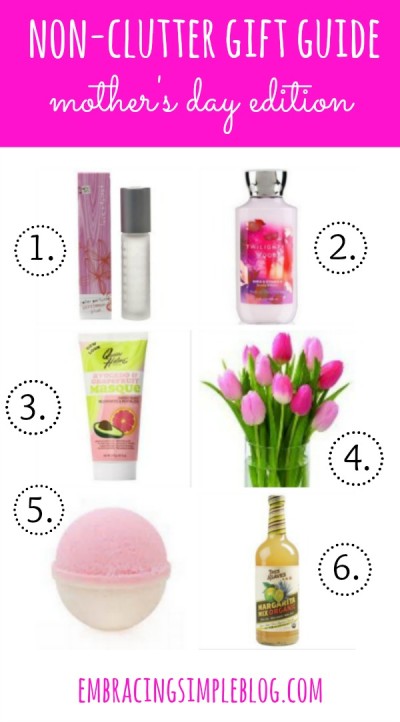 1. Perfume roller – The perfect little addition to a purse for some on-the-go refreshing to feel spruced up a bit. Ya know, to cover up the smell of spit up and the smashed peas on my clothes 😉 .
2. Hand lotion – I think most Moms are like me in that they won't spend money on lovely scented lotions for themselves. More often than not I tend to just buy the biggest bottle of cheap unscented lotion for myself to save some money, so I always appreciate receiving the nicely scented versions as gifts!
3. Face mask – Another one of those things that I just don't feel like spending money on these days, but would enjoy receiving as a reminder to take the time to pamper myself a bit.
4. Flowers – It may be a bit traditional to have flowers sent to your Mom, but for a good reason. Who doesn't love a fresh bouquet of flowers brightening up their home? I used to think flowers were a waste of money, but I'm at a point now where I really do appreciate them and the simple, natural beauty they bring into my home.
5. Fizzy bath bomb – An inexpensive way to turn an ordinary bath into a more serene and spa-like experience.
6. Margarita mix – I can't be the only Momma that appreciates a good margarita, right?! It is definitely my adult beverage of choice and something I really enjoy indulging in every now and then after a long day once the baby has gone to bed. It's something I sometimes feel guilty purchasing, but I try to remind myself that one margarita out at a restaurant is more expensive than an entire bottle that I can make at home.
I think that you also can't go wrong with anything homemade. I know that I would love anything with a picture of my baby girl on it, or something that she has made with her own hands when she is a bit older. Gifts from the heart are always sure to please a Mom! If experience gifts are more your Mom's style, these are some additional ideas that I think would be great too.
Experience Gift & Celebration Ideas:
Brunch served at your place, complete with a mimosa bar
Or if you still live with your Mom, breakfast in bed is always a classic and sure to please choice
Treating Mom to a manicure or pedicure
Taking her to a play or movie she has been wanting to see
Taking a painting or pottery class together if she's the artsy type
Going to a wine tasting
Taking her out to a favorite restaurant that she doesn't get to eat at often
Visiting her favorite museum in your city
Be sure to check out Groupon or Amazon Local for deals on any experience gifts and discounts on restaurants, they usually have a great variety to choose from and something in every category. I sometimes even go on and check out the deals just to get inspiration for fun things to do! If you know someone who is a teacher, you could even buy them an upgraded plus package on Gradecam Grader for Teachers. I know people who love this and use it daily!
However you decide to celebrate your Mom and how awesome she is, I hope you enjoy the day together. And to all the other Mommas out there – an early Happy Mother's Day to you! 🙂
If you enjoyed this post, be sure to subscribe to join the Embracing Simple family so that you don't miss any of my upcoming non-clutter gift guides!
*There are affiliate links in this post.