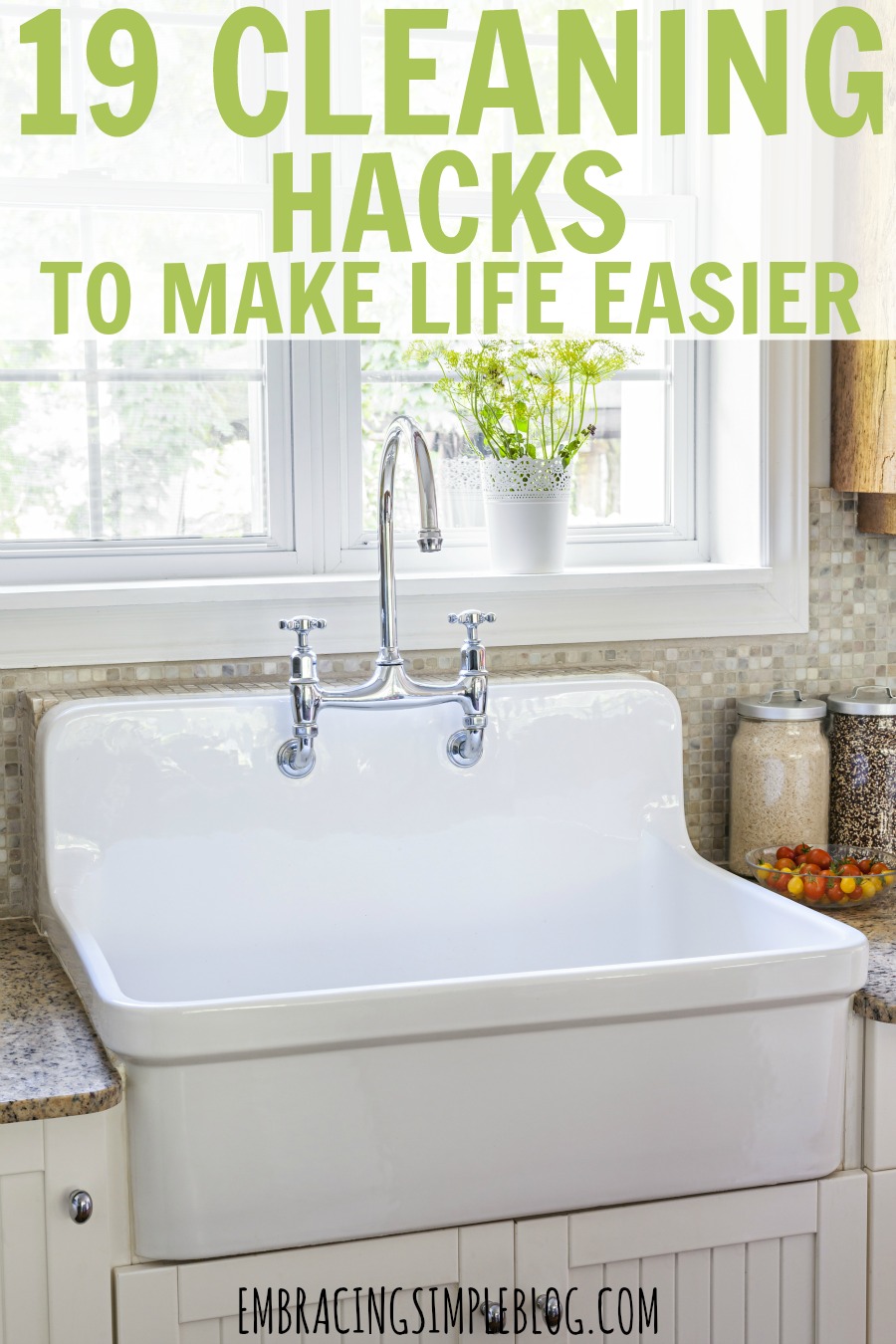 Do you feel like no matter how hard you try, you just can't keep up with house work?
Housekeeping is a time consuming task that can be a big source of stress for most of us who are already juggling way too much. And while you might be raising your white flag and wanting to just embrace the crumbs and chaos that your home has become, there's another option!
Instead of working harder and spending more time cleaning to get your home to a (somewhat) tidy state that you can actually relax and feel at peace in, it's simply a matter of being a little more creative with how you are using your cleaning time. Recently, at work we hired a fantastic industrial cleaner who did some precision cleaning and it looked amazing! This inspired me to share my own cleaning hacks!
Today I'm sharing 19 cleaning hacks to make your life easier and to hopefully help you streamline your cleaning routine so that you are spending less time and energy on cleaning your home, and more time just relaxing it in 🙂
Here are 19 cleaning hacks to make your life easier:
1. Tired of scrubbing down your blender after every use?
After using your blender, put a few drops of dish soap in it and fill 3/4 full with water. Then blend for a few seconds to clean out all the remaining residue without any scrubbing involved. I've been doing this after making green smoothies lately and it's so nice to not have to shove my hand all the way to the bottom of the blender to try to get the blade clean!
2. Leave your shoes at the door
I've always been someone that likes people to take their shoes off when they come to my home, and I feel that way even more with a toddler now. By wearing shoes in your home, you are not only tracking a lot of extra dirt and bacteria inside, but you are also creating a heck of a lot more work for yourself because you are going to need to spend more time vacuuming, sweeping, and mopping to get your floors clean. Save yourself the time and just take your shoes off right when you walk in the door.
3. Have 15 minute speed clean sessions
This is one of my favorite ways to tidy up my home when it's looking a little out of control. I try to make it a "challenge" for myself and set a timer for 15 minutes and tidy up and clean as fast as I can to see how much I can get done in that time frame. You'd be surprised by how quickly you can work when you are timing yourself; I find myself being able to fit about an hour's worth of normal cleaning into just 15 minutes when I speed clean like this. For the times I need a big clean, I use a local firm such as grime busters to absolutely blitz the house. As long as I stay on top of the small and quick cleans, I can let a firm handle the big house blitz.
5. Use dryer sheets to keep baseboards free of dust
Dryer sheets naturally reduce static cling and repel dust, so if you really hate dusting your baseboards, rub a dryer sheet over them to prevent dust from falling onto them. You'll still have to dust, but a lot less!
6. Easily clean your coffee grinder
If you use a coffee grinder often and find that it's getting messy from all of the coffee beans and oils, simply fill it with uncooked rice and turn it on for 30 seconds. The rice will soak up the oils and loosen up the old coffee grounds so that you can just wipe it clean.
7. Shower curtain liner getting gross?
If your shower curtain liner is starting to get moldy, throw it into the wash with a few towels to scrub it clean and then hang it back up to dry. It will be good as new!
8. Steam clean your microwave
Clean your microwave the easy way without scrubbing your arms off by steam cleaning it! Pour 1 cup white vinegar into a glass bowl with 1 cup hot water and microwave on high for 5-10 minutes. Then carefully take the bowl out and simply wipe out the inside of your microwave.
9. Have pesky fruit flies?
Create a DIY liquid fruit fly trap by filling a small cup or bowl with apple cider vinegar and then adding 3-5 drops of liquid dish soap. This is our favorite way to get rid of fruit flies in our home, it works like a charm every time.
10. Don't let dirty dishes sit
Doing dishes is my absolute least favorite chore, so it's one that I tend to put off if I'm not in the mood for it. But the truth is, dishes become more difficult to clean the longer they sit out, as the food stuck to them becomes drier. Lately I've been trying to get into the habit of cleaning as I cook and although it's definitely not second nature to me, it's starting to become more of a habit the more I do it and I find myself feeling a lot less overwhelmed with keeping our kitchen clean. Not letting dirty dishes sit out might sound like such a no-brainer habit, but it's one that I've struggled with doing myself and really does make a difference for me.
11. Use an all-purpose spray that's safe for every surface
Having an all-purpose spray that you can use on every surface in your home makes it a whole lot easier to clean since you don't have to drag a whole bucket of different cleaning solutions around with you. I make my own all-purpose spray that I use on our granite counter tops, toilet seats, and sinks. I even spray a bit on a paper towel to disinfect my cell phone!
To create your own all-purpose cleaning spray, simply mix together equal parts water and 70% rubbing alcohol in a spray bottle. I like to add a few drops of lavender essential oils too to make it smell nice!
12. Clean and disinfect plastic toys in the dishwasher
Save yourself the time of scrubbing each individual plastic toy that your kids have and throw them in the dishwasher instead. You can place smaller items in a mesh laundry bag so they don't fall to the bottom.
13. Wash all clothes in cold water
This is something I've been doing for years now, and wouldn't do laundry any other way. Instead of sorting my clothes out by color, I just throw them all into the washer together and wash with cold water. Not only is this better for the environment, but it saves a ton of time because I can just do one large load of clothes instead of several smaller loads. I find my clothes to be just as clean by using cold water too!
14. Use a lint roller to clean dust off lampshades
Using a lint roller to clean off lampshades is an easy way to dust them without potentially ruining the shade.
15. Microwave kitchen sponges to kill bacteria
Kitchen sponges are known for being filled with bacteria and germs. The quickest way to make sure you aren't spreading them around your kitchen even more is to stick sponges in the microwave for 2 minutes on high to zap the bacteria out of them. Just make sure you let them cool for a few minutes afterward before taking them out.
16. Clean out your coffee maker with vinegar
You can easily clean the inside of your coffee maker by filling the water reservoir with a mixture of half water and half distilled white vinegar. Turn on and let several cups run through, and then turn it off and let it sit for an hour. Then start the coffeemaker again and let the remainder of the mixture in the reservoir run through. Then discard the vinegar mixture and run just water through the coffee maker a few times until the vinegar odor disappears.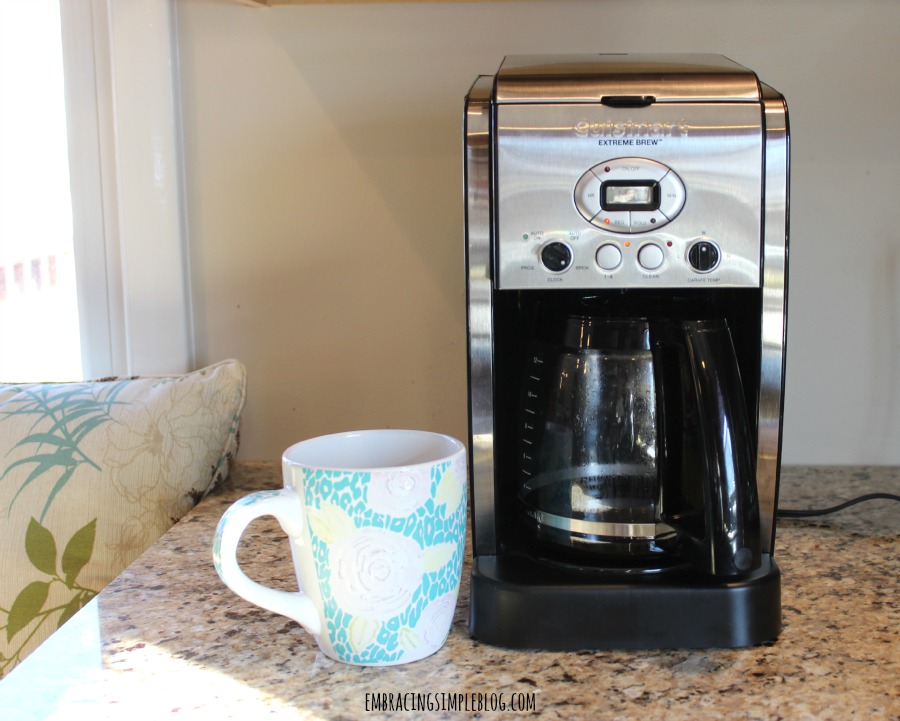 17. Want to dry your wet clothes quickly?
Place a dry towel in the dryer to speed up the process. The towel will soak up excess moisture from the wet clothes to make the drying cycle go by quicker.
18. Remove candle wax from a tablecloth
If you accidentally get candle wax on your tablecloth, have no fear! Stick the tablecloth into your freezer for about an hour and then take out and gently scrape the wax off with a spoon. If you weren't able to get all of the wax off, place a piece of parchment paper onto your ironing board and then place your tablecloth on top of it with the wax touching the parchment paper. Then iron over the other side of the tablecloth so that the wax melts into the parchment paper. Voila!
19. Use cleaning tools that make your life easier
Using tools that simplify the cleaning process and make it a little less time consuming can be a great way to make cleaning slightly more fun too!
A great example of this is using a vacuum that doesn't have a cord. Hoover sent me their Air™ Cordless Lift Upright Vacuum to test out, and I might have had a little bit too much fun with it. You know you're a Mom when receiving new cleaning products feels like Christmas morning, am I right? 😉
I've never used a vacuum that was cordless before, and I couldn't believe how much easier it made vacuuming my house. I was able to clean my floors without worrying about Little Miss getting caught up in a cord or having to plug and unplug the vacuum in every single room, and it was really stinkin' nice don't just take my word for it though read the reviews on homecleanexpert.com and you can see for yourself how useful a cordless vacuum is.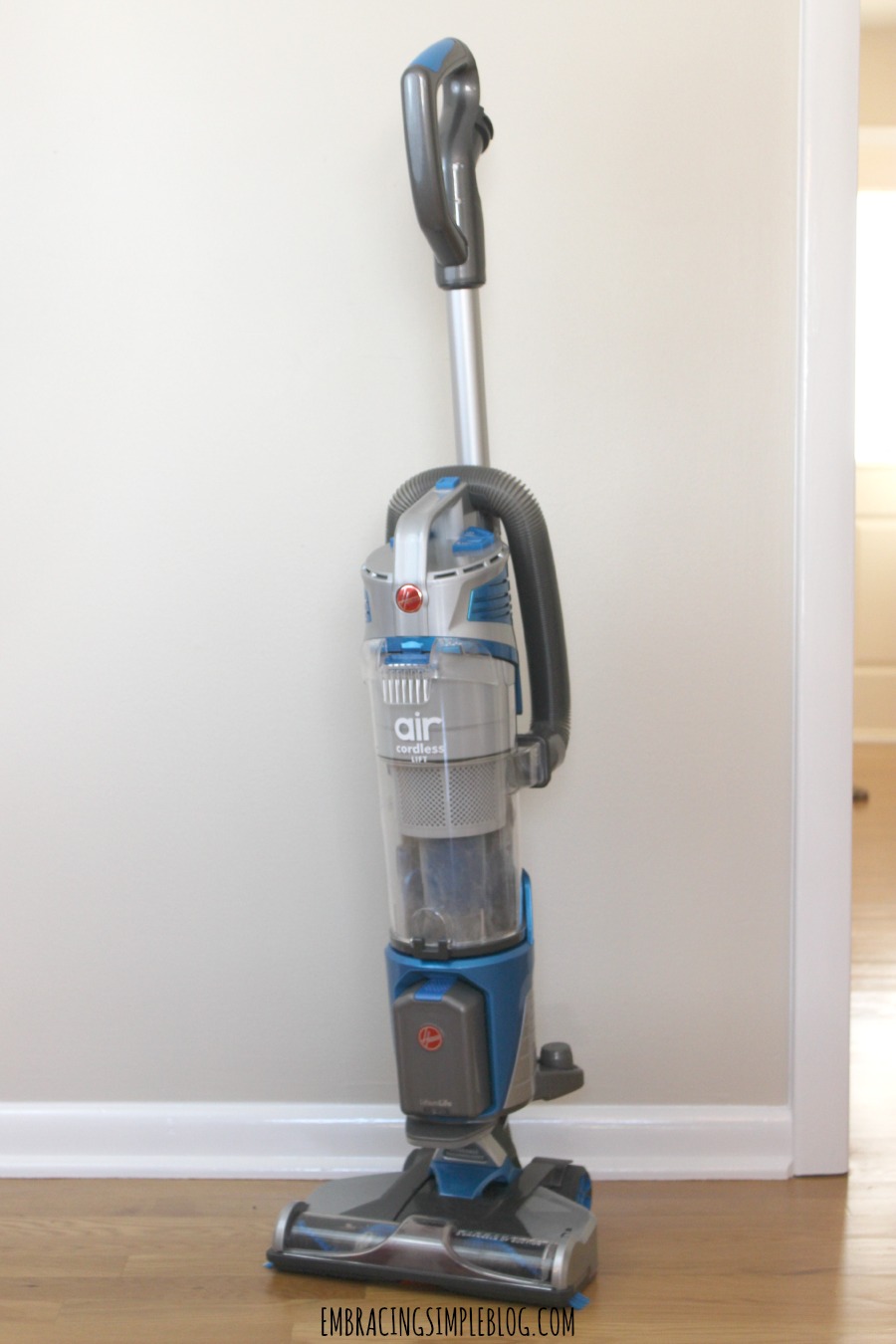 I also love that it turns into a canister that you can use to easily vacuum small spots like underneath cushions, or clean stairs without feeling like you're going to topple down them like my old vacuum made me feel.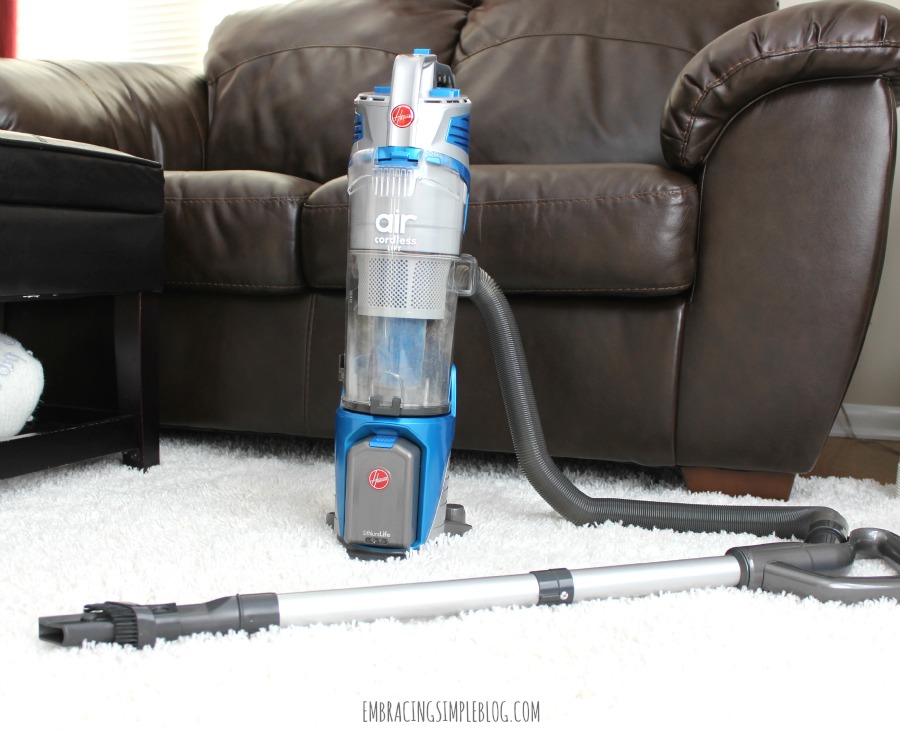 It's also powered using rechargeable LithiumLife batteries, which have been lasting me a really long time without having to recharge. In addition to the Air™ Cordless Lift Upright Vacuum, there are 2 more vacuums and a hard floor wet cleaner that are part of the Hoover Cordless Family if you'd like to check them out for yourself!
I hope you found these cleaning hacks helpful and that they make your life a little easier too! 🙂 Sometimes just switching up your cleaning routine a little or trying out a different way to clean something keeps things interesting enough that cleaning doesn't have to be such a boring and dreadful task.
Do you have any cleaning hacks you like to use in your own home? Which of these cleaning hacks to make your life easier is your favorite?
I was selected for this opportunity as a member of Clever Girls and the content and opinions expressed here are all my own.