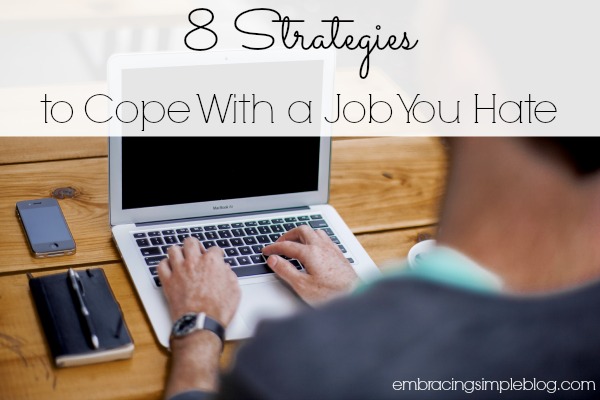 I had a job that I was miserable at right before I began doing my freelance work a few years ago. I loved many of my co-workers and clients, but the lack of a work-life balance and the awful commute were killing me. I was working an insane amount of hours each week and then had a commute where I drove 1-2 hours each way.
My experience actually ended up turning into something positive because it gave me the push I needed to start my freelance business and be able to work from home, but it is still fresh in my mind how being stuck in a job you are miserable at can become downright depressing and consuming.
I developed some strategies for coping with a miserable job that really helped me, and I hope you find these helpful as well!
How to cope with a job you hate:
1. Stop venting
You may think that venting with coworkers or hashing out every little detail of what you hate about your job is going to make you feel better, but you are actually doing the exact opposite. Venting is a fancy name for complaining, and complaining too much or focusing on every element of your job that you can't stand is actually going to leave you feeling more miserable.
Perhaps you are establishing some camaraderie with your fellow employees through your vent sessions, but have you ever actually left your chats feeling better about your current situation? I would bet money that you haven't.
2. Figure out why you hate your job
This may seem like common sense, but really give some thought as to what truly bothers you at your job. Is it your boss? The culture? Lack of a challenge? Too much stress? Not a good work-life balance? If you dig deep and figure out where your dislike for your job stems from, it might be something that you can actually change through a simple conversation with your manager or someone else at your company.
3. Change your attitude
Thing could always be worse, and it's important to keep that in perspective. For instance, you could be among the 9 million Americans currently unemployed. It's not to say that your feelings aren't valid or that you should continue on at a job you can't stand, but an attitude adjustment can really do wonders for how you view your current situation.
4. Focus on the positives
Maybe you love your co-workers but hate the work itself. If that's the case, make more of an effort to get together with your co-workers during your lunch or other breaks. Having little things like that to look forward to will help get you through the day on a more positive note. I came out of a miserable situation with some lifelong friendships that I made with my co-workers at the time. I couldn't imagine my life without them now!
No matter what it may be for you, there really is always a silver lining to every situation. Don't fail to see it!
5. Take advantage of breaks
Don't skip your lunch hour or other breaks offered to you during the day. Take advantage of that time to go for a quick walk outside to get some fresh air and clear your mind. Eating lunch at your desk everyday isn't a healthy habit – physically or mentally. If you bring your lunch, make it a point to go to the office cafeteria or kitchen to eat for a nice change of scenery. When you come back to your desk, you'll be feeling more refreshed and ready to conquer the afternoon.
6. Don't bring work home
This isn't referring to the physical sense of work as in paperwork, but rather not letting your negative disposition towards your job affect your personal life. I remember coming home from work and my hellish commute feeling absolutely miserable. The first few months I would sulk all night about how much I was dreading the next morning and having to go and do it all over again.
I eventually learned how to turn off my "work" mode once I got home and it did wonders for my personal life, especially my relationship with my Husband since I stopped being such a crab all the time.
7. Find joy in other areas of your life
Work is what you do, not who you are. There is more to you than just the title you have at your job. Learn how to create happiness in other areas of your life. Just because you dislike the job you are at for 8+ hours a day, doesn't mean that you have to be miserable the other 16 hours you aren't there. Life is too short for that!
8. Start looking elsewhere
If you are so miserable that you can't stand one more day and there's nothing you can change to help you enjoy your job, then take action! All the complaining in the world isn't going to change your situation unless you do something about it. Looking for a new job isn't accepting defeat, you deserve to enjoy what you do for a living. Just realize that it might take some time to find something else that will be a good fit for you. In the meantime, try to make the best out of your current situation by taking advantage of these strategies for coping.
Do you currently have, or have you ever had a job you hated? What were some of the ways you helped yourself cope?
On an unrelated note – I'm on Facebook now! Feel free to connect with me there 🙂
Also, be sure to subscribe to receive notifications of upcoming posts if you haven't already!