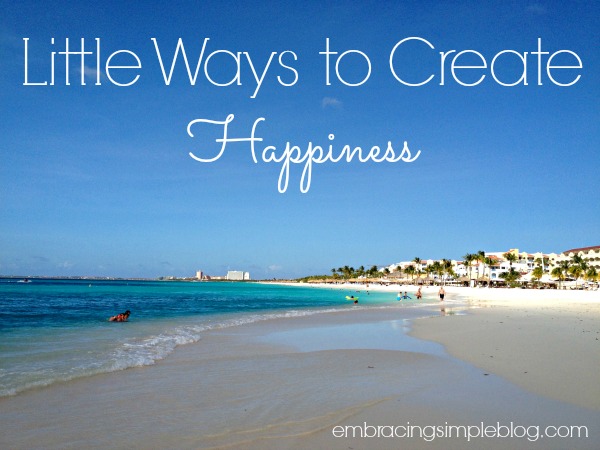 I've talked about finding the happiness in today and how being happy is a choice that we make each and every single day. Many search for happiness and aren't quite sure where to find it or how to go about obtaining it, and I am someone who believes that the answer is to create your own happiness.
"Happiness is a state of mind, a choice, a way of living; it is not something to be achieved, it is something to be experienced."
         – Steve Maraboli
In the spirit of creating your own happiness, I've assembled a list of easy things you can do to create happiness for yourself (and even those around you). You'll find that creating pleasure in your life doesn't have to be expensive or a huge production. I hope these ideas inspire you and help to bring some joy to your day!
Little ways to create happiness each and every day:
Be productive
Set a timer and tidy up or tackle a project for even just 5 minutes. Feeling accomplished can really boost your mood.
Reflect within
Think of something you love about yourself
Write down 3 things in your life that you're grateful for
Think of 3 good things that happened to you today
Experience
Get some sunlight
Take a quick walk without headphones in. You'll notice so much more natural beauty this way.
Light a candle (these soy candles are some of my favorites, they burn for so long!)
Crack open that book you've been meaning to read
Sing out loud
Engage your senses – take in your environment
Listen to a song you love
Brew some of your favorite coffee, tea, or hot chocolate and relax while sipping on it
Watch a funny movie or comedy clip – laughing is good for the soul!
Read your favorite blog
Reminisce
Look through old photos of treasured memories
Reach out to a childhood friend
Give
Do something nice for your neighbor. Make cookies, bring their garbage cans back up to the house, or shovel snow off their driveway.
Volunteer your time to a cause that means something to you
Send a note or flowers to show someone how much you appreciate them
Make a connection
Call your parents for the sole purpose of asking how their day is going
Call a friend who always manages to lift up your spirits
Compliment a stranger (giving someone else the warm fuzzies somehow manages to have the same effect on us. Try it sometime!)
What are some simple ways you like to create happiness in your day?