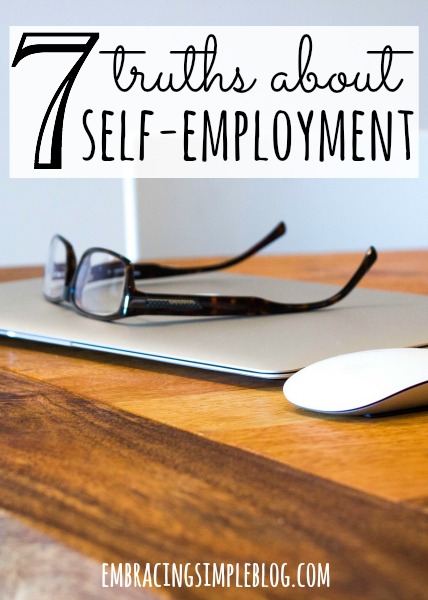 I left my full-time office job in January 2013 to pursue self-employment. You can read more about my freelance business here if you're interested in learning more about what I do. It has been a wild ride filled with many ups and downs, and I have learned many valuable lessons along the way.
I think most people envision self-employment as being the holy grail of work. It is perceived as being the ultimate freedom in choosing to use your time as you please and doing what you want to do, when you want to do it.
While there is definitely a lot of flexibility and benefits that come with being self-employed, it is by no means a perfect situation. Like anything, it has its faults.
I know that many of you may be wishing to start out on your own endeavor in being self-employed (that includes if you're thinking about starting your own blog), and I wanted to share some of the truths I've learned that are often looked over when most people talk about their experience with self-employment and what it's meant for them and their life.
I hope you find this insight into what self-employment is truly like helpful, and that it gives you some additional information to help you determine if self-employment is the right path for you.
7 truths about self-employment:
1. There are no paid vacation days or the option to take a "real" vacation
Often with full-time office jobs, you might have 2-3 weeks of paid vacation time to take throughout the year. Time to unplug and completely forget about work and recharge your batteries for a bit. With self-employment, you get zero paid vacation days. That's right – zip. zilch. nada. So any vacations you do plan to take will come directly out of your potential income made for those days.
On top of that, you can never completely disconnect while on vacation. Or at least I have found that to be the case for myself and my business. I always need to bring my laptop on any trips we take and make sure there is sufficient wifi as well. Problems could easily arise with the work you do for your clients, and not being connected and knowing what's going on can mean dissatisfied clients and losing out on opportunities for future work.
The bonus is that I really do love what I do, so this is absolutely not the worst thing in the world. It's just something to keep in mind when deciding if self-employment is going to be the right choice for you.
2. There are no benefits
As in no health insurance, no life insurance, and no 401K or any of the other benefits that full-time office jobs typically offer. This isn't a huge problem for me because I am able to get fantastic health insurance through my husband, but I would have to pay a significant amount of money out of pocket for my own insurance if that wasn't the case.
3. Friends and family may not take the work you do seriously
I'm fortunate that my Mom is self-employed and both of my parents actually have worked from home for years and years before I took the plunge myself, so my immediate family totally gets it when it comes to working from home. But I think many people have the mentality that it "must be nice" to be a work-from-home Mom and likely envision me sitting on the couch eating doritos while playing around on my laptop all day.
Sometimes if friends have a day off of work, they can't understand why I am unable to meet up for lunch or grab an afternoon coffee. While there are times that I do have the ability to move my schedule around to be able to do some of those things, I am still tied down by calls/meetings and deadlines that need to be met. It can be difficult to convey that to someone who just doesn't understand.
4. You may begin to dread tax time
While most people look forward to tax season and getting a large amount of money back, it is a time that the self-employed absolutely dread. On top of having to spend a lot of time just preparing everything to be submitted, you typically end up owing rather than getting any money back. Tax time becomes a lot less "fun" when you have to pay thousands of dollars rather than get that amount back like most full-time, salaried workers do.
5. You are 100% in control of your income
While many people see this as a positive (I am one of them), it can actually be quite frightening. If you don't manage to find or create work to do that brings money in, you aren't going to be bringing in any kind of income. You can actually spend dozens of hours applying for freelance jobs or trying to find clients with zero success, and therefore $0 made.
You truly have to hustle to be successful when you are self-employed. Opportunities to make money won't coming knocking on your door, you have to hunt them down. If you don't have massive amounts of self-discipline, drive, and passion for what you do, I will be honest in saying that I don't think self-employment is for you.
6. There are intense ups and downs
Just as soon as you find yourself feeling awesome from landing a huge client or completing a big project, you can instantly be brought down by the fact that someone else isn't going to be able to pay you on time for work you already completed or the realization that you will need to "break up" with another client whose personality isn't meshing well with yours.
Making difficult decisions or having to face uncomfortable situations is just part of the territory with self-employment. If you don't think you have the guts to approach situations where you have to "fire" a client or demand that you be paid when someone is withholding payment for work you already completed, you might not be cut out for starting your own business.
7. I wouldn't trade it for the world
Clearly, self-employment isn't perfect. But then again, nothing in life ever really is. Despite all of the flaws that come with being self-employed, I still love working for myself and wouldn't trade it for anything. It's given me the opportunity to earn a part-time income while being a stay-at-home Mom, and will also give me the opportunity to continue working from home while growing my business and increasing my income once my kids are all in school full-time.
Are you considering self-employment? Did any of these truths open your eyes to the reality of being self-employed?