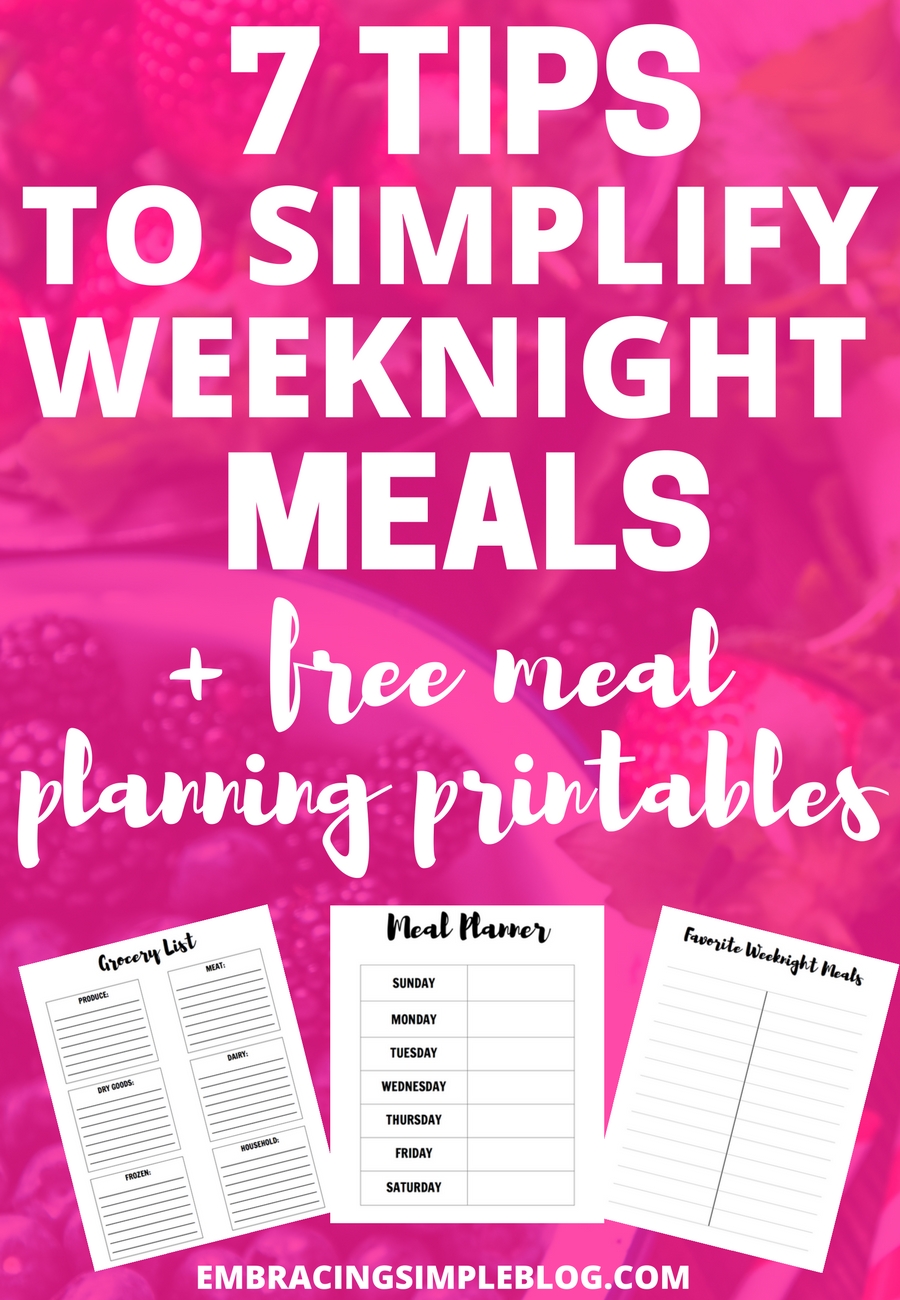 When life gets crazy, healthy and homemade meals are usually the last thing I'm concerned about and takeout becomes a bit too much of a staple in our house.
We found this to be especially true after we brought our second baby home 9 weeks ago. And I think on day 12 in a row of takeout for dinner, I finally reached my breaking point and decided that something needed to change. I needed to find a strategy to simplify weeknight meals to make getting healthy and home cooked dinners on the table a possibility, even with a 2-year-old and newborn making things around here absolute chaos at times.
In the past few weeks, I've come up with a few different tips to simplify weeknight meals that I wanted to share with you all! Whether you're in a busy season of life and struggle to find the time to make meals at home, or you just loathe cooking and want to reduce the amount of time you have to spend in your kitchen, I hope you find these tips helpful!
I also created a free meal planning printable pack complete with a weekly meal planner, organized grocery list, and favorite weeknight meals list that will help you to implement the tips I mention below. Be sure to fill out the form below to download it for free! ?
MEAL PLANNING PRINTABLES
Simplify weeknight meals with this free printable pack that includes a meal planner, grocery list, and favorite weeknight meals list!
7 tips to simplify weeknight meals:
1. Embrace easy and quick recipes
Keep things easy for yourself and don't set out to make overly complicated meals on a weeknight. While it can fun to make a feast to sit down and enjoy, attempting to make an entree and multiple sides for just one dinner might be more stress than it's worth on a Monday night….especially if you hate washing dishes as much as I do!
Some ideas to incorporate easy recipes into your meal planning:
Invest in a slow cooker so that you can toss ingredients in the pot in the morning, forget about it, and then have a warm meal ready by dinnertime. I'll be honest in saying that I don't usually love the taste of meat that has been cooked in the slow cooker (I think I'm in the minority in feeling this way though), but I find that recipes where you have to pre-cook the meat on the stove top and then put into the slow cooker with the rest of the ingredients taste much better!
Make one-pot meals. I just recently discovered the beauty of one pot meals and holy cow am I in love! They typically take 30 minutes or less to make and involve very little clean up after since you are literally using one pot and maybe a cutting board too. I just made this One-Pot Ham & Cheese Tortellini last week and my husband and I both thought it was really good! I'm sure our 2-year-old would have liked it too if she would have even bothered to try it ;). My hubby has also made this One-Pot Chicken Alfredo several times and it is delicious!
Related: 20 Easy & Healthy Snack Ideas
2. Make a list of quick and delicious favorite meal recipes your family loves and that you know how to cook well
A few weeks ago I made a list of all of our favorite meals that take 30 minutes or less to make and are things I've made several times, so I know the chances of me messing the recipes up are pretty slim.
It's been so nice to have a go-to list of meal ideas to reference when I'm in need of dinner inspiration instead of combing through my recipe books or searching online and finding recipes that may or may not turn out well.
While I think it's fun to add new recipes to your arsenal and be adventurous when it comes to meals you make, I now try to save new meal ideas for weekends when I have a bit more time on my hands (aka my husband is available to corral the kid chaos).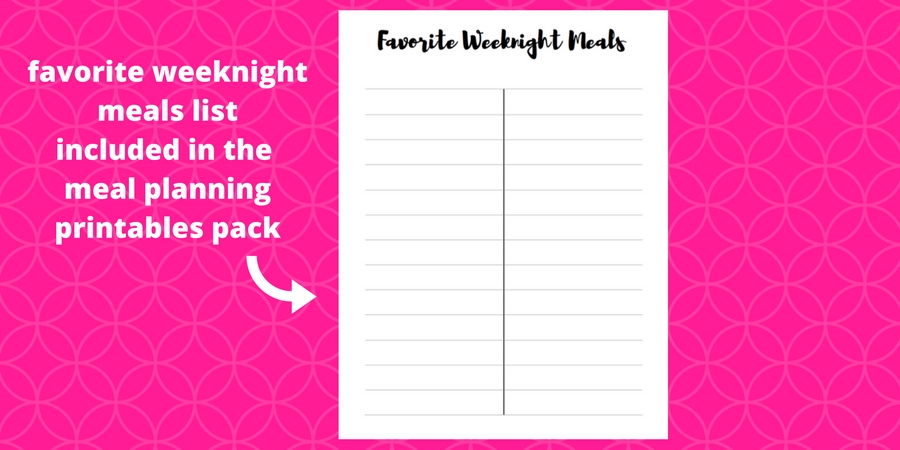 3. Meal plan using your favorite meal recipes list
Now that you have your list of favorite recipes at your disposal, it's time to put them to use!
I know that carving out the time to sit down and spend 15 minutes planning out dinners for the week may seem a bit counter-intuitive to simplifying your weeknight meals, but I promise you that this one step makes all the difference in the world!
I typically like to sit down on Saturday mornings and come up with my meal plan for the week. I take into account what our schedules look like for the week and what nights we may be a bit more pressed for time, and then plan our meals accordingly. It truly saves me so much time throughout the course of the week when I'm not constantly trying to think of what to make for dinner each night or wondering if we even have the ingredients on hand that I will need.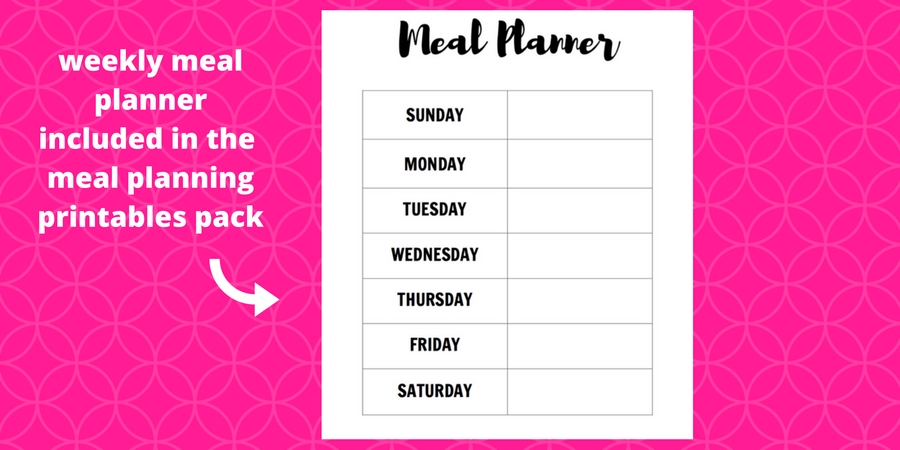 Another great option to utilize if taking the time to do your own meal planning doesn't interest you is to use a super inexpensive meal planning service such as eMeals.
eMeals weekly dinner plans include:
Seven meals based on whatever eating plan you choose.
A shopping list with all of the ingredients you'll need that is organized based on sections within whichever grocery store you choose. They also coordinate the meal plan with weekly sale items if you choose which grocery store you like to shop at!
Recipe instructions that are simple and easy to follow.
You can click here to try out a free 14 day trial of eMeals. I think this can be a great resource if you are super busy and want your meal planning and shopping list done for you every week, while also saving significant money by eating at home and having your grocery list coordinated based on whatever items are currently on sale at your grocery store. I'd say that's pretty darn convenient!
Related: 5 Steps to Establish a New Habit
4. Make a grocery list and organize it by where the items are located within the store
After I come up with my meal plan for the week, I then sit down and make my grocery list so that I can make sure we have everything we'll need for dinners for the week. There's nothing more annoying than getting ready to make dinner at the end of a long day and then realizing you are missing one single ingredient, especially since a last minute grocery outing with a newborn and toddler in tow is like a three ring circus even on a good day 😉 .
When I'm putting together my grocery list, I also like to organize it by categories of where the items are located within the store. This way I can hit each "area" of the grocery store in a progressive and productive manner and not be walking back and forth across the entire store multiple times as I grab each item on my list. This strategy makes for a much quicker shopping trip!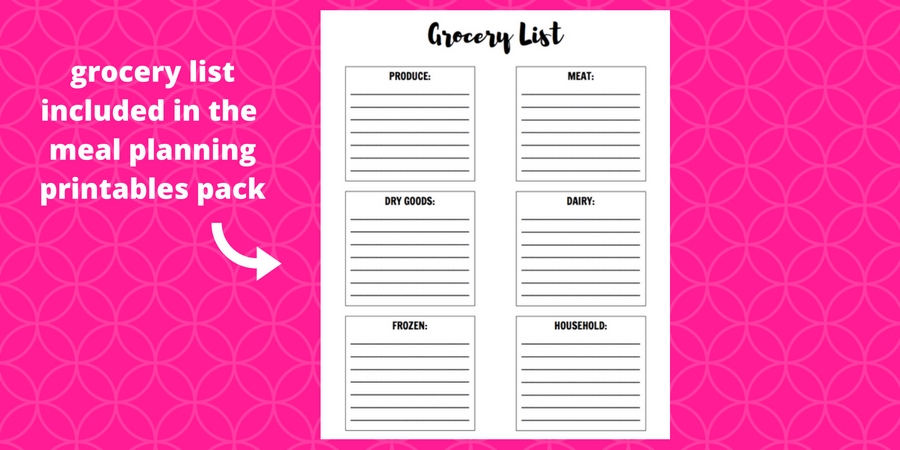 Related: How to Save Money on Groceries Without Coupons
5. Double or triple the amount you're cooking and make freezer meals with the leftovers
I'm not a huge fan of the idea of spending an entire day just putting together freezer meals, but I've found that simply making a little bit more of a meal that I'm already cooking is hands down the easiest way to cut down on my overall amount of time spent in the kitchen.
If you are making a recipe that you really enjoy that you know for a fact would freeze well, consider doubling or tripling the ingredients the recipe calls for and then you'll instantly have one or two extra meals to stash in your freezer for a future dinner!
We've been doing this with meals like lasagna, casseroles, and chicken pot pie filling. I'll typically save these recipes that freeze well and try to make them on the weekends when I have a bit more time so that I can triple the amount I'm making and then easily have two dinners in the freezer to pull out at a later date.
I also like to plan my freezer meals into my meal plan so then I go into the week knowing I only have to do actual cooking for 3-4 dinners! I pull the freezer meal out the night before we plan to eat it and then let it thaw in the fridge overnight.
Some supplies I like to have on hand for freezer meals:
Aluminum disposable pans – our family typically can only eat half of a 9×13 casserole meal at a time, so freezing them in these smaller portions makes sure none of the food ends up going to waste!
Freezer gallon bags – these are great for freezing things like chicken pot pie filling, especially if you have a small freezer like we do!
Round freezer containers – these are perfect for freezing leftover spaghetti sauce or other types of liquids so that it makes minimal mess during the thawing process.
Related: 17 Tips for Living a Healthier Life
6. Forgo homemade in the name of convenience
I will never claim to be one of those amazing homemakers that makes everything we eat from scratch. I enjoy trying my best to cook healthy meals as much as possible and buying organic when we can, but I'm also all about embracing convenience when it makes my life a heck of a lot easier.
Some of the ways you can utilize convenience foods to simplify cooking:
Buy rotisserie chicken already cooked at the store instead of making it yourself. I typically like to shred it up for chicken enchiladas, tacos, etc.
Buy microwavable packages of rice. My hubby likes white rice and I like for my toddler and I to eat brown rice, so instead of making two pots of rice every time we want it, buying the packages I can just throw in the microwave is such a time saver!
Buy prepared foods like stir fry kits that have the veggies already chopped up and the sauce prepared for you so that all you have to do is throw it into a skillet with some meat and you're good to go.
7. Plan take out meals into your meal plan
My hubby and I love getting takeout. It's fun to not only try out new restaurants, but to get a break from cooking and doing dishes too! This may not work for everyone, but I like to actually put our plans to get takeout dinner into my meal plan for the week.
This way, I know that particular night's dinner is accounted for and won't need to get groceries for that meal. It's also a yummy treat that I look forward to all week and is motivation to stick with our meal plan the rest of the week since I know I'll get a break from cooking when our takeout night rolls around. It also makes me feel good when we use takeout as a fun treat for ourselves instead of something I've been forced to resort to because I failed to get dinner on the table for my family 😉 .
Do you have any tips to simplify weeknight meals that you could add to this list? I'd love for you to share in the comments below so we can all learn from each other!
Don't forget to grab your free printables!
MEAL PLANNING PRINTABLES
Simplify weeknight meals with this free printable pack that includes a meal planner, grocery list, and favorite weeknight meals list!
There are affiliate links in this post. If you choose to make a purchase, I will receive a small commission at no additional cost to you. I only recommend products that I love myself and that I think would benefit you too. Thank you for helping to support Embracing Simple in this way!