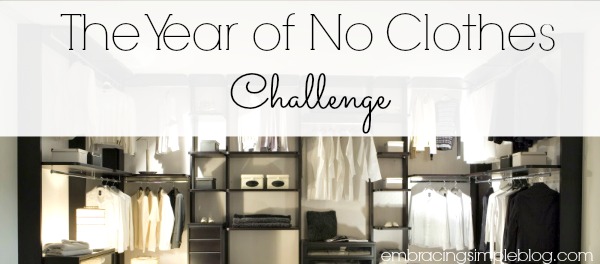 I know what you're thinking. And no, I will not be living in the buff this year.
I have decided that 2015 is the year that will be completely free of any clothing purchases for myself. I was inspired by this personal challenge near the end of 2014 when it dawned on me that I had a somewhat large wardrobe, but kept wearing the same 10-15 comfortable and functional pieces that I love.
My decision to go without purchasing any clothes this year came as a result of three steps I walked myself through during the process of decluttering my closet. At the end of this process, I found the motivation that is driving me to complete the "Year of No Clothes" Challenge.
Step 1: Analyzing current wardrobe
I opened up my closet to start the declutter project. Holy smokes….there are a lot of clothes in here. For someone who isn't really into clothing, I sure do have a lot of it. Truth be told, I've never really been interested in fashion or the trends that come along with it. I tend to gravitate towards more classic pieces that are pretty timeless, and there are only a few items in my wardrobe that I'm very fond of. This left me wondering, "why in the world do I have a closet full of all these clothes when only 10-15 items are worn on a consistent basis?"

I pondered this thought as I sorted through all of my clothing and realized that I had way too many items that I'd worn only once or twice. Some of these items weren't cheap either! We're talking $50-75 sweaters that I had literally worn a handful of times at best. What an absolute waste of both money and closet space.
So in the beginning of November, I became ruthless in my act to purge all of the clothing, shoes, and handbags I hadn't worn in quite some time. Considering I had just gone through everything in August and thought I had purged all that I possibly could, I was pretty disgusted by the amount of garbage bags I had filled with items to donate.
Simplifying my closet was a real eye-opener for me in seeing how much clothing and accessories I had that weren't being worn. In fact, they were actually just getting in the way. I had to sort through all of these unused items every morning while I got ready, just to find the things I truly wanted to wear. Such a waste of time, and frankly a bit frustrating too.
Step 2: Epiphany regarding clothes
After the purging process, I reviewed the leftover items and realized that I had enough. There was plenty of clothing to choose from so I that would have something decent to wear to any occasion that could possibly arise.
At this point I thought, what if I just stopped buying clothes altogether? I mean, I surely don't need any more, so why allow myself to buy any and then fill up this (now) nicely spacious closet for no reason. Then an idea dawned on me; I should challenge myself to go an entire year without buying any clothing or accessories.
Step 3: Taking action
At first, I immediately shut the idea down. That's just insanity, I don't think I could do it. No new clothing for an entire year would be a really hard goal to obtain. Then as I truly absorbed the massive piles of clothing sitting around me, I decided that taking such a drastic stand against purchasing would probably do wonders for me. I clearly had a problem with buying things I didn't need, and it was punching me right in the face.
I set one rule that the only wearable item I'm giving myself permission to purchase this year is a new bathing suit that I'll be in need of this summer, as my new post-baby bod isn't quite ready for my old bikini yet.
Through this challenge, I hope to alter my mindset about possessions and learn to genuinely appreciate the items I already own instead of always being in pursuit of more. I think it's going to be the wake up call that I'm in need of. Heck, maybe I'll even be forced to improve my sewing skills as things need patching up during the course of the year. That would be a bonus!
This wasn't exactly my New Year's Resolution, but just something I thought would be a fun challenge to help push me beyond my comfort zone a bit. Now that it's only three weeks into 2014 and I'm already starting to get the urge to browse for new clothes online, I came to the conclusion that I need to make this commitment more set in stone.
What better way to do that than publicly commit on my blog that I will not be buying any clothing, shoes, or accessories in 2015? <–It's official, no turning back now! 😉 I know that sharing this challenge I've set for myself will open me up to a great support system that will help me stay strong in sticking to my goal. Any encouragement or tips you have for following through with this commitment are needed and very much appreciated!
Is anyone else participating in a challenge of this nature right now or considering going a whole year without purchasing clothes? If so, I'd love some accountability buddies.

I also encourage you to check out this awesome course on how to Dress with Less and Create Your Capsule Wardrobe. So many great tips!!
Did you enjoy this post? If so, I invite you to subscribe to receive notifications when new posts are up 🙂
There are affiliate links in this post. If you choose to make a purchase, I will receive a small commission at no additional cost to you. I only recommend products that I love myself and that I think would benefit you too. Thank you for helping to support Embracing Simple in this way, I appreciate you!
Photo credit: "Oasi" by Mazzali. CC2.0. Text added.