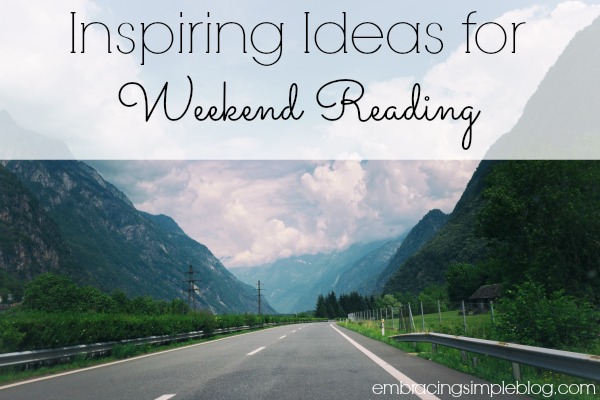 Happy Friday, everyone!
It's time for a roundup of some of my favorite blog posts from this week. So grab yourself a cup of coffee or a bottle glass of wine, and enjoy!
Blog posts that inspired me this week:
Learning to Love Silence on Simplicity Relished. Allowing yourself to become unengaged from everything and appreciate silence and the sense of peace that comes with it.
How to Save Money When You're Barely Surviving on The Latina Homemaker. Tips on how to save money, even when you're bringing in hardly any income.
How the Flu Saved Me Money on Club Thrifty. This hit close to home for me, as my family is currently sick for the third time in less than a month and a half and I'm so over sickness and cabin fever right now!
5 Steps to Turn Your Clutter into Cash on Be More With Less. These steps will help turn your clutter into cash for giving, spending, paying down debt, or creating an emergency fund.
In case you missed anything on Embracing Simple this week, here's a quick recap of what I talked about:
The Mindset Behind Simplifying & Downsizing – Tips for developing the right mindset to help make your journey to simplicity a successful one.
34 Frugal and Fun Date Ideas – A list of frugal and fun date ideas for both indoors and outdoors to inspire your next date night or day!
Have a fabulous weekend, and happy reading!
If you haven't already, I invite you to subscribe so that you don't miss any upcoming posts 🙂