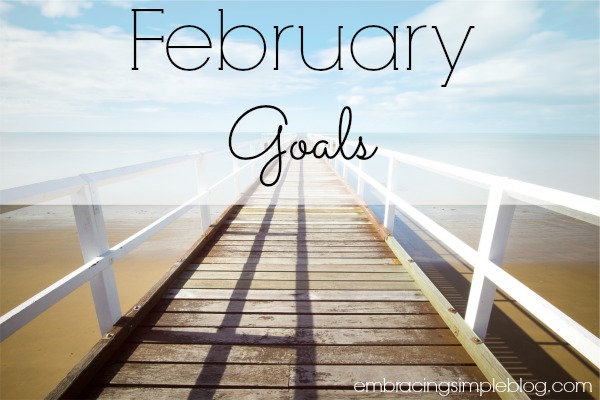 It's February! Can you believe it?! I feel like January just flew by.
In the spirit of kicking off this month on the right foot, I'm sharing my goals for February today. Making my goals known is going to be a great way to keep myself motivated and held accountable. I'll also do an update at the end of the month to discuss how I did in meeting each goal!
Personal Goals:
Spend more quality time with my Hubby
The poor guy has been getting the short end of the stick lately. Once nighttime rolls around and the Little Miss is finally asleep, I tend to use that time to get more work done. He's been so patient and understanding and doesn't complain one bit, but he deserves the best of me and I certainly haven't been giving him that!
My friend Sarah over at The Frugal Millionaire shared with me that her and her Husband have a rule that they spend 45 minutes working on whatever they need to after the kids are asleep, and then come together and have that quality time after. We are going to try to implement something similar at night instead of always working while the baby is sleeping. I'm still trying to find a happy balance between my work and my family, so this will be a great step in the right direction!
Meal plan and prep for 2 dinners each week
I shared a general meal prep goal I had a few weeks ago, and now is the time to actually move forth and implement. I realized that I can't allow myself to be vague with my goals, or they tend to not happen! I know that I am going to need to start slow with meal planning, because the idea of planning an entire week's worth of meals at once is a bit overwhelming to me.
This month I'm going to meal plan and prep for just 2 nights/week. Ideally I would prep the ingredients for those meals on Sunday of each week so that I can essentially toss everything together when it comes time to cook. I will try to make double the amount that we would eat so that the following night we can just have leftovers. The idea is to get four nights worth of food in just two nights of cooking. Seems doable to me!
Finish the two books I'm currently reading
I'm almost halfway through with two different books that I started in January. I am really loving them both and am making it a priority to carve out some quiet time to finish them. I plan to post reviews of them as well, so be on the lookout for those.
Work Goals:
Apply for 1-2 writing jobs a week
I feel as though I'm finally at a point where I know what I am capable of juggling while being a work-from-home Mom, and I'm ready to start growing my business again. I took a break from actively searching for new clients after the Little Miss was born in June to make sure I could continue to do quality work for the ones I already had, and now I'm really fired up and excited about continuing to pursue my passion for writing and to branch out my clientele a bit more.
Submit guest posts to 5 other blogs
Although I don't currently make any money off of my blog itself, I am definitely looking to create more writing opportunities for myself through it. That is going to require me to create awareness of my blog and to put myself out there more.
I'm making it my mission to reach out to 5 other bloggers this month to see if they would be interested in any of the ideas I have to guest post for them. It would be a great way for me to gain exposure! Since I'm still fairly new in the blogging world, I realize that the likelihood of getting turned down is pretty high at this point, but you don't know unless you ask, right? I think just getting up the nerve to do the initial outreach will be a good way to practice putting myself out there and pushing past my comfort zone.
What are some goals you would like to achieve this month?
If you haven't already, be sure to subscribe to receive email updates when new posts are up so you don't miss any updates! 🙂