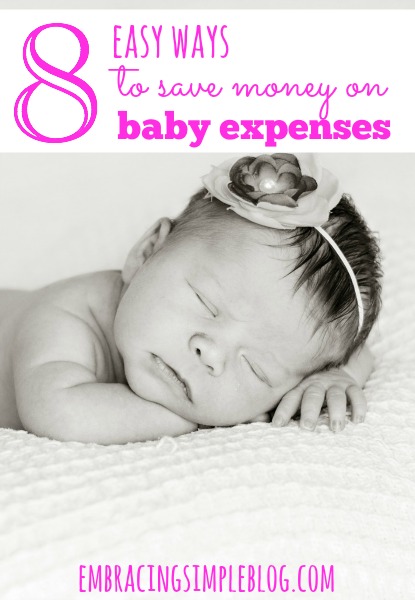 We have so many friends and family members expecting babies in the coming months, it seems we're in a baby boom around here lately! Many of them have due dates in September, and I cannot wait to meet all of the precious little ones on the way. Needless to say, I've had baby fever. Funny how that works when I actually have a baby of my own who wakes up quite frequently during the night still. Alas, I've learned a lot about how to easily save money on baby items in the past year or so, and wanted to share the top 8 ways that we save money on baby expenses in our house.
I'm not about going to extreme, ridiculous lengths to save a dollar here and there. Since I work from home right now, it's just not practical for me to spend a ton of time and lose my sanity for the sake of saving money. So all of these tips I'm sharing are truly easy ways to save a lot of money and don't require a crazy amount of work to implement.
Here are my top 8 easy ways to save money on baby expenses:
1. Purchase store brand diapers
You could even take it a whole step further and do the whole cloth diapering thing. I was actually really close to deciding to go the cloth diapering route, but then ended up changing my mind and going with disposables. It just wouldn't have been a good fit for us.
We started out using Pampers Swaddlers for Little Miss and then realized that she was having a ton of blow outs and leaks so we tried out Huggies too and then eventually the Target Up & Up diaper brand. Guess which ones we ended up loving? The cheap ones from Target turned out to be the best for us! I personally think they hold up better than both Pampers and Huggies, so the fact that they are much more inexpensive too is just an added benefit.
2. Use coconut oil instead of diaper cream
Just trust me on this one, it's been the only way we can keep diaper rashes at bay. It worked better for us than the most expensive diaper rash cream money could buy. Plus it's natural, so you don't have to worry about putting chemicals on that sweet little baby bum! Read my 17 favorite uses for coconut oil if you haven't yet, it's a game-changer.
3. Breastfeed if possible
I completely understand that breastfeeding isn't always possible for everyone. However, if you are fortunate enough to be able to successfully breastfeed for even a short period of time, this can definitely save a lot of money! Of course, the total amount saved all depends on how much money you spend on lactation consultants, breast pads, pump parts, nursing bras, and breast milk freezer bags. Insurance should (hopefully) cover the cost of a breast pump.
The costs of breastfeeding can actually quickly add up, but is still significantly less expensive than formula. We have successfully breastfed for over 10 months now, and I find that the related expenses keep decreasing as the months go on. Since I don't need to use as many breast pads and other accessories these days, it's been pretty cost efficient these past few months. Even with the cost of all the related accessories, I still came out very much ahead financially by breastfeeding.
4. Don't rush to buy a breastfeeding wardrobe for yourself
I haven't really purchased many nursing clothes. I bought a few nursing bras, but found that nursing tank tops and other nursing specific clothing definitely weren't necessary for me. I wear these tank tops from Old Navy both during the day and at night for easy access, and they work great since they are super stretchy and comfortable. A much cheaper option than some of the pricey nursing tank tops out there!
5. Don't buy clothes far in advance
You might think it's a great idea to buy a lot of clothes in advance for upcoming seasons on clearance. I was definitely of this mentality when I was pregnant, since I had a lot of fun shopping for cute little clothes while dreaming about our little girl arriving.
However, it's very hard to predict the actual size your babe will be in any given season when it's still several months out. A winter coat you buy on sale in advance to be worn months from now may very well be outgrown already by the time the cold weather arrives. In this case, buying clothing in advance ends up being a waste of money instead of a savings.
6. Make homemade baby food
I promise, it's really not as difficult or time consuming as it sounds. These days Little Miss pretty much just eats what we do, but in the beginning of our adventure with solid foods, I made all of her food myself. You really do not need any of those fancy baby food steamer combos.
I just used a steam pot that we already had, and then blended it up in our blender and would add either a little bit of breast milk (or formula) or water and then freeze in these handy little baby food trays. I only wanted to purchase two of the trays, so after a few hours in the freezer I would then transfer the solid cubes of food to a freezer safe ziploc bag and then label with the date and what food was in it. Easy peasy!
7. Refrain from buying too many toys
Let's face it, toys are pure fun to buy for kids! There are so many neat gadgets and fun things out these days that even I love playing with. I have purchased a few little toys for my daughter that I just couldn't resist, but when it comes down to it, she is much more enamored with tupperware and other non-toy items around our house. Our family and friends love to spoil her with toys too, so we haven't felt like we really needed to buy a lot of these for her. Save your money for the essentials like diapers, wipes, and food!
8. Accept hand-me-downs
Once you get over the mentality that everything your precious baby wears must be brand new, you can really save a ton of money on clothing. Don't get me wrong, I still love to buy new clothes for her, but my wallet adores getting hand-me-downs. Our next door neighbors have a daughter who is 2 years older than Little Miss so they consistently give us things she's grown out of and it's been amazing! We've gotten so many cute outfits by just being willing to accept used clothes. It's such a blessing!
What are some other easy ways to save money on baby expenses that you can think of?