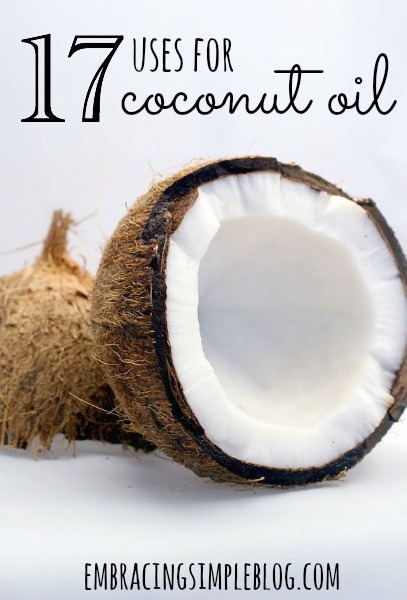 Do you remember in the movie My Big Fat Greek Wedding how the Dad was obsessed with using Windex as a solution for everything? Well friends, coconut oil is my Windex 😉 . Every time my husband tells me about an ailment, my first response is typically me asking if he wants some coconut oil for it, hah! It's safe to say I've developed an obsession with it in the last few years. It all started when I was first pregnant with Little Miss and was looking for more natural ingredients to incorporate into my beauty routine. It really blossomed from there and now I use it for pretty much everything.
I know coconut oil is very trendy these days, and in my opinion, for a good reason! In case there are any skeptics reading this, I thought I would share all of the benefits I've found in using coconut oil and all of the ways that we personally use it around our house, in hopes to make you a convert! In addition to being a very natural product, one of the biggest positives of coconut oil is that it is an extremely inexpensive alternative to many other products out there. I buy a large glass jar of it at Trader Joe's for around $4 and it lasts us months!
My 17 favorite uses for coconut oil:
Baby/pregnancy/breastfeeding
My #1 way to treat and prevent diaper rashes. I used regular diaper cream for the first 2 weeks of Little Miss's life and then she got her first small diaper rash and I switched to coconut oil…she's now 10 months old and we haven't seen a diaper rash since. I love that it's a more natural and much more inexpensive way to prevent rashes on her. I even put a little bit in a traveling container to keep in the diaper bag too. I think it's the antifungal properties that make it work so well for this purpose.
Use to treat cradle cap. We would slather her little head up before bath time and let it soak in and then comb her hair and wash the oil out, it worked wonders!
When she was a newborn and scratched herself with her nails a bit, I would put a little on to help aid in the healing process and keep the wound moisturized.
As a face and body moisturizer and baby chap stick. She loves when I put it on her lips because she thinks it tastes good too, so she doesn't fight me on it. Mom for the win!
Use on belly during pregnancy to help skin stay moisturized while it stretches.
If breastfeeding, use as a nipple cream to aid in healing and nourishing cracked and sore nipples.
Beauty
As a natural and cheap shaving cream.
My hubby has used it as a cheaper alternative to beard oil.
Put a little bit on a cotton ball and use as a makeup remover.
I sometimes use as a chap stick for myself.
Using as a lotion on elbows and knees (you could use on your whole body too!).
Use sparingly on hair as an anti-frizz serum.
Mix with sugar to use as a body scrub.
Slather onto feet and then put some socks on while you sleep for the ultimate foot moisturizer.
Put a little bit on acne to help it clear up faster.
Cooking
We use as a replacement for oil or butter in a lot of our cooking. Works really well as an alternative for butter when making grilled cheese sandwiches too, and makes it a lot less greasier.
Add to smoothies for some healthy fat.
Are you a coconut oil fanatic too? What are some of your favorite uses for it?