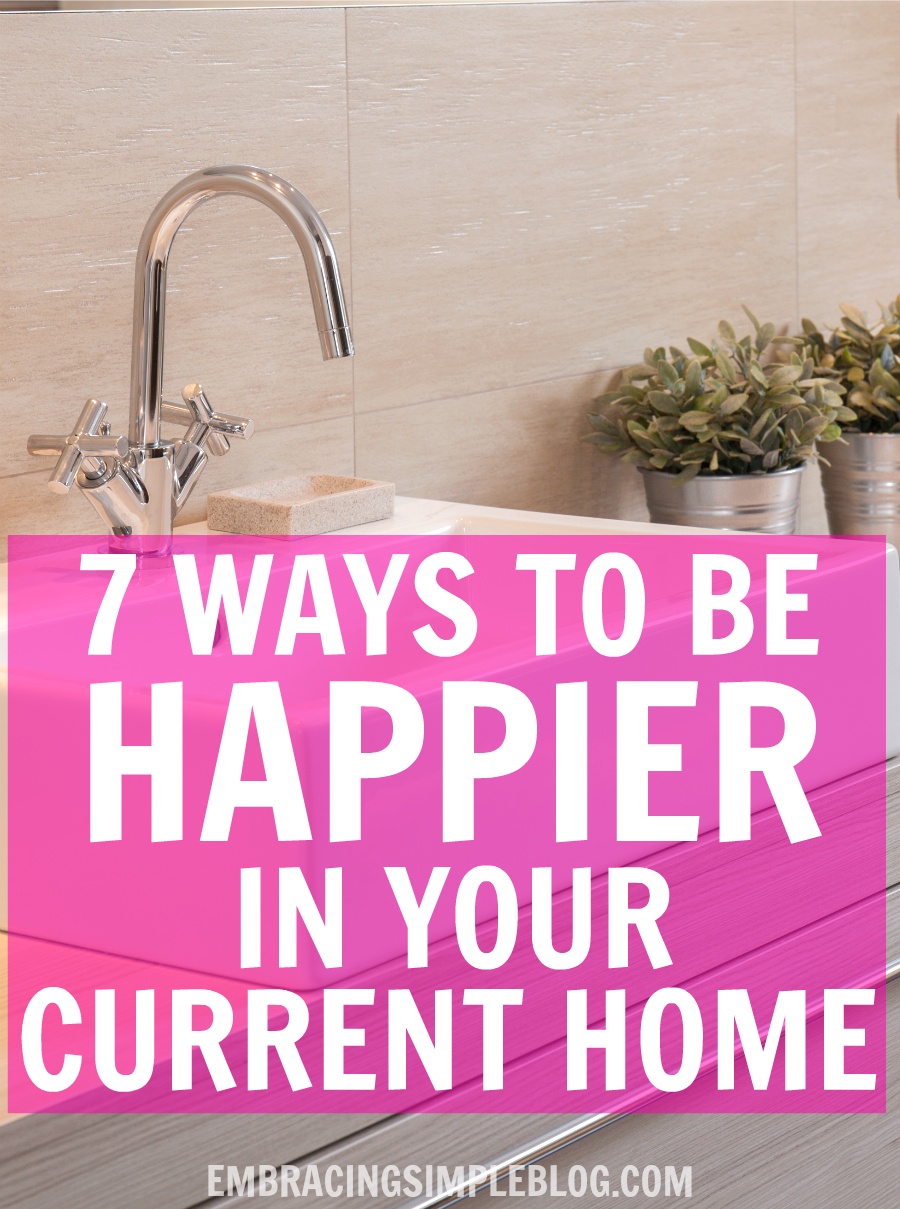 If I had to guess, I would say there's a pretty darn good chance you aren't currently living in your dream home.
But that doesn't mean you have to be miserable where you live, right?
Your home should be your happy place, regardless of your financial circumstances or how much square footage you have.
My hubby and I spent much of the winter talking about moving into a new home.
While our 1,700 square foot ranch home is by no means a tiny home, it started to feel a lot smaller once my husband's role changed at the company he works for and now spends most of his time working from home.
With both of us working from home with our 21-month-old daughter, our place started to close in on us and we felt like this spring might be a good time to upgrade to not necessarily a larger home, but one with a different layout that would be more conducive to providing quiet office space away from the main floor.
We ideally would like our next home to be our forever home, and with that comes a lot of "must-haves". Things like a larger yard, a more open floor plan, and enough space for my husband and I to each have our own home office away from the chaos of kids. All of these things of course mean a higher price tag too, which is something that we just aren't willing to take on at this point.
So we ultimately made the decision that we will stay in our current home for the foreseeable future, and I've been pretty surprised with how much my attitude towards our home has changed since we decided to stay and be happier in our own home instead of buying something new.
If any of you might be struggling with enjoying your current home too, I wanted to share some of the things we've been doing to enjoy our home more. I can truly say that a little change in perspective has done wonders for my attitude when it comes to enjoying my home, so I hope this can be of help to you too 🙂
7 Ways to be Happier in Your Current Home:
1. Keep it tidy
It sounds so simple, but keeping your home tidy can really work wonders for your attitude about your current house. After all, who enjoys living in a chaotic space anyway?!
I've been trying to establish new habits to help me stay on top of keeping our home tidy, and I can honestly say that it's made such a difference in how much I enjoy our home. I've been doing things like turning our dishwasher on every night before bed (no matter how full it actually is), unloading the dishwasher every morning, doing the dishes after every meal, and doing a clean sweep around the house to put away toys and other things before bedtime.
It doesn't sound revolutionary, but doing a few minutes of cleaning and tidying up throughout the day has made it so much easier to keep up with it all! We also rearranged our family room and created a play nook for Little Miss to keep all of her toys, and I've loved how easy it is to put her toys away now versus when we kept them in her bedroom closet. Everything has its place, and it makes it totally brainless to put things away.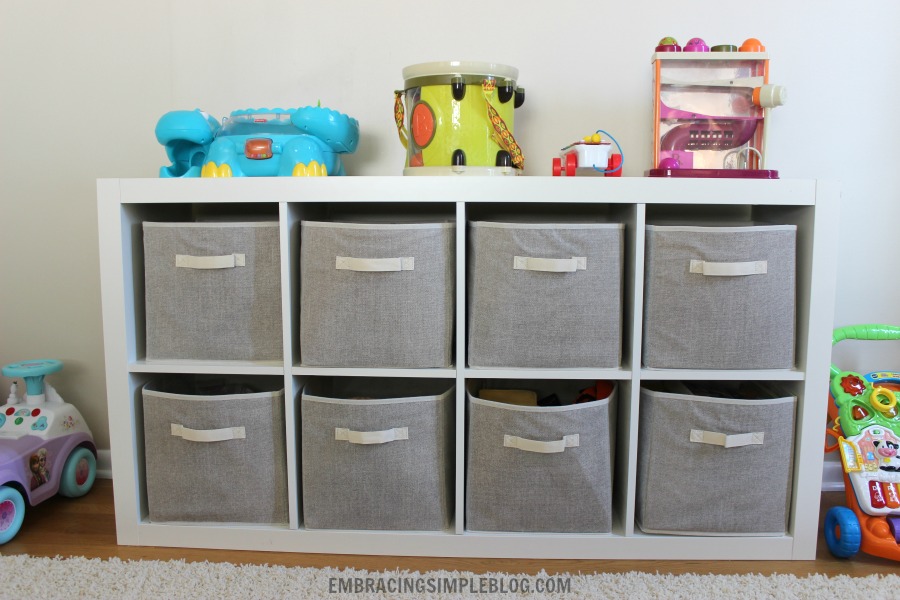 Related: How to Keep Your Home Clutter-Free with Young Kids
2. Decorate like you'll be there awhile
We've been in this house for 4 years now (it's the house we purchased together when we were engaged and about to get married). While it's always felt like home, it's never felt "homey" if that makes sense.
I think it's because I always knew we wouldn't be in this house forever, so I never wanted to spend too much money decorating it. Which is kind of silly, because I should always be focused on the present and just enjoying where we are at now instead of dwelling on the fact that this isn't our forever home.
I decided to throw away that attitude and have fun decorating this house. I tend to forget that things like decor will move with us anyway! I recently purchased this beautiful forsythia wreath for our front door that I fell in love with, and it makes me so happy driving up to our house now and seeing it every time I come home. It's such a small addition to my decor, but really has helped me to fall back in love with our home again.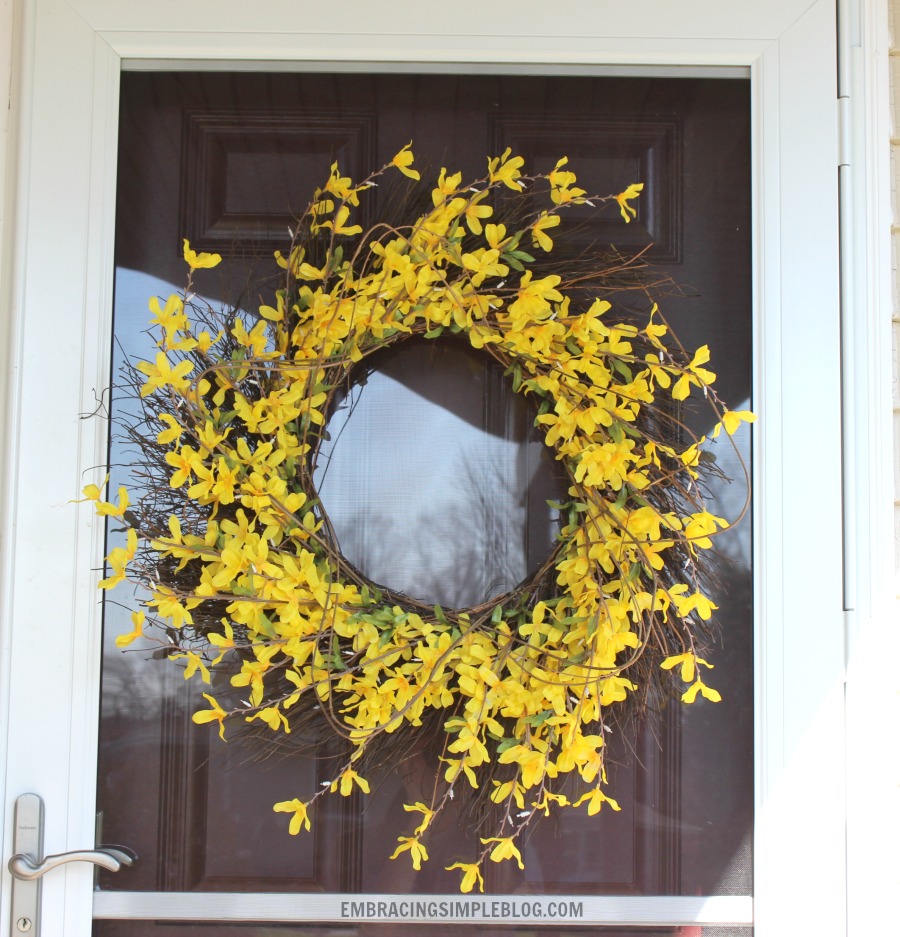 wreath // magnetic wreath hanger I used
3. Focus on what you love about your home
It's easy to dwell on all of the things that you dislike about your home. Maybe you'd like more space for your growing family, want a more open floor plan, or to live in a different neighborhood entirely. Focusing on all of the negatives of your current home will only make you more miserable living there though — trust me, I've done it 😉
Instead, try focusing on what you absolutely love about your home. For me, I've recently fallen in love with the huge covered front porch and walkway we have. It's all concrete, so Little Miss can color with her chalk and play. We can even sit under there during a spring rain shower and not get wet – I love it!
My Mom gave us this adorable little black bench last year that they were no longer using in their garden, and I decided this month that I would spruce up this area a bit more by bringing in some cheerful outdoor pillows and a small table to put drinks on. These simple additions to this space have allowed me to enjoy spending time in this area even more. I've really loved watching my daughter play in our front yard from this spot! I adore this covered front porch so much that I'll now be sad to leave it if/when we do eventually move.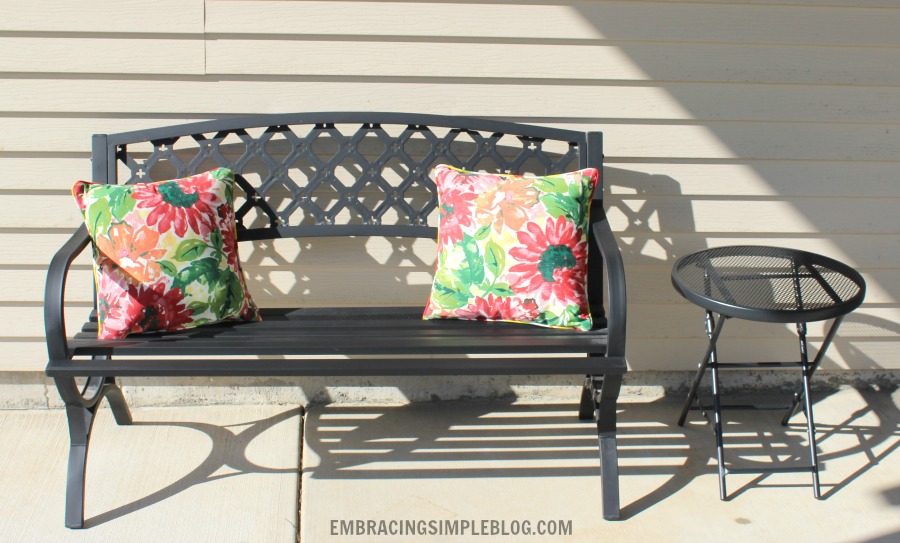 pillows – Pier 1 (sold out, but these are similar)  // side table
4. Get creative with your space
If you are struggling to find more usable space in your home, try thinking a bit unconventionally and get creative with how you can use all of the different areas of your home.
For instance, my husband's home office was once on the main floor of our home. But as Little Miss has gotten older (aka louder), we decided to move his office into the basement to give him a bit more peace and quiet to focus on his work during the day. It's not the most ideal setup since it's a bit chillier down there during the winter months, but with a space heater and dressing a bit more warmly, my hubby doesn't seem to mind. It actually works out better as before he had a tiny desk, but then he looked at getting himself a corner computer desk as it would give him more space to work with.
We also have an area in our family room that is intended to be the dining area of our home, but since we can fit a fairly large table in our kitchen, we decided to make this space Little Miss's play area. Just because the blue prints for your house have designated the uses for certain areas doesn't mean that you have to follow it. Feel free to get creative and make your space work for you!
Related: Inexpensive Ways to Make Your Home Cozy
5. Fix things that are broken
Do you have things like cabinets that are a little loose on the hinges or a water filter in your fridge that needs replacing? We actually had a lot of those little tasks around our house that seemed to pile up on our "one day we need to get around to that" list.
Once we decided we wanted to make more of an effort to enjoy our house while we are still here, we decided to treat our home like we were listing it on the market anyway. Which meant fixing all of those little things on our to-do list for around the house.
While we have plowed through quite a few of those tasks, there are still a few left that we are trying to fix and spruce up as our weekend time allows. We can already say though that eliminating those daily irritants has really helped us to enjoy our home more!
6. Don't be afraid to spend money on items that cultivate experiences at home
For the longest time, I was afraid to bring in new things into our home because I was on such a mission to simplify, simplify, simplify. But I was losing sight of the fact that we were also missing out on some fun experiences at home from not buying certain things that I really wanted. Things like outdoor toys for Little Miss, board games to play with my husband, and a nice umbrella to shade our deck.
I have to remind myself that sometimes it's okay to bring new things into our home if they are going to help us cultivate experiences together and enjoy our home a bit more.
That doesn't mean we need to clutter the heck out of our space, but buying a bubble machine that brings Little Miss so much joy (and us through watching her!) and shade for our deck to enjoy sitting out there more in the warmer months are items worth owning to us right now. We spend a lot of time at home now that we have a child, so anything we can do to make our home a more comfortable and enjoyable place for us to all be is worth it in my book!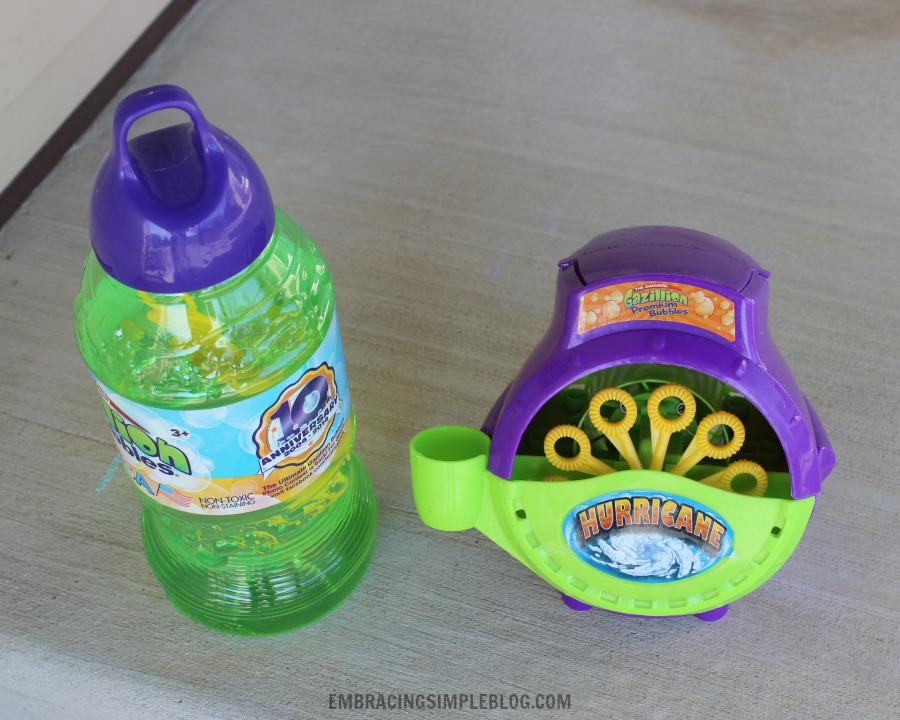 the awesome bubble machine I found for Little Miss
7. Purchase comfortable seating
This is probably another obvious one, but something that I can honestly say we did not have until a few weeks ago!
For the last 5 years, we've been sitting on the world's most uncomfortable couches in our family room. We purchased them when we were in our apartment before we bought this house, and somewhere along the way they not only started sinking into the frame, but recently started ripping on the arms! We made the mistake of buying the cheapest couches we could find at the time, and they looked like they had been through hell and back.
My hubby and I were both tired of how uncomfortable they were to sit on and how they seemed to fall apart a little bit more every day. We spent months and months looking at new couches and saving up and finally purchased our dream couch last month. It's literally the most comfortable sectional I've ever sat on and we seriously love it!
While it was definitely a splurge purchase, it has made spending time at home so much more enjoyable. I only wish we would have bought it sooner!
As part of our family room transformation, we also plan on painting the walls a light blue/grey color and trading out the burgundy curtains for maybe something a creamy color. I'm terrible at interior design, so if you have any suggestions for color combos you think would look good with this grey couch, please let me know! 🙂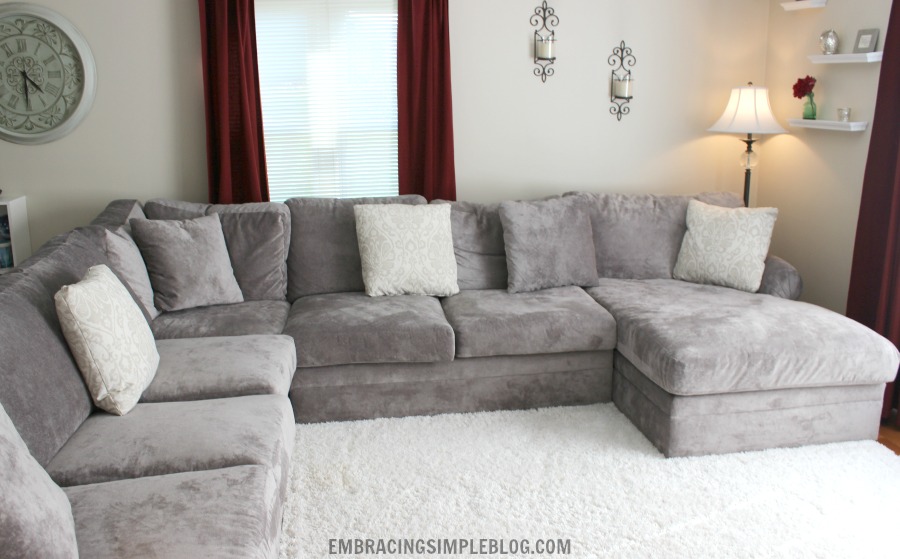 After figuring out ways to make our current home feel a bit cozier and more enjoyable, I can say that I've gotten to the point now where I really can't imagine myself moving from this house anytime soon. Which is so funny, because just a few months ago I felt the complete opposite.
If you feel like I did a few months ago, I definitely recommend trying some of these ways to be happier in your current home. Just because you aren't living in your dream home right now doesn't mean that you can't be happy with where you are at 🙂
Are you happy in your current home? What are some things you've done to be happier living there?
There are affiliate links in this post. If you choose to make a purchase, I will receive a small commission at no additional cost to you. I only recommend products that I love myself and that I think would benefit you too. Thank you for helping to support Embracing Simple in this way!