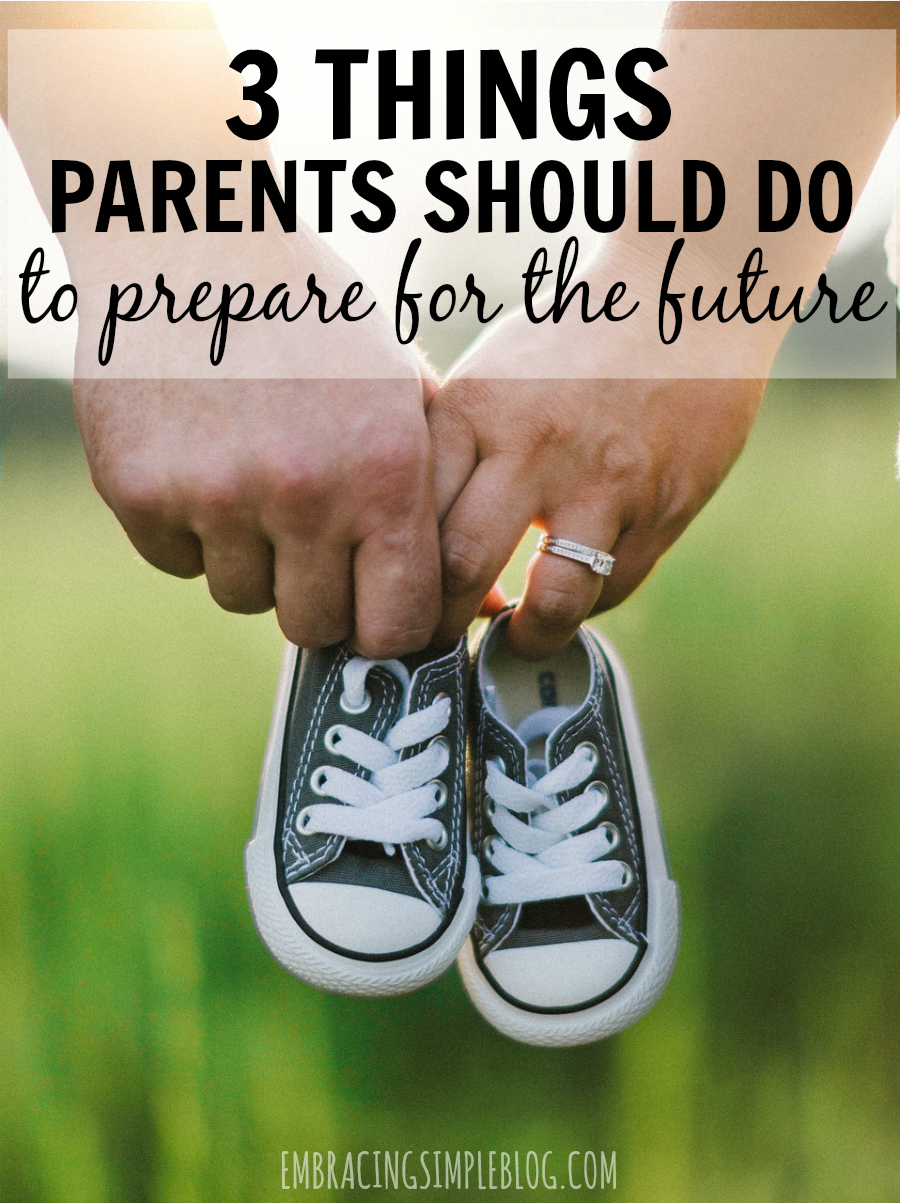 When I was pregnant and we were anticipating Little Miss coming into our lives, we did a few things to make sure that we were financially prepared for her arrival.
While we also tried to make sure we were emotionally prepared, there's only so much you can do on that front before you just have to jump in and experience parenthood yourself 😉
Bringing another human into the world can be terrifying for all kinds of reasons, and I think that the financial aspect of it is what is worrisome to most. I know plenty of couples who say they are hesitant to start their family at this point because they are worried about being able to afford it. While I think that you can never be 100% ready for having kids, there are several things you can do to prepare yourself before they arrive.
Today I'm sharing the top three things my Hubby and I did to prepare for bringing Little Miss into the world!
3 Things Every Parent Should Do to Prepare for The Future:
1. Save for your own retirement
I remember actually feeling frantic about wanting to save for her college fund before she even came. I was nutsy about the whole thing, since it's very important to us to be able to pay for all our children's college educations. The thing is, you need to make sure that you are setting yourself up for your own retirement before you even begin to think about paying for your children's college.
There are college loans available for your kids to take out if they need them, but nothing like that available to us when we are of retiring age.
We want to make sure we provide for our children in every aspect that we can, and part of that is making sure we provide for our future selves so that our kids don't have to worry about us as we age. I think that planning appropriately for our later years in life is a great way to take that burden off of our children, knowing that we will be able to take care of ourselves financially when that season of our lives roles around.
I cringe thinking about my daughter having to worry about us 50 years down the road when she has a family of her own that she needs to take care of too. I definitely don't want that to even be a thought for her, so it's important that my husband and I save up for those later years now.
Because when your kids are all grown up and have moved out…you still need to worry about supporting just the two of you in your later years when you're no longer those young, energized newlyweds.
2. Create an emergency fund
If you don't already have one, start one today.
Even if you can only put $5-10 into it at a time, it's something!
It wasn't until we made the decision that we wanted to get pregnant that we really started taking having an emergency fund seriously. You just never know what life is going to throw at you, and it was nice to have that "extra" money there if we ever needed it. I was lucky that I was able to have an uncomplicated birth, but if there would have been any unexpected extended hospital stays required for either Little Miss or myself, it really would have been crucial to have that emergency fund to be able to help pay for those medical bills.
I would say having 3 months worth of expenses in an emergency fund is a wonderful start, but having 6 months stowed away is even better. We are somewhere a little bit closer to 3 months, but are steadily working on getting up to the 6 months mark and hope to be there by the time we have baby #2.
3. Equip yourself with life insurance
Not having a life insurance plan would really freak me out at this point, especially with a child involved. I don't think I would sleep very well at night knowing that if something happened to my husband, we would only be able to afford to live a few months in our current home without life insurance.
That would be insanely stressful!
It's easy to not let yourself think about all the "what ifs" in life, but as a parent, it is your responsibility to make sure that your children are being cared for, no matter what life throws your way.
Especially during tough life changes like losing your spouse. Do you really want to think about going into foreclosure on your home or not being able to afford your child's college education if your spouse passes away? I know that is the absolute last thing I would want to be worried about if I were ever in that unfortunate circumstance.
Life insurance is actually important no matter what stage of life you are in. Even if you are young and single, life insurance can be used to cover your funeral/burial expenses or pay off your debts so that your family doesn't have to worry about dealing with those.
While it is uncomfortable and sad to think about the possibility of something like this happening to your family, it is very important to be prepared for this scenario nonetheless.
Aflac offers a great life insurance program that can help you get the coverage you need to make sure your family is provided for, no matter what the circumstances. If you are a millennial who may have student loans co-signed by your parents, a parent with young children or other dependents, or even a baby boomer approaching retirement age, it's important to make sure your loved ones are covered in the event that something happens to you.
How did you prepare for having children, or what do you plan on doing in the future if you aren't a parent yet?
I was selected for this opportunity as a member of Clever Girls and the content and opinions expressed here are all my own.