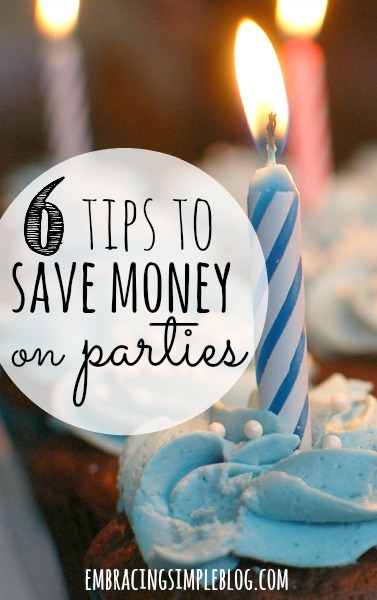 This past weekend we finally celebrated Little Miss's 1st birthday with our families! She was sick on the original party date so we had to reschedule for a week later, but ended up having even more family members able to attend once we changed the date so it actually worked out better for everyone!
We had a great time seeing everyone and it made her birthday a bit more "official" feeling. Although I've hosted parties before, this was the first time I'd ever pulled off a birthday party like this entirely on my own.
I decided to go with a girly nautical theme with lots of navy blue, pink, and light blue colors scattered throughout the decor. And of course there were plenty of anchors as well! My vision for her party really came to life and I was proud of myself for all the DIY projects I took on to add some cute and personal touches, as well as to save a ton of money. Considering my craft game is pretty much non-existent, it was a miracle I didn't even burn myself with hot glue once 😉 .
There were several ways that I saved money while throwing this party, and I wanted to share some of my top tips for saving money when hosting a party in hopes that you can use these ideas to save money on any upcoming parties you might have in the near future too!
Tips for saving money when hosting a party:
Get crafty with your decor

Although convenient, store bought banners and decor that add a lot of life and color to a party can be a bit on the pricey side too. Homemade banners made from scrapbook paper or card stock and string can be an inexpensive way to make your party a bit more festive and personalized.
I also saved a ton of money by making centerpieces out of items I already had around the house. To go along with the nautical/beachy theme, I took mason jars, sand, twine, and candles I already had and then purchased some little starfish that cost me $3 from Hobby Lobby.
I filled the mason jars with the sand, threw in a candle, and then wrapped the starfish around the rim of the mason jars with the twine and then tied off in a bow around the back. It was so quick and easy to pull together and I think they turned out pretty cute (see my final result to the right). Proof that adorable centerpieces don't have to be extravagant or pricey!
Host at your home
Not having to shell out $100+ for renting out a party space can be one of the biggest ways to save on your party costs. Even the smallest of homes can make a great environment for a super fun and social party.
We ended up having perfect party weather and it was 75 and sunny so we set up badminton and bags (or corn hole as some of you might know it) for all our guests to play and everyone seemed to really enjoy themselves. It was much more relaxed too not having to lug all of our party gear to another location and worrying about the possibility of forgetting something.
Make your own food and cake
Having a summer birthday bash made this a bit easier on us since we could just grill some meat and then have a bunch of sides for our dinner. We also had quite a few appetizers and then I made Little Miss's smash cake and cupcakes for the rest of our guests (pictured to the right).
Making the cakes really wasn't as overwhelming as I thought it would be. I made some cute cupcake wrappers out of scrapbook paper and then used an anchor punch to punch little anchors out of card stock and hot glued them to toothpicks to stick into the tops of the cupcakes for some extra pizzazz.
I ended up using boxed cake for the smash cake and cupcakes and then made some homemade vanilla buttercream frosting to pipe on top.  I made them the night before and stuck in the fridge until about an hour before guests began arriving and then pulled them out so they'd be at room temperature when we were ready to serve them. Easy peasy!
Borrow the essentials
Our parents are super generous and let us borrow a ton of things for the party. We borrowed several tables, folding chairs, outdoor games, and a drink dispenser, amongst a few other things! I felt like we were emptying out their house with how much we borrowed, but they were more than happy to help us out in this way and it certainly saved us a ton of money by not having to buy or rent all of those items ourselves. We would have had to spend several hundred dollars just for the items we borrowed, so it was really appreciated.
I'm sure if you ask around, friends and family would be more than willing to loan you a few items for your party. I know I'm always happy to lend out platters or serving stands when someone needs them, it's nice being able to help others and contribute to the party in any way you can!
Let your guests pitch in if they offer
In our families, we typically always have pot luck type get togethers where everyone brings a dish to share. So when we go to other birthday parties of cousins, etc. throughout the year, we always bring a dish and then everyone reciprocated for our party for Little Miss as well and offered to bring whatever dish I needed.
It is so helpful and does really cut the party costs down when you have guests bringing some of the food. Being on the other side when I am able to pitch in and bring a dish to a party that I know will take some of the planning burden off the host is always a great feeling, so I happily accept it when that same help is offered to me as well. It takes a village to put on a good party 🙂
Print your own invitations
I found an adorable printable invitation on Etsy for $9 that went perfectly with our party theme, and the shop customized it for me with all our party specifics and then I received the finalized PDF version via email. I had some white shimmer card stock leftover from our wedding thank you notes (from three years ago!), so I printed the invites on that same paper and they turned out beautifully! The grand total cost for the invites ended up being $9 + the cost of printer ink and stamps, which I'd say is pretty darn good for how nice they looked.
I personally prefer paper invites and sending something tangible in the mail because I think it's fun, so it was worth it to me to spend a bit of money to be able to send a physical invite, but sending invites via email could be a great way to cut down on party costs as well!
Do you have any tips for saving money when hosting a party?