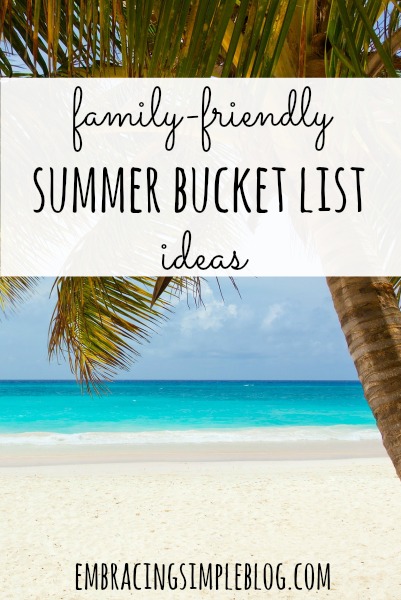 With summer just around the corner, I am really looking forward to creating some fun memories with my little family in the upcoming months. Summer has always been my absolute favorite time of year. Perhaps it's because I'm a summer baby (born in August), but I'm hoping my Little Miss (who was born in June) loves summer just as much as her Mama always has!
As Little Miss gets older, I'm more and more excited to start traditions and create memories with her. Even if she won't necessarily always remember the things we do these next few years, her Dad and I sure will and we are really looking forward to creating some awesome memories with her. Last summer was a little tough with having a newborn, so I didn't really get outside as much as I would have liked, and I can't wait to make up for it this year!
My lists are typically of the "to-do" variety, so I thought putting together a summer bucket list of all the fun things I want to do and memories I want to create would be a nice change of pace for me. Hopefully this gives you a little inspiration for your own summer bucket list!
My summer bucket list:
Go swimming
Make homemade popsicles
Visit the local splash pad
Go to my parents' lake house every chance we have
See fireworks
Have a picnic at the park
Make a bonfire and s'mores
Make homemade ice cream
Go to a free concert in the park that our town has every week
Play in the sprinkler
Get ice cream from an ice cream truck
Feed ducks at a local pond
Watch a parade
Paint with pudding
Build a fort
Celebrate Little Miss's 1st birthday in June and making it through our first year of parenthood
Visit the farmer's market
Blow bubbles
Visit the zoo
Make some homemade (edible) play dough
What fun things are on your summer bucket list? 🙂