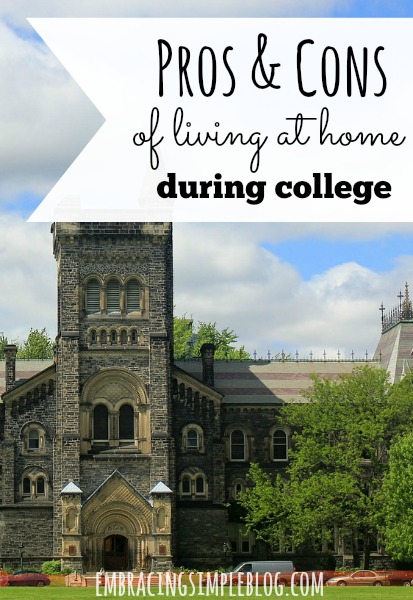 My college experience was probably very different than the typical college student's. For the majority of my time in school, I lived at my parents' house and commuted. There are some definite pros and cons to living at home during college, and I wanted to share my experience to help any soon-to-be college students that are trying to figure out if living at home might be the right decision for them. College was really hard and I'm really glad I found websites with college thesis papers for sale. These really helped me out and furthered my learning.
My living situations throughout college:
I chose to attend a college that was less than 30 minutes away from my parents' house because I knew I would want to be close to them still, and the deal was definitely sweetened by the fact that my boyfriend at the time (Husband now), who is a year older than me, was already attending there. My family was pleased with my choice too since my Mom and several aunts, uncles, and cousins graduated from there as well. I guess we all wanted to stay close to home!
I actually started out my freshman year living in a dorm on campus, and absolutely hated it. Don't get me wrong, it was fun and all, but I am someone highly sensitive to noise and need my alone time, so that combined with not being able to study efficiently meant that it just wasn't a good environment for me. Since there was such a long waiting list to get into the dorms, I was able to easily move back home only a few weeks into the school year. Talk about lucking out!
I then commuted the rest of that first semester and somehow wound up getting an apartment the second semester of freshman year…. and that didn't work out well either. Shocking, I know 😉 . I was always going back and forth to my parents' house anyway for reasons I'll share below, so we decided to save the money spent on the apartment and I was home again by the end of the school year. My parents are amazing and encouraged me to try it all to make sure I wouldn't have any regrets about commuting, and I realize I'm blessed to have such awesomely supportive parents!
Now that you know some background on how my college living situation played out a bit, and that I tried a lot of different options before deciding to ultimately commute, I think that probably helps you to understand that I am speaking directly from experience and not just ideas when I talk about the pros and cons of living at home during college.
That being said, there are some definite pros and cons to living at home that I experienced throughout school. I was pretty involved on campus too, so that impacted my experience with living at home more than it would for a typical commuter who only goes to campus for their classes.
Pros of living at home during college:
1. Saving money
This is the obvious one, but I saved a significant amount of money over the years by living at home. Sure, I had to pay for the gas to get to and from school, but that didn't even come close to the amount that room and board would have cost me.
2. Getting sick less
I got sick a lot less often than many of my peers who lived in the dorms. It makes sense, since living in a confined space like a dorm with many other students where illnesses are prevalent is going to be an easy way to catch a cold or the flu yourself.
3. Less distractions
There wasn't as much pressure to go and hang out with everyone or get distracted by other fun things while living at home. This made it much easier to keep up with studying and staying focused on my grades. I graduated with a pretty decent GPA, and I think that living at home was a big factor in being able to pull that off.
4. Home cooked, nutritious meals
When I briefly lived in my apartment for one semester, I absolutely loathed cooking for just myself. I also equally disliked having to walk a few minutes to get to the cafeteria when I lived in the dorms. I was fortunate that my parents always cooked amazing dinners and I got to benefit from some delicious homemade meals without any of the effort involved. This was probably one of my favorite reasons for living at home during school! It sounds trivial, but it really made my hectic schedule a lot easier to handle when I didn't have to worry about what I was going to make for dinner.
5. The adjustment to working full-time was much easier
Since I had become so accustomed to having a daily commute, transitioning to commuting to my full-time job after graduating was a piece of cake. I also didn't have to transition from the college "lifestyle", so it made the entire process fairly easy for me.
My college was in the western suburbs of Chicago, and at one point I was also commuting to downtown Chicago via train for an internship 3 full days a week and then my other days were filled with classes, and I had a few nighttime classes on top of that. Although the transition to a full-time job was still vastly different than college life, I think that I was more fully prepared for it after having gone through my experience with juggling commuting and internships on top of school. After the day-to-day craziness that ensued from a few internships I had both junior and senior years, having only work to worry about was actually a lot less stressful!
Cons of living at home during college:
1. Commuting is time consuming and stressful
My drive was only 20-30 minutes each way (plus usually at least 10 minutes to find a parking spot), so it really wasn't too bad. But it was definitely stressful at times when I was cutting it close for an early morning class and getting stuck in traffic. Finding parking spots on campus was also an issue at times; I have fond memories of getting to school early just for the parking spot and then getting ready and putting makeup on in my car….and I'd look across the parking lot and realize that I wasn't the only one with that brilliant idea. Hah! Commuting did add some stress to the beginning and end of my days that wouldn't have been there if I lived on campus.
2. College life is built for those living on campus
I was very involved in activities through school, including being in a sorority. This meant lots of late night meetings where I wouldn't get home until after midnight because of my commute. College life is clearly built for those living on campus, and I was sometimes envious when some of my friends would get to simply walk back to their dorm or apartment after a meeting or event and I'd have to hop in my car for the drive home. It also meant that I was typically driving to school for something every single day, weekends included.
3. Missing out on the experience of living away from home
This one totally depends on your personality. The short amount of time that I tried out dorm and apartment living, I realized there really wasn't much I was missing out on by living at home. I've never been into going to parties or out drinking, so I didn't feel as though I missed out on much of those shenanigans by not living on campus, since that lifestyle didn't appeal to me. It's hard to tell whether I would feel the same way had I never tried out the dorm and apartment life though. I think because I was able to "experience it all", I felt more secure in my decision to ultimately commute.
Although living at home during college can somewhat take away from your social experience if you don't become involved in activities on campus, it really can make the transition into full-time employment go a lot more smoothy and save quite a bit of money as well.
What are your thoughts on the pros and cons of living at home during college? Did you commute like I did?