Yes, you read that right! Surprise – I'M PREGNANT!
If you subscribe to my newsletter though, you've known my exciting news for over a week already (you can subscribe here if you want to be the first to know everything going on around here too!).
Before I dive into all of the fun details, I want to apologize for being a little MIA the last few months. I haven't had the ability to keep up with my normal blogging schedule lately, and I'll explain why in a bit more detail below!
To all of you who have been emailing me the past few weeks to see what was going on with me and just to make sure I've been okay, thank you so much! I didn't realize how missed I was going to be in stepping back from blogging for a bit or if anyone would even notice, and I really appreciate all of the kind words about how you missed my posts and hearing from me. It truly means the world to me!! 🙂
Now back to the pregnancy details…
Little Miss is going to be a big sister and we truly couldn't be more thrilled! I'm 17 weeks pregnant as of today and due around September 19th. Our kids will be 2 years and 3 months apart, which I'm hoping will be a fun adventure in parenting, hah!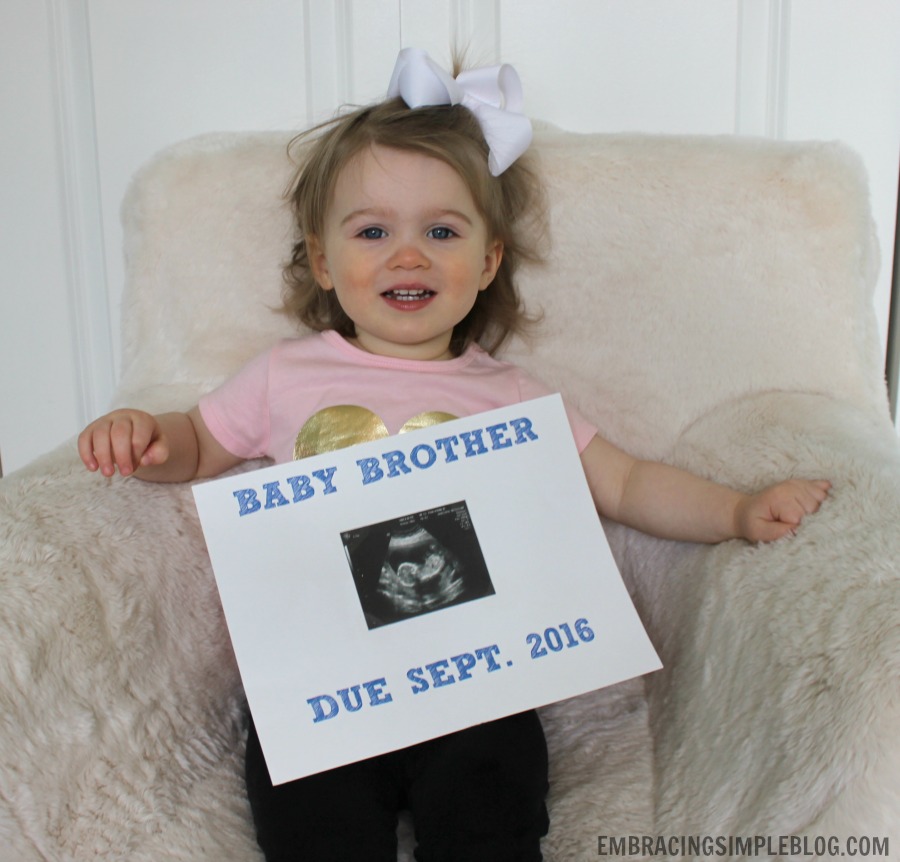 We found out last weekend that we are having a BOY, which we are so excited about! I have a younger brother and am so happy to give my daughter the gift of a brother too.
This pregnancy has definitely kicked my butt in so many ways compared to the first time around. I've felt more nauseous and definitely been more exhausted, which I contribute to mostly running after a 1-year-old this time around too.
While nausea and exhaustion are typically normal parts of being pregnant, I've also been dealing with some bleeding scares that aren't something I necessarily expected to be dealing with.
I've had several instances in the last 6 weeks alone where I for sure thought I was having a miscarriage, and the first time this happened I was 11 weeks pregnant and ended up in the ER at 2:00am just assuming that I was not going to be receiving good news.
Luckily this little baby seems to be quite resilient and is just giving me a run for my money already ;). He seems to be perfectly healthy and unfazed by what's going on in his environment, and for that I am so thankful!!
Because of all of this bleeding, I've been put on modified bed rest which means I've been instructed to just take it easy and am really not supposed to be even picking up Little Miss (which is really hard to have a 21-month-old understand why Mama can't pick her up like she used to!).
We are hoping that this unexplained bleeding settles down over the next few weeks, but it may very well be something I continue to deal with through the rest of this pregnancy. As someone who is usually always wanting to feel productive and get things done, being forced to take it easy has been a lot more difficult for me than I realized it would be.
For instance, I used to wake up at 5:00am to fit in some work and "me time" for the day before Little Miss was up too. I haven't done that since the end of January just because I feel like I need the extra rest at this point, and I'm trying to listen to my body instead of the voice inside my head that hates not being able to follow my normal routine.
While I definitely plan on continuing to blog as time allows for me to, I just want you all to know that my posts may continue to be inconsistent on here for awhile. But I do fully intend to get back into the swing of things at some point this year, even if it's a few months after our baby boy makes his debut.
Thanks as always for your support of me and my family, I'm so excited to finally be able to share our wonderful news with you all 🙂 It's been so hard to keep it to myself!
P.S. I wasn't necessarily planning on doing pregnancy-related blog posts, but if there's any questions you have for me or topics you'd like me to write about, feel free to leave it in the comments below and I'll definitely consider it!