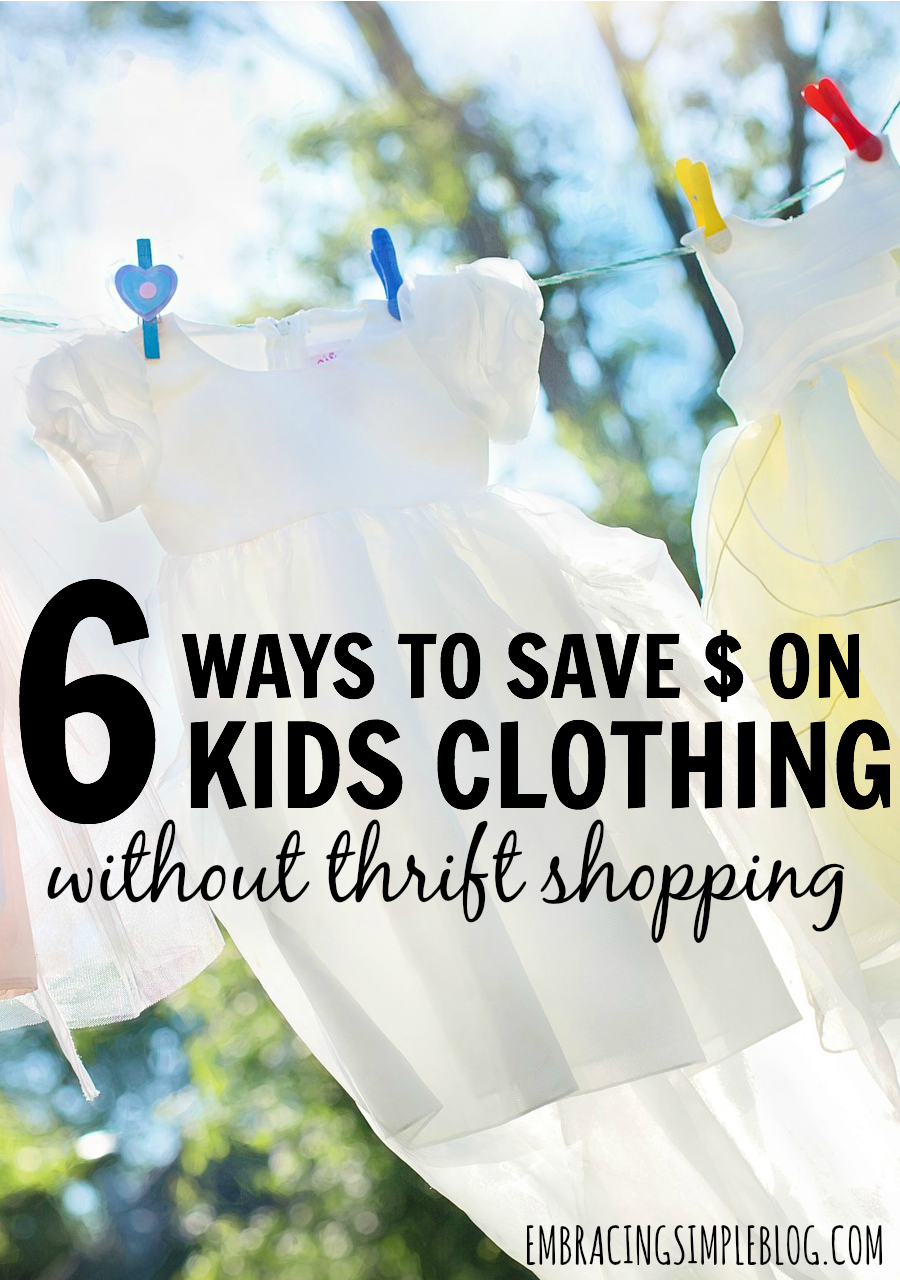 A big thanks to PatPat for sponsoring this post!

I absolutely love having a toddler to dress in cute outfits and accessories (when she isn't ripping headbands and bows off her head, of course).
And while I have a blast dressing Little Miss, I am also realistic in knowing that she will only be wearing an outfit for a few months before she quickly outgrows it. I appreciate the look of designer clothing on kids, but I'm too practical of a person to spend our money on expensive clothes for her. I would rather use that extra money to do fun things as a family, like going on our recent road trip or excursions around town!
I think there's a great middle ground in wanting your kids to be dressed adorably and not spending too much money on clothes they are only going to be wearing for a few short months until they outgrow them…or ruin them in the various ways that kids creatively find to trash clothes….like deciding to crawl around in the grass with white shorts on 😉 .
I know that thrift shopping can be a great way to save money on barely worn clothing for babies and toddlers, and I did do a lot of thrift shopping to stock up on clothes for her when I was pregnant.
However, I find myself just not having the time or patience to dedicate to thrift shopping these days. It usually takes a few trips there to find a few decent items worth purchasing, and between dragging Little Miss with me and then feeling like we wasted time when we have an unsuccessful trip, I've pretty much eliminated thrifting from my shopping routine. It's just not the right season of life for me to be allocating that much of my time to it when it could be better spent on my freelance business or enjoying my family.
Today I am sharing how I still manage to save money on baby and toddler clothing without thrift shopping, I hope you enjoy and find this helpful!
How to save money on kids clothing without thrift shopping:
1. Don't buy for the season ahead
I see a lot of bargain hunters advocating to purchase kids clothing when it's on clearance to prepare for the season ahead, but this strategy has never ended well for me personally.
It's so hard to predict how much your kids are going to grow in only a few months, and I've found myself either drastically under or overestimating the rate that Little Miss is growing, so I end up having to figure out how to return the unworn clothes with tags still attached. Or if it was purchased through thrift shopping, being stuck with clothing that she's never going to wear and I can't return at all. It can be very frustrating and a big money waster if you are spending money on clothes your kids end up not even wearing.
My advice is to wait until we are on the cusp of the next season and then purchase your kids clothes for that season instead of buying them months in advance. You'll save yourself the trouble of having things that don't fit them!
2. Be realistic about how big their wardrobe needs to be for each season
Does your kid really need two pairs of boots for winter or three pairs of sandals for summer? Probably not. I get it, they are cute and so much cheaper than the shoes you buy for yourself. But it's just not necessary.
Little Miss only has one pair of shoes that currently fit her right now, and it's working just fine for us. I know that once she gets older and has more of an opportunity to get her shoes wet playing outside we will likely need to have another pair on hand. For now though, having just one quality pair of shoes for her is doing the job.
3. Buy accessories that will go with more than just one outfit
When it comes to shoes and bows for Little Miss, I try to go for more classic colors that will go with almost any outfit she has.
For instance, her one pair of shoes are about as neutral as I could find while still being cute and girly. They are pink and silver and seem to go with pretty much any outfit I dress her in.
I also take this same approach to her hair bows. Once she started getting a bit more hair a few months ago, I purchased a two-pack of classic non-slip bows that are light pink and white so they are really easy to match up with her outfits. It's not only economical, but makes it much simpler to dress her everyday and still put a cute hair accessory in without having to dig through a whole bunch of them to figure out what matches.
4. Be willing to accept hand-me-downs
We were super blessed in that our next door neighbors have a little girl (their last baby) who is two years older than Little Miss and they have given us so many awesome hand-me-downs.
Last summer right after she was born they gave us a huge box of adorable goodies that looked brand spankin' new, including this sweet purple lace romper and matching headband below. I was dying when I saw it and was so excited to take pictures of her wearing it!
5. Take care of the clothes they already have
I realize that this is a pretty funny to say, because any Mom knows that kids and stains go together like peanut butter & jelly. Little Miss stains pretty much all of her clothes these days, so I totally get it.
I like to take care of her clothes as best as I possibly can so that they not only last longer for her to wear, but might be able to be passed onto a sibling in the future. Some of the ways I take better care of her clothes include:
Treating stains as quickly as possible (never let them dry)
Washing clothes in cold water on a gentle cycle and drying on low heat
6. Use the free PatPat shopping app
PatPat is a free-to-download app that's essentially an online marketplace where you can snag high-quality kids clothing for up to 90% off retail price! I had never heard of PatPat before they reached out to me for this collaboration, but I quickly realized how fantastic their shopping app is and am thinking it's going to be my new go-to place to shop for clothes for Little Miss.
As I went to download the app, I actually saw it was featured by Apple on the home page of the app store as the best free app. It didn't take me long to realize why either! I found the app really easy to navigate and I had no problem finding the deals that were for specific items I was looking for. They have a lot of really cute home decor, women's clothing, and toys in addition to baby and kid essentials, but I was able to quickly find the "Kids' Fashion" category so that I didn't entice myself too much by seeing all the adorable clothes for me that I really don't need! 😉
In addition to having many new deals every morning, they have ongoing deals for things like diapers that I'm going to have to keep in mind when baby #2 comes along. When Little Miss was a newborn, we loved Pampers Swaddlers for the first few months of her life because they are so soft (we have since switched to another brand because the Swaddlers started to not fit her as well). I found that the Pampers Swaddlers we were buying last summer are about $10 cheaper per box on PatPat than what we were buying them for at the time.
In addition to already having great deals, PatPat is actually offering a really fantastic promo code offer to the Embracing Simple family, so we can use "EMBR35" to receive 35% off + $5 for our first order.
So if I were to use the "EMBR35" deal on this box of diapers below….I'd be saving about $20 per box compared to what we were paying for them last summer. And considering they have free shipping too, I'm pretty bummed that I didn't find this app sooner! Diaper expenses really add up.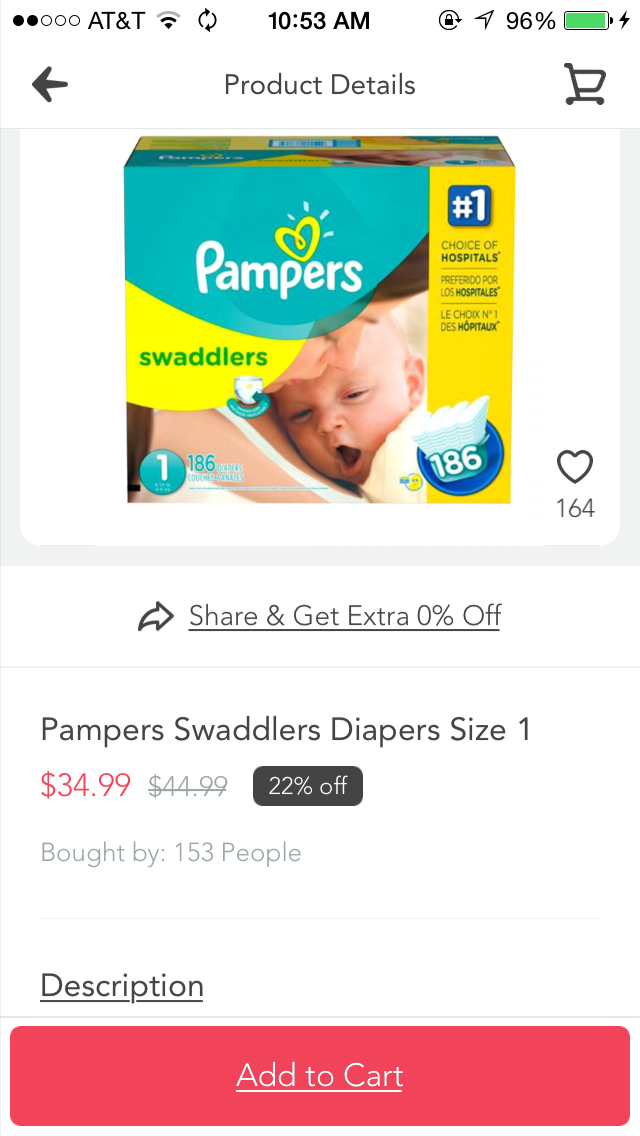 Here are some of my other favorite deals I found while exploring the app:
I've been in search of a cute Fall hat for her to wear as the weather starts cooling down more in a few weeks, and thought this little owl hat was absolutely darling!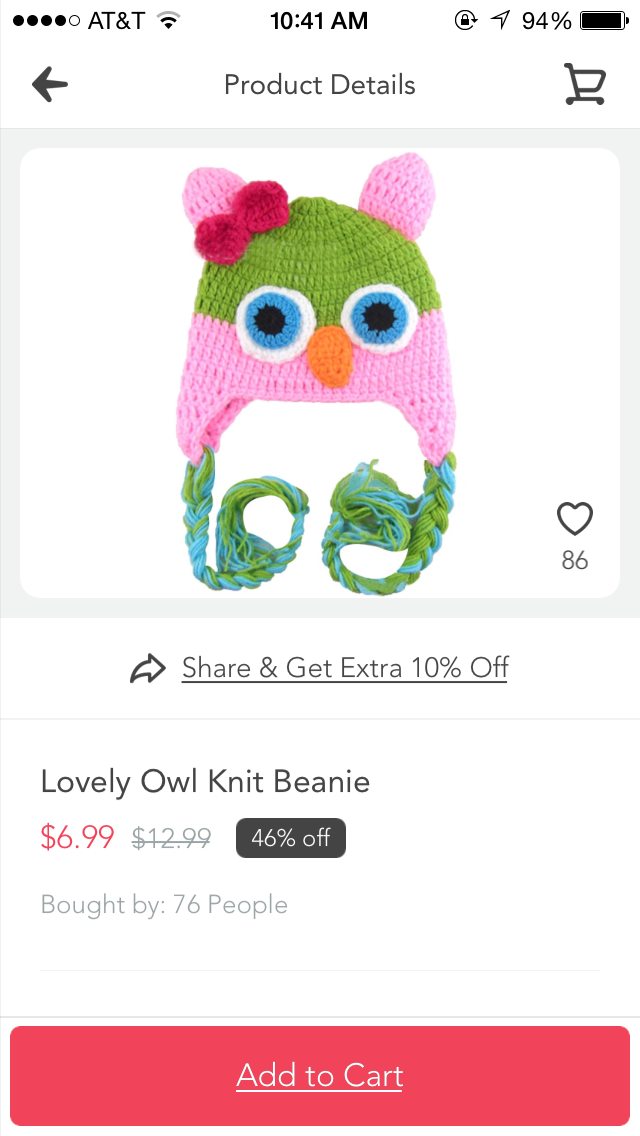 I'm kind of obsessed with owls…she was an owl for Halloween last year and I thought it was the cutest thing ever! 🙂
I'm also kind of a sucker for little girls in rompers. I'm really hoping they have something similar to this cute pink lattice romper next Spring so I can get one for her to wear next year when the weather warms back up.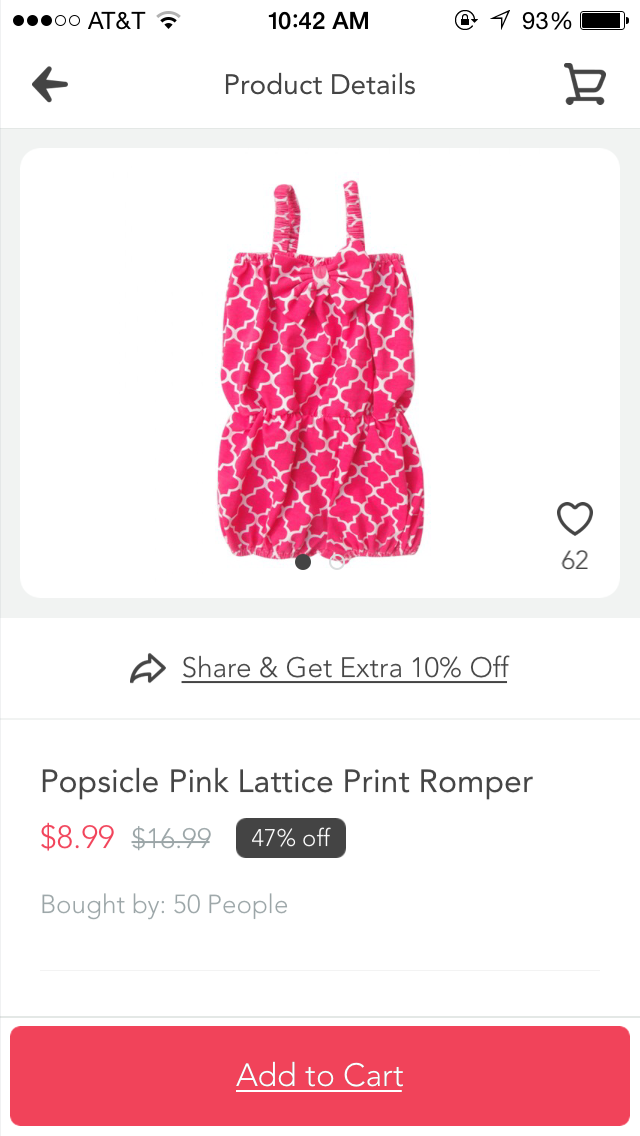 If PatPat sounds like something you'd enjoy using, feel free to download the app on Android and/or Apple mobile devices or check out their site at patpat.com.
How do you save money on clothing for your kids?