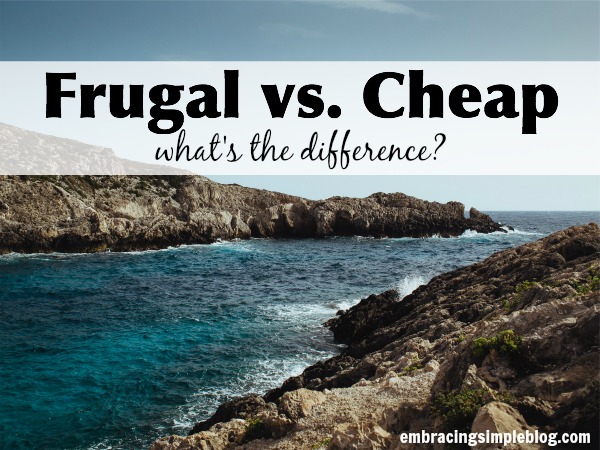 There is a big difference between being frugal and being cheap. In my opinion, a line has been crossed when you go from trying to be thrifty and saving your family a bit of money, to being a complete and total cheapskate.
These are my definitions of what it means to be frugal or cheap:
Being frugal means understanding the value of a dollar and making informed and thoughtful decisions regarding any purchases you make, so as to make the most of the resources at your disposal while maintaining your morals.
Being cheap means that you are solely concerned with saving money, without regard for society as a whole or your own moral standards, and are willing to even take advantage of others to reach your end goal of ultimately spending as little money as possible.
I would consider myself to be a frugal person, but not a cheap one by any means. While I have an appreciation for higher quality products, whether it be food, clothing, etc., I still always try to get a bang for my buck and find the best deals I can without driving myself into insanity over it or compromising my ethics.
To me, being frugal is more about evaluating each and every item I bring into my home and considering whether or not it's worth it or if it's valued to us.
I've found that cheap people tend to be more concerned purely about the cost of something, while frugal people are more concerned with the value it holds.
On shows like Extreme Cheapskates, some of the individuals shown take saving money to the extreme. I've seen people digging half-eaten food out of dumpsters to then serve to their dinner guests on that show – yuck! There is nothing wrong with trying to save money here and there, but when common sense, logic, and safety are all disregarded in the name of saving money, it's safe to say that the compulsion to save a buck has gone too far!
I think that many people have a hard time differentiating what it means to be frugal or cheap, so I thought it would be amusing to compare some of the differences between acts of frugality and acts of cheapness in a few different scenarios.
Frugal vs. Cheap:
Groceries
Frugal – Buying high quality (perhaps even organic) food when on sale that your family regularly eats. Items like higher quality spices can mean needing to use less for the same amount of flavor.
Cheap – Buying the least expensive food you can, with complete disregard for quality or how the food will fit into your family's diet.
Utilities
Frugal – Turning the thermostat down a few degrees at night in the winter to save money.
Cheap – Shivering from how frigid your house is all winter in an attempt to save a few bucks, not considering your or your family's discomfort as a result.
Clothing
Frugal – Buying only clothing you truly need for your wardrobe, and even better if it's on sale.
Cheap – Buying an outfit for a special event, wearing it with the tags still on and tucked in, and then returning to the store after.
Eating out
Frugal – Budgeting a set amount of money each month to spend on meals out with friends, and then adhering to that budget.
Cheap – Not tipping your waiter well or at all for good service just to save money.
Dinner party
Frugal – Offering to bring a dish or two to share, but bringing something that is within your price range and budget.
Cheap – Showing up completely empty-handed (I just think this is downright rude too).
Traveling
Cheap – Lying about your child's age in order to get them into Disney World for free.
Frugal – Visiting Disney World at a non-peak time and searching for deals and coupons to use during your visit to reduce your expenses.
I realize that it is a luxury to be able to make the choice between being frugal and being cheap for some people, but most of us have the ability to be frugal without being cheap.
Let's have some fun with this – what are some examples of frugal vs. cheap that you've experienced?  Share them below for our entertainment! 🙂