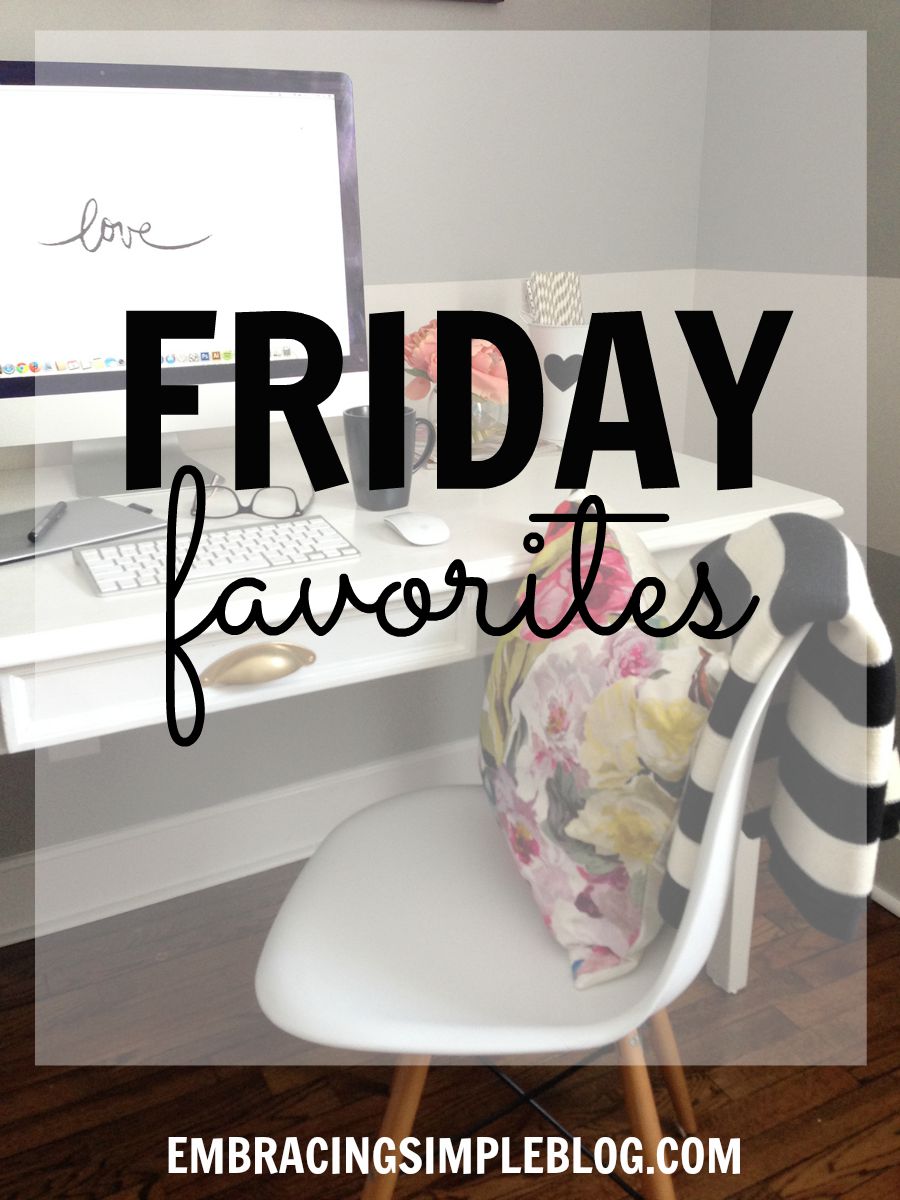 Happy Friday, Friends!
It's been a long time since I've done a Friday Favorites post, so I thought it was about time to bring it back! I always enjoy putting these together and think it's a fun way to reflect on the past week and start the weekend on a positive note 🙂
Here are some of my favorites from this past week:
1. Trösta box
What a treat I was in for this week when I received my Trösta box in the mail! A few weeks ago, the kind folks over at Trösta box emailed me asking if I would like to receive a complimentary month of their new self-care subscription box. I didn't even know something this awesome existed and of course had to jump at the opportunity to try it out.
I definitely was not disappointed either! It seriously felt like Christmas morning when my box arrived in the mail, and I was so excited that I completely ripped open the cute box and packaging it came in without even thinking of taking a picture to show you guys…whoops! #bloggerfail. Just trust me when I say the presentation was impeccable, it was like opening up a gift for myself!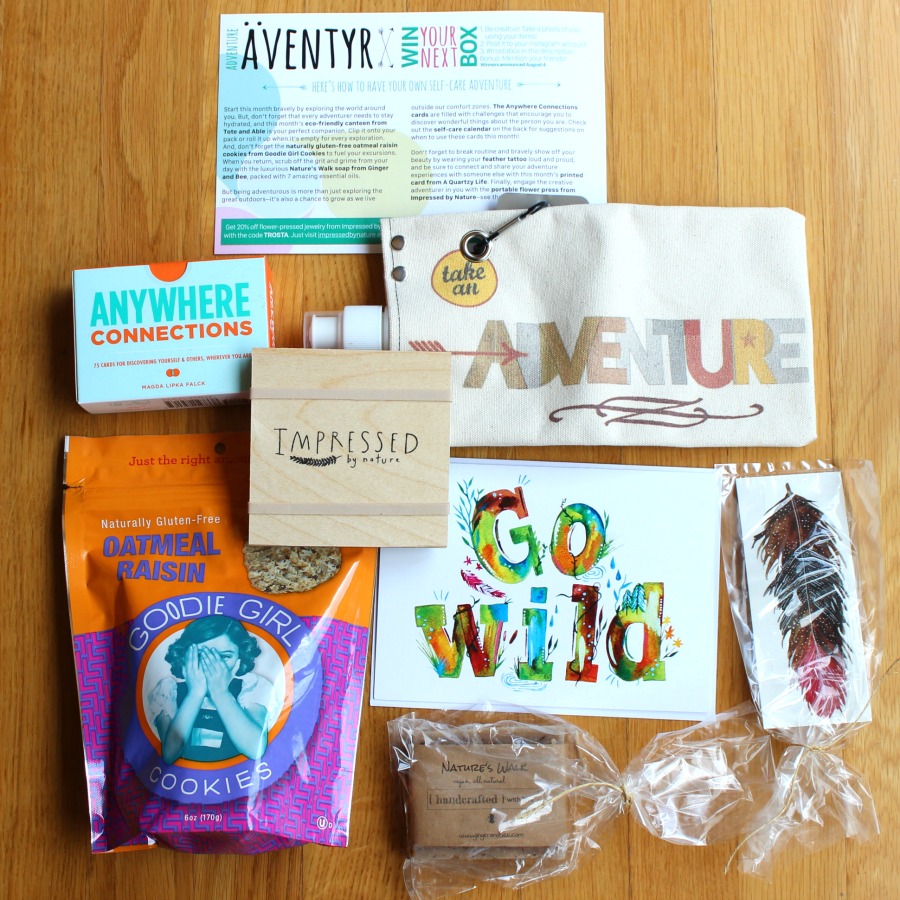 Everything in the Trösta monthly subscription box is aimed at helping to create and sustain a practice of self-care. And in this season of my life, practicing self-care is something I definitely need to better prioritize! July's box of goodies have already been helping me do just that.
In my box this month, I received:
An Eco-friendly canteen
Gluten-free oatmeal raisin cookies (I don't usually go for gluten-free food items, but these were freakin' delicious!)
Nature's walk soap
Anywhere connections cards
Self-care calendar
Temporary tattoo (that Little Miss promptly stole)
Pretty printed card
Portable flower press (I can't wait to use this!)
I also loved that in each box is a card that explains exactly what's in the box, as well as how to use everything. Very helpful!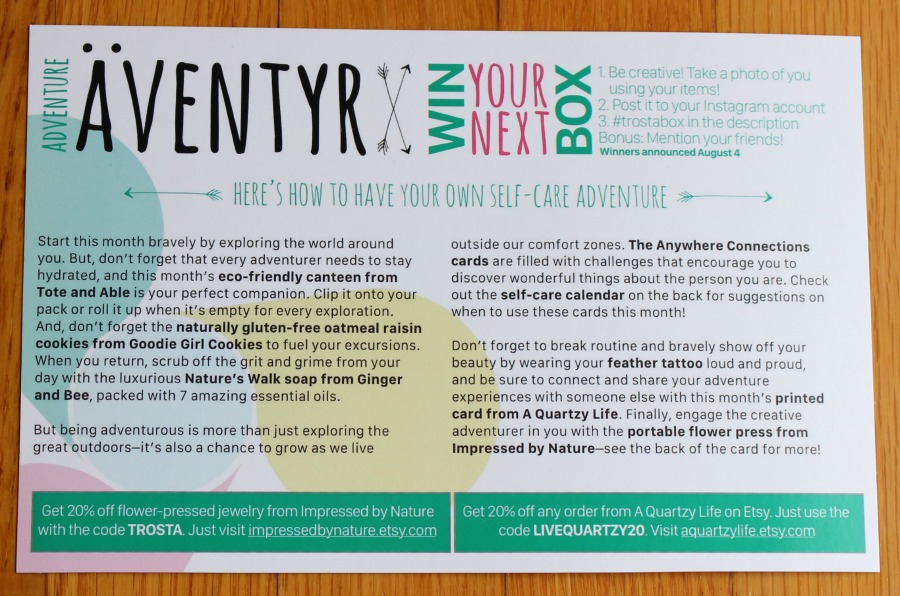 If this is getting you excited to try out Trösta box for yourself, then I have great news! They are generously giving away a free box to an Embracing Simple reader 🙂
So if you are interested in entering this quick giveaway for a chance to win a self-care box for yourself, head on over to trostabox.com/embracingsimple. The giveaway ends on July 29, 2016 when I'll choose a winner at random (limited to residents of North America). Update: The giveaway has ended. Congrats to Jennifer Z, enjoy your Trösta box! 🙂

How could you benefit from adding more self-care into your routine? Let me know in the comments below!
2. A fun personality test
I recently stumbled upon this free 16 Personalities Personality Test and had a blast taking it and analyzing my results!
My personality type is an Advocate, which means I teeter between an INFJ and an INTJ. I've known this about myself for several years now, but the results from this particular personality test went really in-depth in explaining how your particular personality type impacts the following in your life:
Strengths & Weaknesses
Romantic Relationships
Friendships
Parenthood
Career Paths
Workplace Habits
It took me around 7 minutes to quickly take the test, and I definitely recommend checking it out if personality assessments are something that interest you too! If you do end up taking it, be sure to let me know what your assigned personality type ends up being. This stuff fascinates me!
3. Stepping out of my comfort zone
If you follow me on Instagram, you might already know about the fun experience I had last weekend.
Last Friday night I tried something new and totally out of my comfort zone and LOVED it!
A big group of us went to a painting party for my sweet friend Kalie's bachelorette party, and what a blast it was! I was expecting to enjoy the awesome company, but definitely didn't expect to enjoy the actual painting process as much as I did ?. It was so therapeutic, and considering I have zero artistic abilities, I was pretty pleased with how my flower vase painting turned out.
My awesome painting experience has totally inspired me to step out of my comfort zone to do things like this more often. So much good and personal growth comes from trying things that we typically wouldn't even think to do!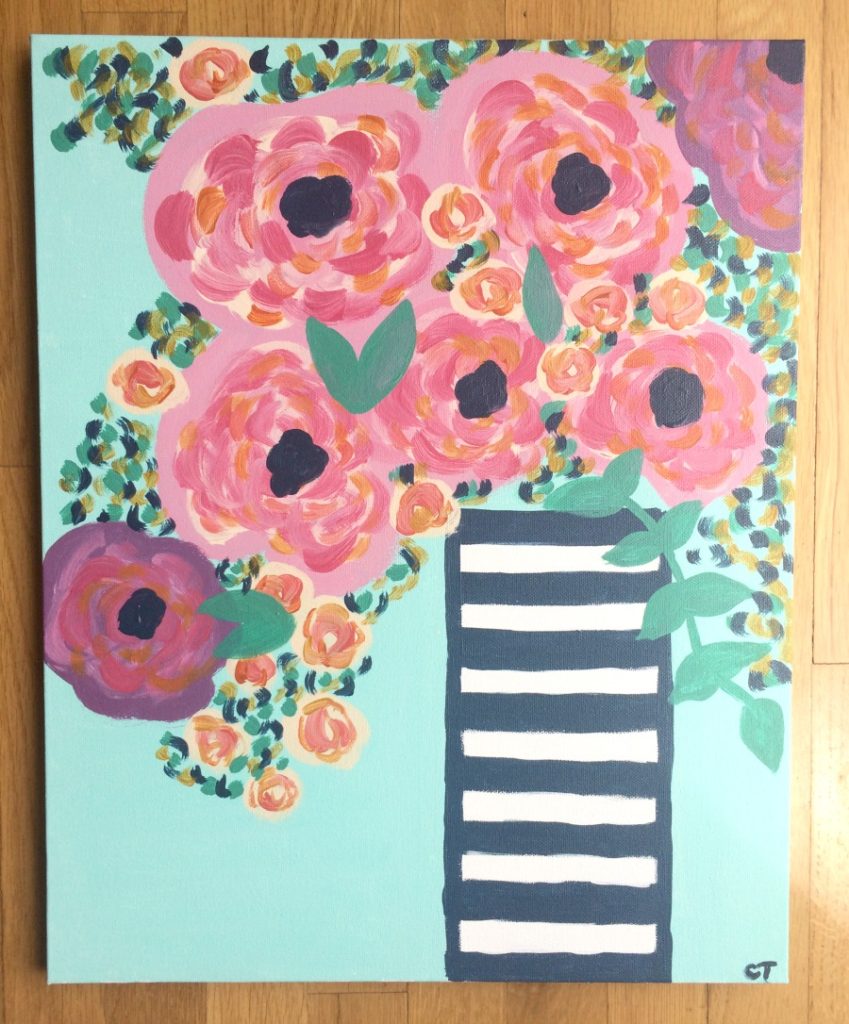 4. Virgin strawberry mojitos that almost pass for the real deal
I'm currently 31 weeks pregnant with baby #2 and I'm not going to lie…this summer has been brutal. Between chasing after the toddler tornado that is 2-year-old Little Miss and the sweltering heat, all I've been craving is fruity + boozy cocktails. Not quite sure what this says about me, but I promise I'm not an alcoholic 😉 . Fortunately for me, my sweet hubby found this awesome non-alcoholic strawberry mojito recipe that totally almost passes for the real thing!
He's been whipping these up for me all summer long (did I mention he's the best?) and it's made being in my third trimester during the summer a heck of a lot more bearable! I highly recommend these if you're avoiding alcohol for whatever reason but still want something fun to sip on in the heat!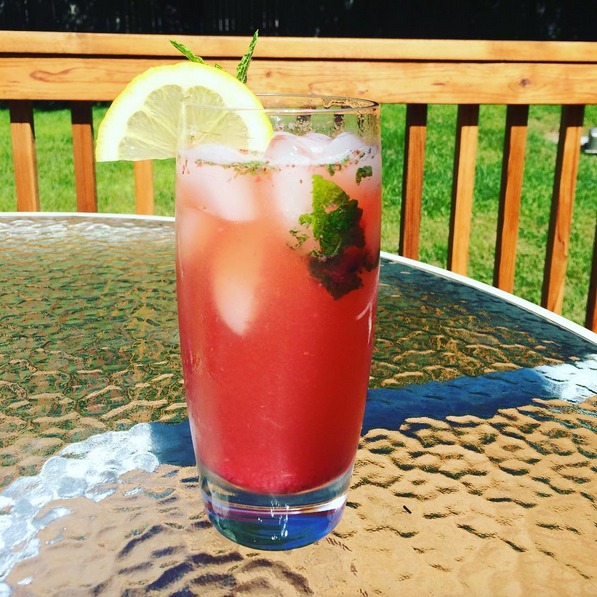 Cheers to an awesome weekend everyone!

XO Christina
[Top photo source: Ashley Ella Design]