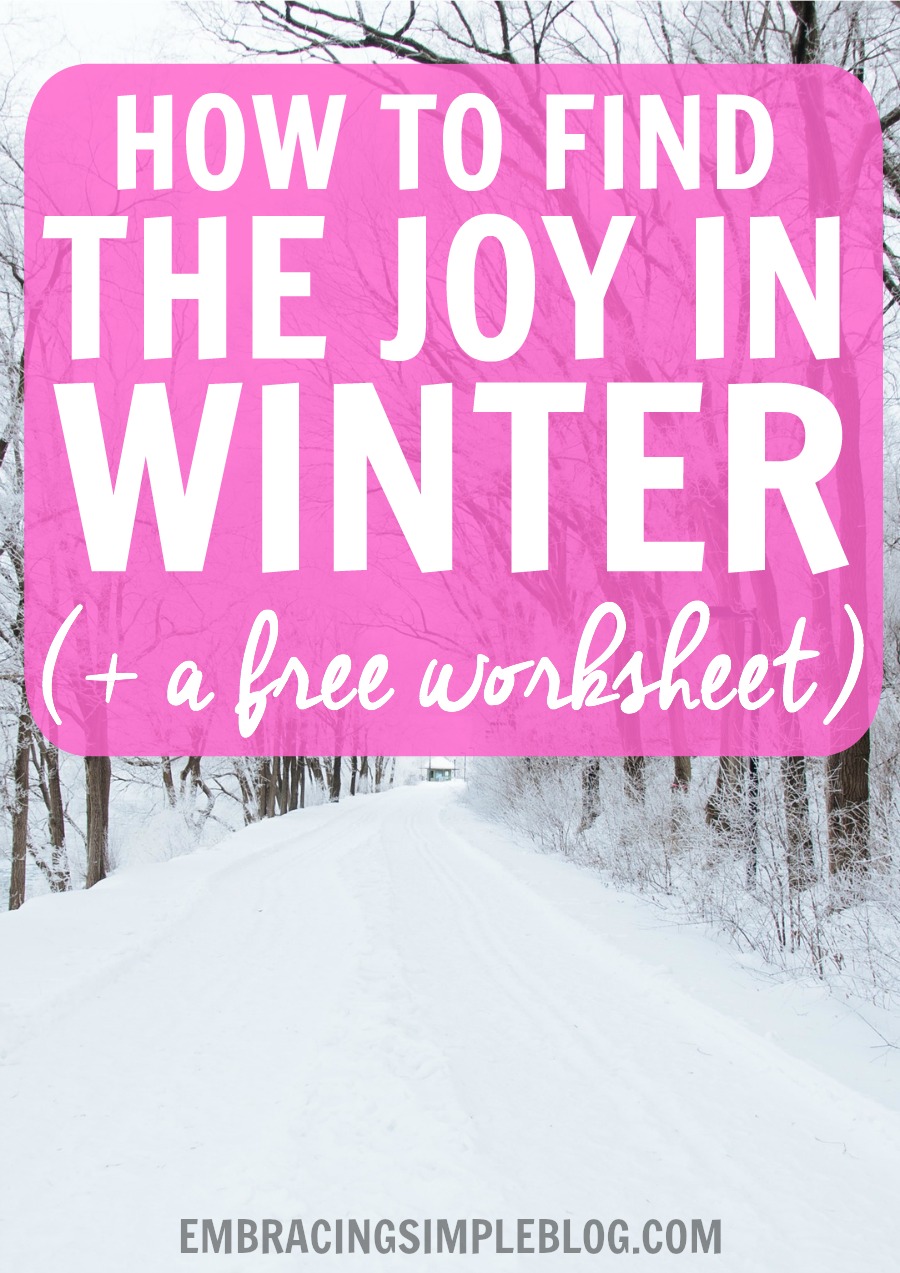 Do you struggle with your happiness levels during the winter? Perhaps you even feel a tad bit depressed or find yourself counting down the days until spring makes its debut?
I'm not the biggest fan of winter. I'd much rather be soaking up some rays poolside with a margarita in my hand during the winter months….but I live in Chicago, so I'm unfortunately not dealt that weather card during the winter.
As a born and raised Chicagoan though, I have come up with some tried-and-true strategies over the years to not only survive November – April, but to thrive and actually enjoy life during these snowy and frigid months. I haven't always been able to see the bright side of winter, and I've had my fair share of wondering why I haven't moved south yet, but I've found that the right mindset and tools to deal with the cold weather can dramatically improve the situation.

I thought I would share my strategies for beating the winter blues and finding the joy in this season, in hopes that it might help you as well!
I also created a free worksheet that you can fill out as you read through this post. It will help you to find your own joy in winter and be able to beat those cold weather blues! 🙂 Use the form below to download your worksheet.
Tips for beating the cold-weather blues and finding the joy in winter:
1. Try to appreciate the beauty that winter brings
It could be going for a short walk around your neighborhood and enjoying the snowy landscape, or simply gazing out into your backyard and reminding yourself how beautiful your trees look with snow on them. Stopping to bask in the beauty and stillness that winter brings makes it a lot more enjoyable to live through.
2. Get your vitamin D
Unless you're someone who is constantly outside getting sunshine during the winter months (let's face it, most of us unfortunately aren't), it might be beneficial for you to take a Vitamin D supplement. Of course you should always consult with your physician before deciding to take supplements, but it's definitely something worth looking into.
Personally, I just started taking them a few years ago and found that ensuring I am not Vitamin D deficient really takes the edge off of my winter blahs and drastically improves my mood. Perhaps they would do the same for you!
3. Make fun plans
Make plans that you're excited about and then focus on those fun things you have coming your way. Maybe it's trying out a new cooking class with friends, or even treating yourself to a weekend getaway. Having something enjoyable to look forward to always helps with keeping a positive mindset.
4. Early to bed, early to rise
Going to bed early and waking up early is going to allow you to experience as much daylight as possible, which can really help soften the blow of much shorter days. And witnessing the sun rising over freshly fallen snow? Pure magic.
5. Make your house brighter
Open up all the curtains and let as much natural light in as possible. You'll find it to be an instant mood booster!
6. Exercise
Make it fun! Participate in some winter-specific activities like skiing, snowboarding, ice skating, snowshoeing, tubing, ice fishing, sledding, or tobogganing. It will really help you to appreciate what winter has to offer.
If outside activities aren't for you –  no problem. Even some hardcore cleaning around the house or some brisk mall walking counts! Just moving and getting your blood flowing is going to make you feel better.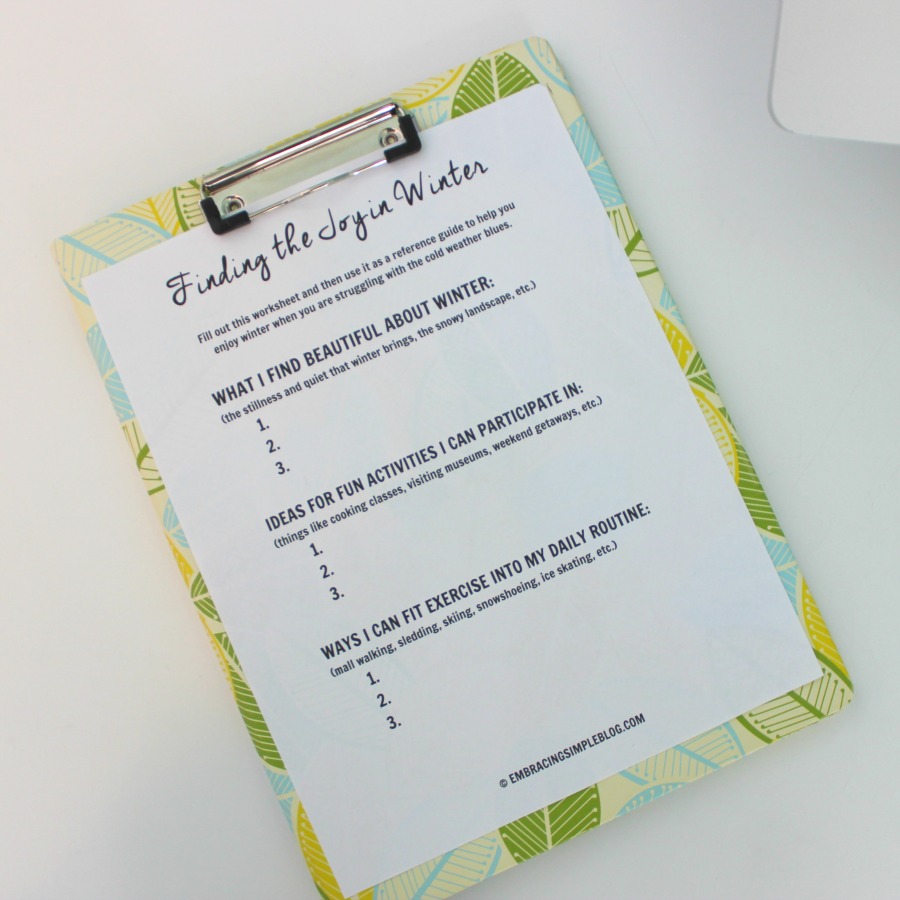 7. Take up a new hobby
Keeping your mind preoccupied with something that you truly enjoy and look forward to spending time on can be a great distraction from the winter blahs. Whether it's reading, baking, starting a blog, or even treating yourself to an adult coloring book to enjoy –  find something that you would like to put your focus into and love spending time doing!
8. Don't be a hermit
It's easy to allow yourself to become isolated when it's dreary outside. Make sure to stay social by keeping in touch with your friends and family. There's nothing quite like spending time with our loved ones to lift our spirits and help us get out of a funk!
What are your favorite ways for finding the joy in winter? Share with me below!

Don't forget to grab your free worksheet!
There are affiliate links in this post. If you choose to make a purchase, I will receive a small commission at no additional cost to you. I only recommend products that I love myself and that I think would benefit you too. Thank you for helping to support Embracing Simple in this way!