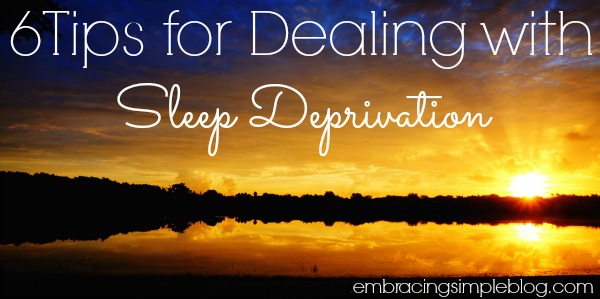 Happy Monday, Friends! Hope you all had a wonderful weekend.
Feeling a little sleepy today? If so, I hear ya! Little Miss will be 7-months-old this week and still is not sleeping through the night whatsoever. She is currently cutting her second tooth, so it seems to be at least momentarily getting more difficult instead of easier in regards to me being sleep deprived. Lately she's been waking up a minimum of 4 times per night, sometimes up to 10. I also try to wake up before her (usually around 5 or 5:30a) to get an hour or two of work done before she wakes up for the day.
Needless to say, I'm exhausted.
There's a few tricks I have up my sleeve that I use on a daily basis to help me power through my day and still remain productive even though I haven't had a good night's sleep in a very, very long time.
Whether you haven't been getting as much sleep as you really should be due to working, studying, a small child, insomnia, or a fun night out, I hope you'll find these tips for dealing with sleep deprivation helpful!
Tips for dealing with sleep deprivation:
Drink plenty of water
Drink a full glass of cold water first thing in the morning before you do anything else. It not only helps to wake you up, but jump-starts your metabolism as well. Then continue to stay hydrated throughout the day, as it will really help clear out your brain fog.
Avoid excessive caffeine
I am a coffee fanatic, and absolutely cannot function without my morning brew. That being said, I really do try to limit myself to only 2 cups per day. On somewhat well-rested days I'll just have that one morning cup, and then on days where I barely got 2-3 hours of sleep I'll usually need that second cup sometime in the early afternoon. If you continue to drink nothing but coffee or energy drinks all day, you're going to find yourself seriously crashing after lunchtime.
If you habitually drink cups upon cups of caffeinated beverages throughout the day, try gradually switching out a few of them for water. You'll be surprised at how staying well-hydrated can actually have a better effect on your energy levels than caffeine. Side note – if you do drink coffee, I highly recommend programming it at night to start brewing at whatever time you wake up at. It makes getting out of bed a little bit easier knowing you already have that liquid gold waiting for you.
Get some natural light
Open up every curtain/blind possible in your home or office to expose yourself to as much sunshine as you can. This is probably the best way to increase not only your energy level, but your mood as well.
Physical Activity
Whether it's some quick stretches, going for a walk around the block, or a more intense workout, getting your blood flowing is a great way to get some feel-good endorphins going and a wonderful distraction to forget about how tired you actually are.
Don't focus on how tired you are
If you keep thinking about how exhausted you are, you'll likely end up making excuses as to why you cannot be productive. Wallowing in self-pity over it is going to end up in a wasted day and makes it too easy to just go through the motions all day without really getting much of anything done. If you have work that needs to be done, I suggest starting with a task that you're excited about so that once that is complete, you can feed off that productive energy to tackle the rest of your to-dos for the day.
Eat high-nutrient foods
I know that loading up on carbs sounds incredibly appealing when you're feeling sleepy, but try to avoid simple carbs as much as possible and seek out some high-nutrient foods that will give you energy instead of zapping it out of you. Smoothies have become one of my favorite energy boosters!
What are some of your go-to methods for dealing with sleep deprivation?
Photo credit: "Sunrise" by Howard Lebowitz. CC2.0. Text added.