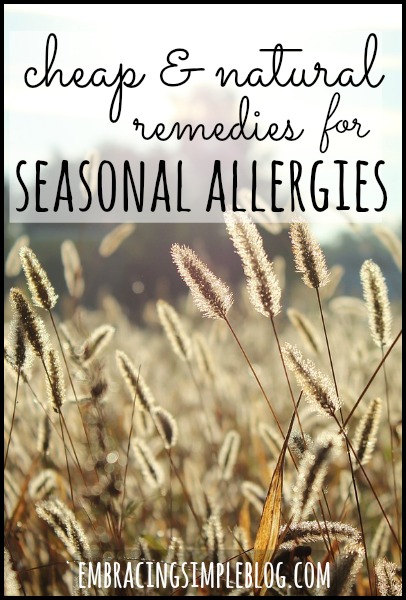 I've been having a beast of a time with my allergies these past few weeks. I've dealt with seasonal allergies and some mild asthma for years now and find myself getting sinus infections every once and awhile, but nothing compared to this year.
Two weeks ago exactly I felt perfectly fine when I woke up, but then all of a sudden started getting facial spasms on the left side of my face, which then turned into tingling and that side of my face becoming numb. Scary, right? At first I brushed it off as maybe being dehydrated or something minor, but then my hubby urged me to go into immediate care in case I was having a stroke or something more serious that was going on.
The nice folks at immediate care thought it might have been a stroke too. But after blood work, a CAT scan, and an MRI, it turns out it all boiled down to a stinkin' sinus infection. Weird, because I always know when I have a sinus infection. As in, I feel like complete garbage and can pinpoint what the cause is and definitely wasn't feeling any of my typical symptoms that I usually get with them. So I was prescribed some mild antibiotics and was feeling fine…until last week.
The sinus infection apparently made its way down into my jaw and I was in so much pain that I could barely talk or eat. I'm talking I was in tears because it was so painful. I would borderline say it was worse than giving birth to a 9+ lb baby without pain meds (yup, I totally did that), but probably only because I knew I wasn't getting a sweet little newborn out of it. Hah!
Turns out the first round of antibiotics wasn't really doing anything for me, so they gave me a stronger dose and they seem to be kicking in and working now. I hate taking antibiotics because I think they are abused a lot, but that just tells you how desperate I was for some relief!
Now to get off of my tangent and get to my point already, I realized that I can't be the only one who deals with seasonal allergies and the complications that can arise from them (like my fun sinus infection from hell). On top of taking my prescribed allergy meds year-round, I also have an arsenal of cheap and natural remedies to relieve seasonal allergies that help give me that extra boost when I need to find some relief during the spring and fall.
I know this isn't the most exciting topic, but I thought this might be helpful to share. Especially for those of you who may not have allergies as severe as I do that require drugs, but do suffer a bit during this time of year and are looking for some natural remedies that will give you some relief, but won't break the bank either.
Keep in mind that I'm not a doctor or anything, this is just what has worked well for me personally. So definitely check with your own doctor if you are really suffering or are questioning any of these practices.
Here are my cheap and natural remedies for seasonal allergies:
1. Use a saline rinse
A saline sinus rinse works exactly the same way as the Neti Pot, but is a heck of a lot less scary looking. I use this sinus rinse and love it. I know it doesn't sound super fun or comfortable to do, but it's my go-to quick fix to start feeling better right away. It really helps to flush all of the allergens out of my sinuses on a daily basis, and even clears everything up when I'm already sick. When I'm consistent about using it at least a few times a week, it usually fends off any sinus infections….I need to remember that when I start to get lazy about doing it like I clearly have been this spring!
2. Watch what you eat and drink
Eating too much dairy or breads/pastas can cause an increase in mucus production (at least for some people, myself included). I tend to lean on the safe side when my allergies are bothering me and limit those types of foods in my diet. I also chug water throughout the day like it's my job and find that alone to be extremely helpful in flushing everything out of my system and get me feeling better quickly.
3. Do hot compresses
I find sweet relief in sticking my sinus pillow in the microwave for 30-60 seconds and then placing it on my face for about 10 minutes. It really helps to ease some tension and loosen everything up. I've found that dampening a small hand towel with hot water and placing it over my face has the same effect, but it generally loses its heat within a minute or so, so I've found the sinus pillow to be more beneficial. But the towel approach works well too!
4. Use peppermint essential oil
I typically either waft the open bottle of peppermint oil under my nose (being careful not to actually touch my skin) or sprinkle a few drops at the bottom of my shower. If you are feeling congested, whether it be from a cold or allergies, I highly recommend this. You will finally be able to breathe! The relief from this doesn't last too long, but helps to save your sanity a bit by momentarily clearing you up and allowing you to feel somewhat back to normal for a few minutes.
5. Take steamy hot showers
This combined with the peppermint oil is a great remedy. Be sure to let the hot water hit the top of your head, face, and upper back to help open everything up. It's also really relaxing and a great excuse to take a nice long shower without guilt 😉 .
Another thing I really recommend if some of the cheaper alternatives above aren't helping you is to visit a chiropractor if possible. This is something that I just tried this past week actually because I was in such excruciating pain. I wasn't sure if my chiropractor would be able to help me with sinus pain at all, but I was willing to try anything to get some relief.
I was so happy I decided to go, because I felt instant relief after I left his office. I highly recommend visiting a chiropractor if you can if your sinuses are bothering you. I have great insurance so going to the chiropractor really isn't as expensive as it might sound, but this might not be a cheap option depending on your insurance situation, if you'd like to know more about visiting a chiropractor visit cobbchiropracticclinic.com/.
Do you suffer from seasonal allergies? Are there any other cheap and natural remedies for seasonal allergies that have helped you?