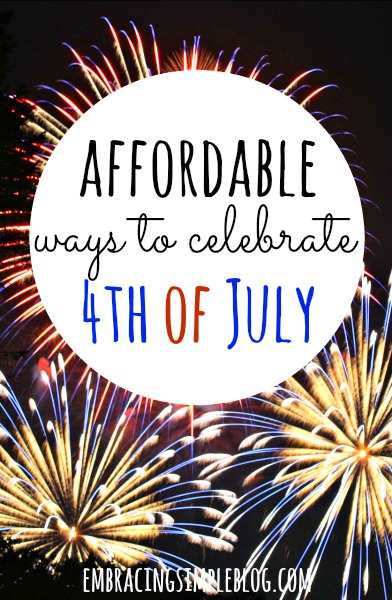 I really look forward to most holidays, but 4th of July is probably the big one (next to Christmas) that holds so many special memories for me from my childhood. For my family, it's always just a relaxing and laid back day and I enjoy how casual it is compared to preparations that need to take place for other holidays.
4th of July usually involves simple BBQ food, fun outside activities, and just good quality time with our family celebrating our amazing country and our freedom. Doesn't get better than that!
While I'm sure many people enjoy going on getaways to the beach or other fun summer destinations over the holiday, those types of trips can get expensive pretty quickly and definitely aren't necessary to have a wonderful time this 4th of July weekend.
I've rounded up some other fun and family-friendly ways that you can celebrate the 4th of July in your own town, while also keeping your budget in check.
Affordable Ways to Celebrate The 4th of July:
DIY red, white, and blue gear
Patriotic clothes are really fun to wear on the 4th of July to feel festive and more in the spirit of the holiday, but the cost of new shirts or accessories to deck out the whole family for just one day can really add up. Try to get creative and pull together a patriotic outfit with clothing you already have, or maybe even head to the dollar store or the dollar spot at Target for some less expensive red, white, and blue necklaces or bandanas that won't cost a fortune.
I've also seen some cute ideas for buying plain white t-shirts and letting kids decorate their own with red and blue paint. That might be a fun activity to do 4th of July morning to wear later in the day to fireworks and other festivities!
Fireworks shows
Most fireworks displays put on by towns are completely free to the public. Even if your own town doesn't do a display on the 4th, I'm sure that a surrounding town does. Pack up a cooler with drinks and snacks to bring and make a whole night out of it!
Parades
Like fireworks displays, most of the towns around us do a 4th of July parade as well. I can't wait to start taking Little Miss to the same parade I went to every year as a kid! In addition to being completely free, there's usually some kind of candy or other small goodies being passed out too which is pretty cute to watch all the little kids running around collecting.
Backyard waterpark
Set up a sprinkler (I spotted this beyond adorable one that I think I'm going to have to pick up for Little Miss), slip n slide, and little pool and let the kids go wild having fun in their own "waterpark" right in the convenience of your own backyard! Perhaps even take part in an adults vs. kids squirt gun fight if the adults are game 🙂 .
Play softball or kickball
Get the whole family and friends together for a huge game of softball or kickball. Assign everyone to either "team red" or "team blue" and have all players dress accordingly. Would be a great way to fit in a bit of exercise to balance out all the good food you partake in later that day too!
Kid-friendly "fireworks"
Set up a little station of "fireworks" that are safe for the kids to do themselves. Snap dragons, party poppers, and sparklers are always fun! Although sparklers scare the living heck out of me with kids, I think that with proper adult supervision it can be a fun and safe activity for kids.
Glow in the dark ring toss
I found this super fun activity from Momma Did it to "light up the night" with a ring toss using glow in the dark necklaces as the rings to throw. What a cute idea!
Have a pot luck
Invite friends or family over and have your guests bring a signature dish to share that they enjoy making. It keeps the cost of food down for everyone and is nice to get a taste of everyone's home cookin'.
For more fun ideas and patriotic goodies for the 4th of July, be sure to follow my 4th of July board on Pinterest!
What are some affordable ways that you plan to celebrate the 4th of July this year?