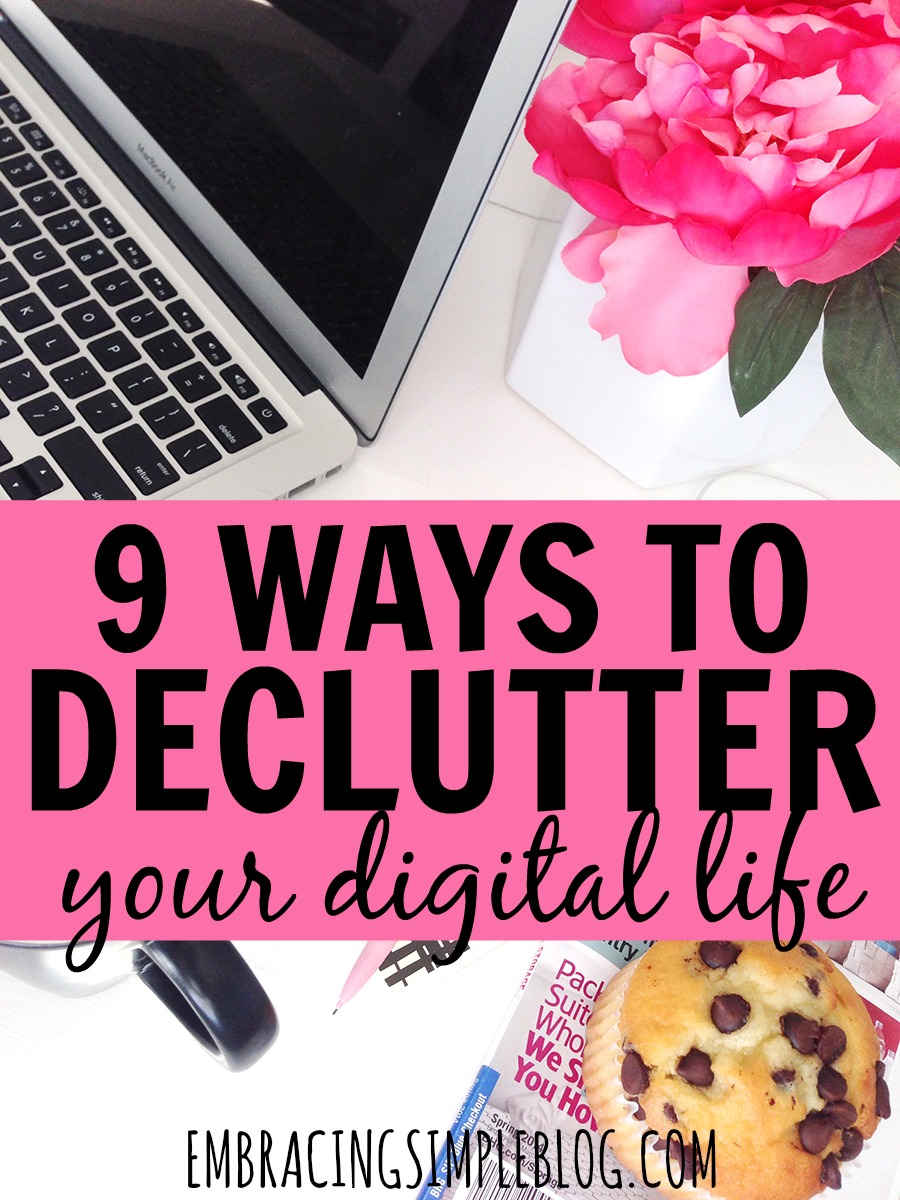 A big thank you to Unroll.Me for sponsoring this post! All opinions are 100% my own.
While I love the idea of going digital with everything to keep my life feeling a bit more simplified, the truth is that digital clutter can be just as worse as having paper clutter everywhere.
It's very easy to become overwhelmed by too many documents glaring at you on your computer desktop, your inbox being overtaken with unnecessary emails, or your social media being a bit too social with all of its constant notifications.
Today I'm sharing some of my top tips to beat the digital clutter beast in your own life, and I truly hope you find it helpful!
9 ways to declutter your digital life:
1. Delete files you don't need anymore
I just recently did this and realized that I was holding onto a ton of files that I hadn't opened up in years and it cleaned up so much space on my computer!
Go through all of your files – every single type of document, image, etc. on your computer and delete anything that hasn't been touched in more than a year. Unless it's something you might need for tax purposes or sentimental reasons, it's a safe bet that if you haven't used it in a year, you probably won't ever need to use it.
2. Limit the amount of tabs you have open
This is one I am seriously so guilty of. I was actually complaining just the other week to my hubby about how my computer has been acting so slow lately (it's a 6-year-old laptop), so I was thinking that I was due for a new one.
He took one look at my computer and noticed the 17 – yes, 17! tabs I had open in my browser and told me that was my culprit. I tend to need several tabs open at one time for all of my freelance work, because I often need to pop around for all the different elements I need, but there is definitely no reason for me to have more than 4 tabs open at any given time.
Ever since setting the 4 tab limit for myself, I have found my computer to process much more quickly and also don't get sidetracked as easily while working. Definitely give this one a try if you have a love affair with keeping way too many tabs open at once!
3. Turn off all notifications
I find Facebook, Twitter, and LinkedIn to be the biggest culprits of cluttering inboxes with constant notifications.
You really don't need to receive an email alert every time someone posts on your timeline, pokes you, comments on your photo, etc, etc, etc. There are literally over 30 different actions to be notified about on Facebook alone, not to mention all of the other social media channels you could be receiving notifications from.
I encourage you to turn off all notifications on your social media, and breathe a little easier knowing they aren't cluttering your inbox!
If you go to your Facebook settings, you can turn off excess notifications by selecting to receive "Only notifications about your account, security and privacy", as pictured below.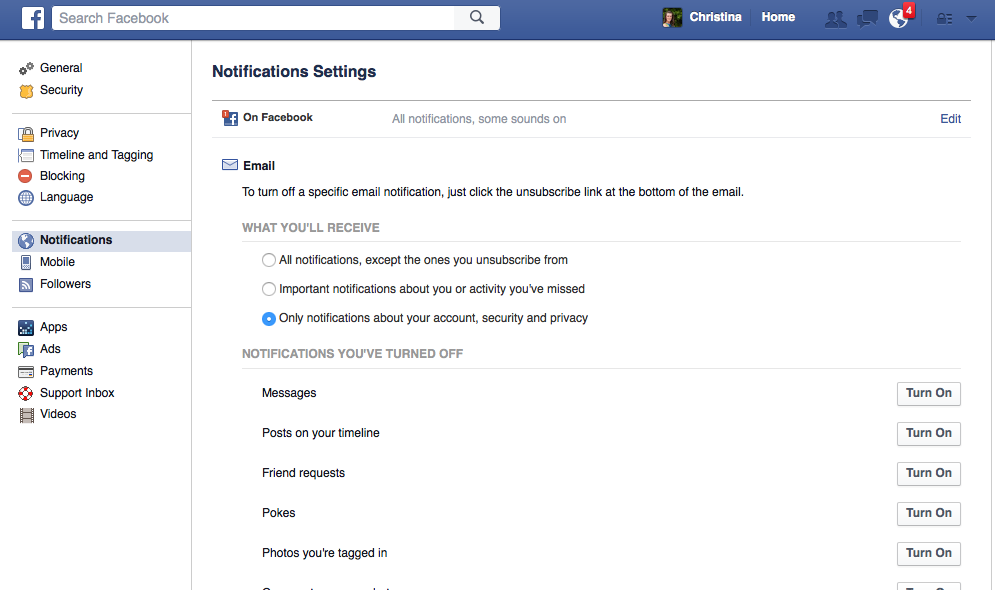 4. Unfriend and unfollow on social media
Do you really need to be Facebook friends with all 600 people from your high school graduating class? Or the person you sat next to in your first college biology class that you haven't spoken with in 6+ years? Probably not.
Clear up your feed by unfriending anyone you haven't communicated with in a few years, or whose updates you find annoying. I personally have started deleting or unfollowing anyone who is constantly posting negativity or being passive aggressive on any social media.
You know the person – they vent their problems with someone in an "anonymous" way in a Facebook status, clearly to either start drama or get pity from others. I don't have the time or patience for that – if someone has a problem in real life, they need to deal with it in real life. Not passive aggressively over social media.
If you find some of your social connections sharing their thoughts in that way, I give you permission to cut the cord and unfollow them too!
5. Keep files in a cloud storage solution rather than on your desktop
Keeping files in a cloud storage solution has been really great for me, especially with all of the pictures I have of Little Miss, as well as quite a few files I like to keep on hand for my client work.
I try to keep as few documents and pictures on my computer itself as possible, and instead back them all up onto an external hard drive and then also upload them to cloud storage for easy access and some additional peace of mind.
If you have important documents or photos currently on your computer that aren't backed up anywhere, definitely try keeping them in cloud storage as well. This way if your computer crashes, you still have those files and won't be heart broken to lose them forever.
6. Forward all of your email addresses into one inbox
While the average person likely doesn't need multiple email addresses beyond one personal and one work-related, I know that there's a good chance many of you do. Some of my freelance clients require that I have an email address through their company, and then I also have an email address for my blog, as well as two personal email accounts (one is my old one with my maiden name). In total, I have 11 email accounts.
That would be a lot of inboxes to log into on a daily basis, so instead I just forward all of them into one inbox to simplify my life a bit. I have different aliases set up within my inbox for each of these email addresses so that I have a personalized email signature based on whatever email address I am responding from, and it is something I highly recommend you do if you need several email addresses as well!
7. Organize your desktop
If your desktop looks like a hot mess and it seems like documents just exploded everywhere, you need to set some time aside to go through and sort them. Whether you actually physically delete some of them, or just sort into folders, I can guarantee you will feel so much better afterwards! I currently have just three main folders on my desktop, one for my personal documents and a few pictures, one dedicated to my freelance clients, and then one for my blog.
It's very nice to have all of your files in a dedicated and easy-to-access folder. Not only does it completely declutter your desktop and make you feel a bit more at peace, but it makes it so much easier to find what you are looking for!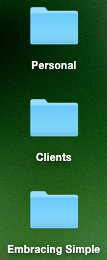 8. Delete any apps off your phone that you don't use on a regular basis
If you have a smart phone, I bet there is a good chance that you have at least a few apps currently on your phone right now that you aren't using on a regular basis. Take some time to go through and delete any of these apps. It will not only clear up the storage on your phone a bit, but will also reduce the amount of distraction you face whenever you look at your phone. Especially if it's a game or a social media app!
And if you think there's even a slight possibility you will use a particular app in the future, the worst case scenario is that you can just re-download it later if you end up wanting to use it. No biggie!
9. Get your inbox under control
I've talked about How to get to Inbox Zero, and while it can feel like an accomplishment to sort through thousands of emails to finally see "0 new emails" sitting in your inbox, the real accomplishment is actually staying there. That feat is much easier said than done!
Unroll.Me is one of my new favorite productivity tools to help keep my inbox under control, so that I never get back to that place where I have over 2,000 emails waiting for me to sift through.
While I have manually unsubscribed from unwanted newsletters and promotional emails in the past, that is a process that can take quite a bit of time and often result in frustration, depending on how many subscriptions you have. Unroll.Me is a simple and completely free solution that helps you unsubscribe from multiple unwanted promotional emails and newsletters at one time, and then combine the rest into a once daily email digest called "The Rollup".
When I used Unroll.Me to do the initial scan of my inbox, I was expecting maybe 10-15 email subscriptions to come through….nope! I apparently had 112. That seems like an insane number of subscriptions to me!

What I like most about Unroll.Me is The Rollup feature that allows you to format the subscriptions you do want to keep to be delivered to you in just one email. The Rollup combines all the subscriptions you actually want into a convenient daily digest, delivered in the morning, afternoon, or evening. I have a lot of blogs I love to read, so I really enjoy this feature to still be notified of new posts from my fav blogs, without my inbox being cluttered with those notification.
Unroll.Me is a pretty nifty way to keep your inbox clean for good and save time and hassle on the tedious process that unsubscribing from a large quantity of unwanted emails can bring. I felt pretty zen and at peace with my inbox after using unroll.me, and now I really have no excuses to not keep my inbox clutter-free! 😉
Sign up here if you'd like to try out Unroll.Me for free too!
Does your digital life feel cluttered right now? How do you plan to simplify and declutter it a bit?

[Photo source: Ashley Ella Design]