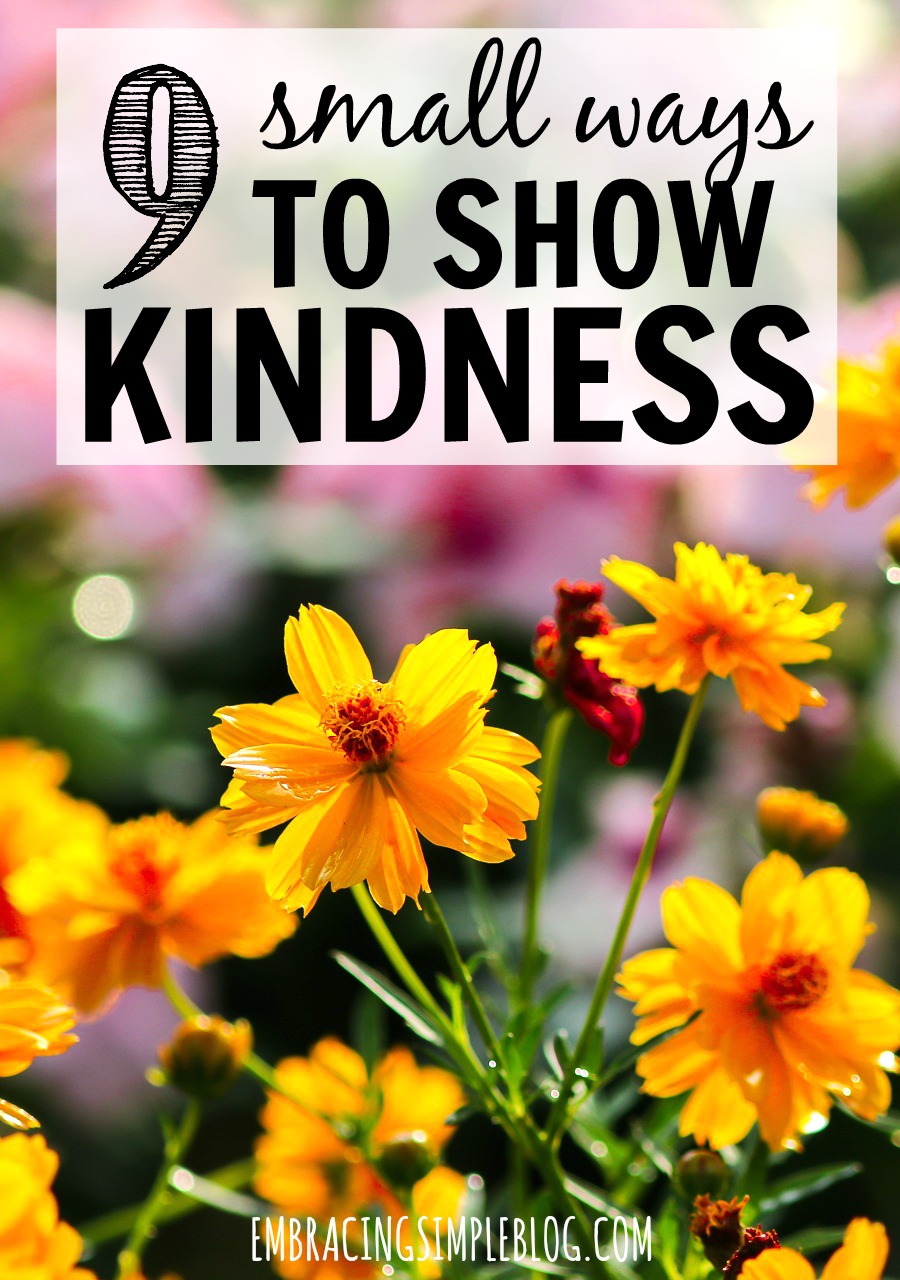 A big thank you to Kleenex Brand for sponsoring this post!
As the days become shorter this time of year, I find myself feeling a little down in the dumps over the fun and whimsy of summer being over.
While I absolutely love fall and some of winter, the thought of being stuck inside with a toddler for most of the next 5 months can be downright depressing.
I decided that instead of dwelling on my negative feelings toward the cold and dreariness of the upcoming months, I am going to focus on joy and spreading kindness to others. I feel like whenever we make an effort to touch the lives of those around us, even in a very small way, it can reap very big benefits for everyone involved.
There is research that shows a very strong link between being kind to others and being healthy and well yourself (source). With that in mind, I thought that sharing some small ways to show kindness to others would be a great way to help us all enter this next season with positive minds and full hearts from the happiness that showing care to others can bring 🙂
9 Small Ways to Show Kindness to Others:
1. Smile and say "hello" or "good morning" to a stranger walking down the street
I realize this isn't exactly a monumental act of kindness that is going to change the world, but it will make it a little brighter. Living in the midwest, people are pretty friendly around these parts. Unless you're in a big city, a lot of people will say "hello" to you as you walk by and I love it! It seems like such an insignificant act, but it can really turn my day around to get a genuine smile and acknowledgment from a complete stranger. Try it out sometime!
2. Pay for the person's coffee behind you
This happened to me one morning in the drive thru waiting to get my coffee on my way to work a few years ago and it was such a sweet gesture. I ended up paying for the person's behind me as well, and at the point I had picked up my coffee at the window, the cashier told me that I was the twelfth person in the chain of paying for the person behind us. I know it's just coffee and all, but what an awesome feeling it was knowing that people were feeling in a giving mood that morning. It was something that still sticks with me today!
3. Leave a sweet note for someone you love
My hubby and I used to be much better about this before Little Miss came around, but we sometimes leave sweet little notes around the house for each other. It's usually just something simple like me leaving a sticky note on the coffee maker or bathroom mirror telling him I love him and to have a safe day of travel if he had to leave on a business trip before I was up for the day. I know he loves when I do that, and I love when he does the same for me. Once Little Miss is in school, I plan on sticking little notes in her lunch box on a regular basis. It's just something small to show someone you were thinking of them, but can really brighten up their day.
4. Let another driver merge into your lane – with a smile on your face
How many times have you tried to merge into the lane over to be able to get to your exit, but drivers in that lane wouldn't let you merge over? It's always very stressful when that happens, so whenever someone not only lets me in, but I can see they are smiling while they wave me over, I instantly feel at peace and think, "wow that was really nice!". This is something that truly takes only seconds out of your day (if that), but can really leave someone else feeling good.
5. Pass along a wonderful book you've finished reading
My good friend Kalie recently did this for me, and it was so touching! I was going through a little bit of a rough time and she had just purchased a book that she knew was exactly what I needed to read at that moment. She graciously offered to lend me her book so I could benefit from it too and it meant a lot to me knowing she cared enough to do that.
6. Bring a meal to new parents
I was a new parent myself last year, and it was honestly the best thing ever when someone would bring us a meal to enjoy in those early weeks with having a newborn. Being a new parent can be a really tough adjustment, and having a warm and healthy meal to enjoy without having to actually do the work of making it is amazing!
7. Give praise to others whenever possible
No matter who you are or what you do, I think it's safe to say that we all just want to feel like we are doing a good job in this life. Whether you work in an office or are a stay-at-home Mom, it always feels wonderful to have someone compliment you or give you praise for doing what you do. Next time a co-worker does an awesome job on a project, be sure to let them know you think so. Or if you see a Mom walking around the grocery store with her four kids and they are all pretty well-behaved, don't be afraid to say "what well-behaved kids you have, way to go Mom!". I know it sounds slightly ridiculous, but I can guarantee you it will be meaningful to the person you say it to 🙂
8. Always stop at the lemonade stand
Maybe this is just the entrepreneur in me, but whenever I see kids out there at the end of their street selling lemonade or arts & crafts, or any kind of small business venture, I must stop. Not only do kids get so excited about having their efforts of marketing their product pay off (seriously, how can you resist kids jumping up and down while holding a "Lemonade – $.05" sign as you drive by?), but it shows them that hard work and perseverance pay off. That 5-year-old selling 5 cent drinks at the end of his driveway today could be the next big time entrepreneur tomorrow!
9. Create a care package for someone feeling under the weather
We are officially in cold and flu season, and I was thinking it would be so nice to put together a little care package to give to our next friend or family member that catches a bug of sorts. A little something to maybe just drop off on their porch to show them we care and are thinking of them, and include some items that would brighten their day and help them feel better soon!
Little Miss was my partner in crime to head on over to the Walmart pharmacy section to stock up on goodies to make our care package – including the Kleenex facial tissue that she clearly had a blast creating a makeshift drum out of 😉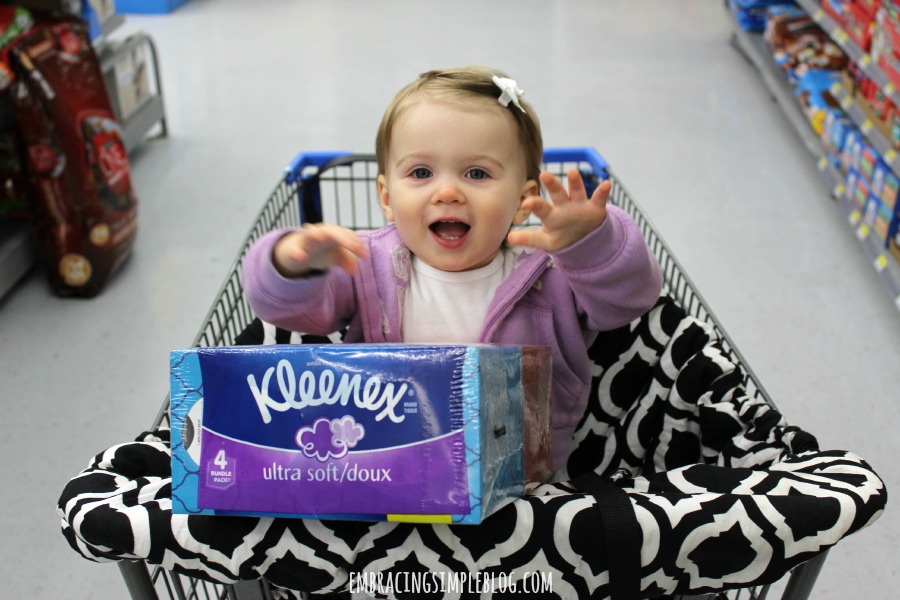 If you end up heading on over to the Walmart pharmacy section to pick up your own Kleenex facial tissue, you can actually take advantage of an exclusive Walmart offer while stocking up: receive a $5 VUDU credit when you purchase either a 4-pack of 75-ct Kleenex Ultra Soft Tissues or Kleenex Tissues with Lotion (some will have stickers that denote coupon and some will not, but all of the Lotion/Ultra Soft 4-packs are eligible).
Here are the redemption details:
"Redeem by purchasing qualifying item and star/check the item(s) and the date of your receipt. Snap a clear photo of the entire receipt with your phone. Text CAREPACKAGE to 811811 for submission instructions. Please allow 48 hours for processing."
All the items we ended up adding to our "Get Well Soon" care package:
Kleenex facial tissues
Hand sanitizer
Lotion
Soup
Tea
Vitamin C chewables
A book for entertainment
While I'm not wishing sickness upon anyone, I am looking forward to giving this basket of goodies to someone who is feeling under the weather in the next few weeks. I think it will be the perfect little pick-me-up to make them feel a bit better!
What are some small ways that you like to show kindness to others? Share with me below!
This is a sponsored post written by me on behalf of Kleenex Brand, all opinions are 100% my own.