---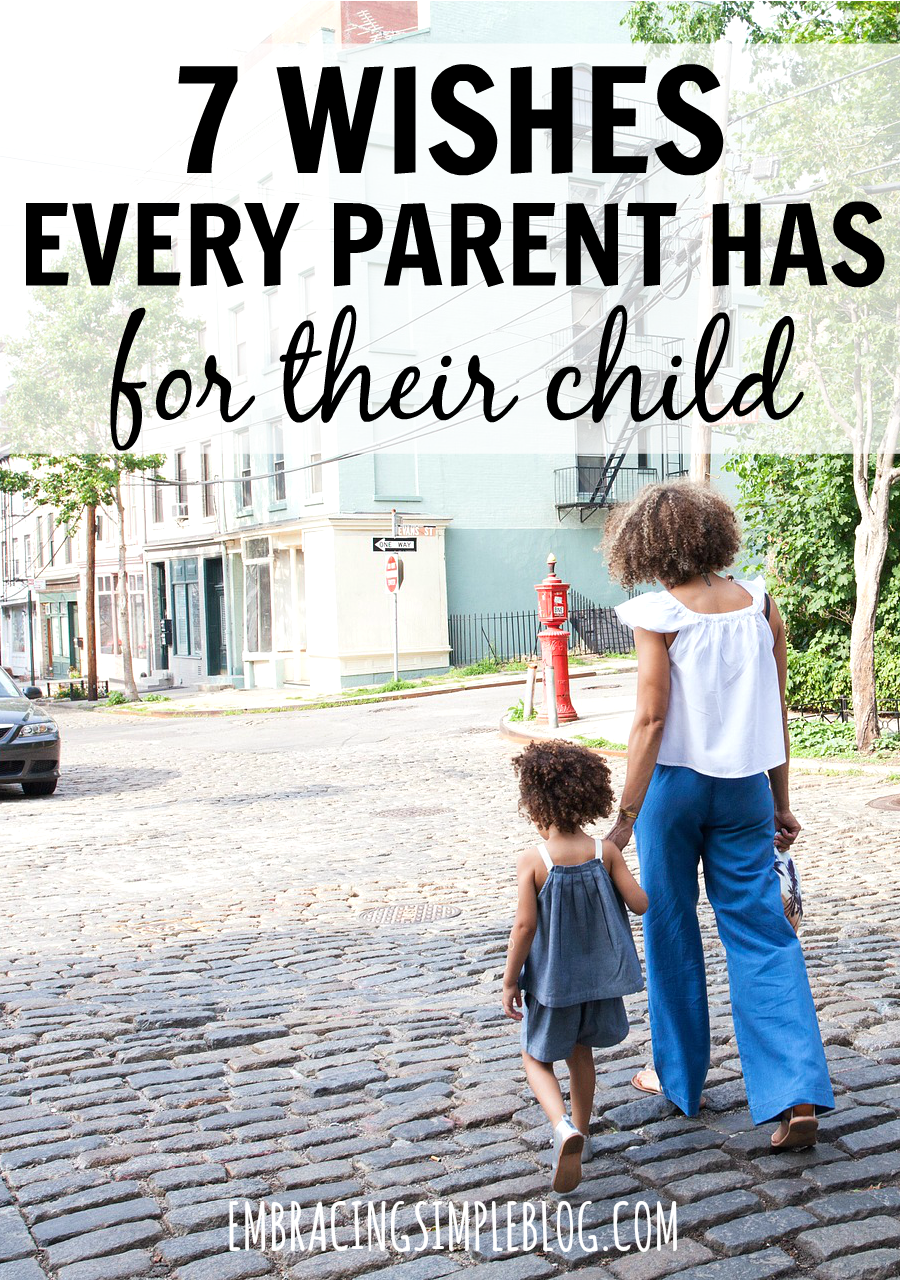 A big thank you to BabyNome for sponsoring this post! All opinions are my own.

Today's post is a bit of a sappy one and something I think every parent can relate to, no matter what stage of parenting you are currently in.
Little Miss seems to be growing and learning at a record pace these days, so my emotions surrounding parenting and her future in general have been high lately… and I may or may not have cried while writing this post. #MomLife for the win.
I am sharing the 7 biggest wishes I have for my daughter's future today and I like to think that any other parent out there wishes for these things for their children too.
Even if you aren't a parent yet, but kids are something definitely on the table for you at some point in your life, I bet you can relate to these too. Or maybe you're an empty nester and your babies have all grown and moved out of your home – I'm sure you still want these things for them too 🙂 They might grow up, but they are always still our babies, right?!
7 Wishes Every Parent Has for Their Child:
1. That they will forgive us for the mistakes we've made in raising them, and know that we were only doing the absolute best that we could
Little Miss is only 15-months-old, yet I already have a list a mile long of all the mistakes I've made thus far in raising her. Sure, at this point they aren't anything significant that she will actually remember, but I know they will hold more weight at some point in the future as she becomes more aware of my actions and the things that I say.
Though I will try my best to minimize these mistakes through the years, I hope that when she's old enough to look back on her childhood, she can look past those mistakes and see a Mom that was only trying to show her unconditional love and support.
2. That they will be able to confide in us like a friend, but respect us enough to remember we are still their parent
While I always want my daughter to remember that I am the parent in our relationship, I still want her to be able to confide in me like she would a friend. I want her to be able to come to me if she's being bullied in school, or if a boy breaks her heart.
I want to be more than her biggest cheerleader in life, I want to be her confidant and the person she can't wait to tell everything to – both the good and the bad. While I realize that part of our relationship might change as she falls in love and her husband or significant other hopefully becomes her best friend, I still want her to know that I'm here with open ears and a non-judgmental heart.
3. That they will find a career they are passionate about that brings them immense fulfillment and purpose
I have no wishes to put pressure on my child to be the future president of the United States or to find the cure for cancer. If she chooses to follow those career paths, I will of course be extremely proud of her.
But I would also be extremely proud of her if she chooses a career as a garbage truck driver or as a stay-at-home Mom. At the end of the day, I simply just want my child to be happy and feel fulfilled in the work that she does.
If waking up at the crack of dawn to pour other people's trash into a truck is something she enjoys doing, well then I will support that wholly and be proud that she found work that gives her purpose.
I think all too often we can get caught up in our children being the "best of the best" and getting them to the front of the pack, that we forget happiness isn't always found once they get there. I will try my best to not forget this lesson as the years go on.
4. That they will find someone to marry or share their life with that brings out the best in them
Whether our children get married or not, we still all hope that they will find someone they love and adore to share their life with. After all, life is best with company!
We want them to have someone that is going to still be by their side long after we are gone. Hopefully someone they can start a family of their own with so we can have some sweet little grand babies to spoil too in our old age.
For that person they end up with, we only hope that they bring out the best traits in our child. That there is a light in our child's eye when they are around each other, and that they feel safe and can be themselves within their relationship.
5. That they will appreciate the body they've been given, and not be influenced by society's opinions on the matter
Perhaps this rings true for girls more than boys, but I think that anyone can be susceptible to feeling shame about their image or feeling down about the body they've been given.
I hope that my daughter is confident of her body and overall appearance, no matter what shape she is in or what size jeans she might fit into. I hope that she will not fall into the trap of caring what others think of her body, but be more focused on all the amazing things her body is capable of doing instead.
I never want her to be obsessed with the number on the scale or the amount of calories she eats. I want her to have balance and while eating healthy most of the time, be able to indulge in a treat here and there without any guilt. And as her Mom, I promise to do my part to not only never make mention of her weight or appearance in a negative light, but to try to be a good role model for her by showing only love for my own body and appearance.
6. That they will have enough joy in their life to override the inevitable heartbreak they will experience at some point
Heartbreak is just a part of life and something that we all know our children will have to face at some point. Our hope for them is that they have enough joy and zest for life that these moments of heartbreak do not crumble them into pieces beyond repair.
We hope that they cry all they need to in order to get over their heartbreak, but that they move on and are strong enough to withstand all the crap that life throws at them. Wishing we could be their protector always, but knowing that if we've raised them to be strong individuals, they won't need us to play that role forever.
7. That they will have a lifetime of health and wellness
I think this is the ultimate wish every parent has for their child, and usually starts from the time you find out you are pregnant with them. We all want our children to have as healthy and enjoyable lives as possible.
Today launches an Indiegogo campaign by BabyNome that has the potential to completely change the way we look at our children's health and providing the proper nutrition for them based on their individual needs.
Using just the saliva of a child as a sample, BabyNome analyzes DNA information to identify particular genetic characteristics that are known for predisposing an individual to vitamin and mineral deficiencies.
The scientific term for this field of study is Neutrogenomics (Nutrition & Genomics). It sounds like a complicated term and is something that I didn't even know existed until I partnered with BabyNome for this opportunity, but it is essentially a simple way of knowing how to keep your child healthy for a lifetime.
BabyNome uses a proprietary algorithm to analyze the DNA in saliva to explore potential predispositions to nutritional and well-being traits. They then provide a personalized nutritional and well-being report for babies, toddlers and children from 12 months to 7 years of age to help parents better understand these traits. Having this knowledge of conditions our children may be predisposed to can help us to create a healthier lifestyle for them based on their unique nutritional needs.
While any type of project that works with DNA can be a controversial one, I'm of the mindset that it can really help to know in advance the types of nutritional issues that our children may face as they get older. I see it as a chance to create a better quality of life for them from the get-go.
If you think a BabyNome report is something that you think would benefit you and your own child, you can pre-order today on Indiegogo.
Are you a parent or want to be one in the future? What wishes do you have for your children? Share with me in the comments below!