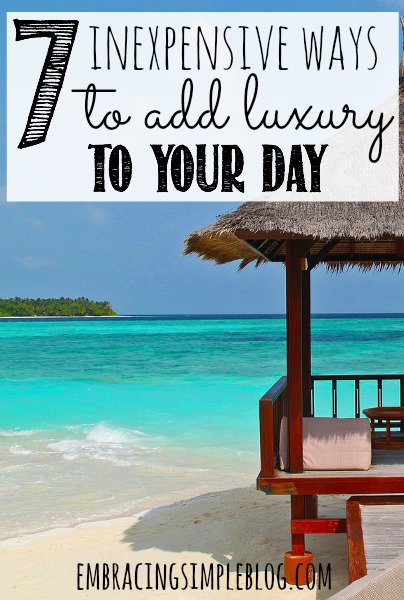 Sometimes we get so caught up in the busyness of our daily lives that we forget to treat ourselves to little indulgences or spice up our days at all.
It's easy to be stuck on autopilot and start to feel burnt out if you don't make time to do nice things for yourself just because.
While finding time to unwind or be able to afford something like a spa day or taking a vacation to the caribbean just isn't within everyone's grasp, it is possible to implement a few easy and inexpensive ways to add a little luxury to your day.
I find that simply breaking out of my routine and doing little things for myself to feel pampered really feeds my soul and make me feel taken care of and more relaxed. As a result, I tend to feel happier and more at ease in general. It's amazing how little changes can make such a difference in my daily grind!
Here are 7 inexpensive ways to add a little luxury to your day:
1. Wear your "nice" clothes
You know, the ones that you keep saving for that special occasion that never seems to happen. If busting those nicer clothes out of your closet will help give you more confidence today, then go ahead and wear them! Life is too short to be saving your best for only special occasions.
2. Bring some fresh flowers into your home
Whether you cut a single rose from your own garden, or pick up a small bouquet on your way home from work, this is an easy way to add a touch of luxury to your home and a smile to your face. I usually get my bouquets from Trader Joe's for $2.99. It's a cost I can definitely justify because of how much it brightens up my day when I walk into my kitchen and see them sitting on the counter.
3. Use cloth napkins
This one might sound a little silly, but it definitely works. I never use paper plates or utensils in our house, but we do use paper napkins on a regular basis. I find that something as simple as switching it up and using our fancy cloth napkins meant for dinner parties can make me feel like I'm dining in a nice restaurant. It's more of a fun experience!
4. Read a book outside
I did exactly this yesterday, and it was amazing. It felt like such a luxury to be reading a book just for fun and sitting outside on my deck listening to the birds chirp and the sun shining down on me. I highly recommend it! If you add a glass of iced coffee to the mix, it really feels luxurious.
5. Make your own fruit infused spa water
Slice up your favorite fruit (I really love a combination of strawberries, lemons, and blueberries), throw the fruit into a pitcher of water, and then chill in your fridge.
Sipping from your fancy "spa" water throughout the day will hardly cost you anything, but will be a refreshing pick-me-up and will likely get you drinking more water than you normally would too. It's especially nice on a hot summer day!
6. Give yourself a DIY spa treatment
There's something about taking care of myself that really makes me feel pampered and luxurious.
Buy a pretty nail polish and give yourself a manicure or pedicure at home, or slather on a facial mask and sit back and relax.
Something as simple as soaking in your bathtub would be a great way to unwind! Throw in some epsom salt, bubble bath, or essential oils and light a few candles for the ultimate "spa" experience.
7. Treat yourself
Walk or drive to a local bakery and treat yourself to a fancy pastry or something else that you wouldn't normally get to indulge in. Then find yourself a pretty spot to sit – perhaps on a bench in a nearby park, and relax and take in the sights while you enjoy your treat.
It won't cost much, but will allow you to feel indulgent for a little bit. Whenever I do this, I always feel like I've taken a mini vacation….. only a few dollars spent on a pastry is significantly less expensive than a trip would cost!
What are some ways you like to add a little luxury to your day? How do you treat yourself?