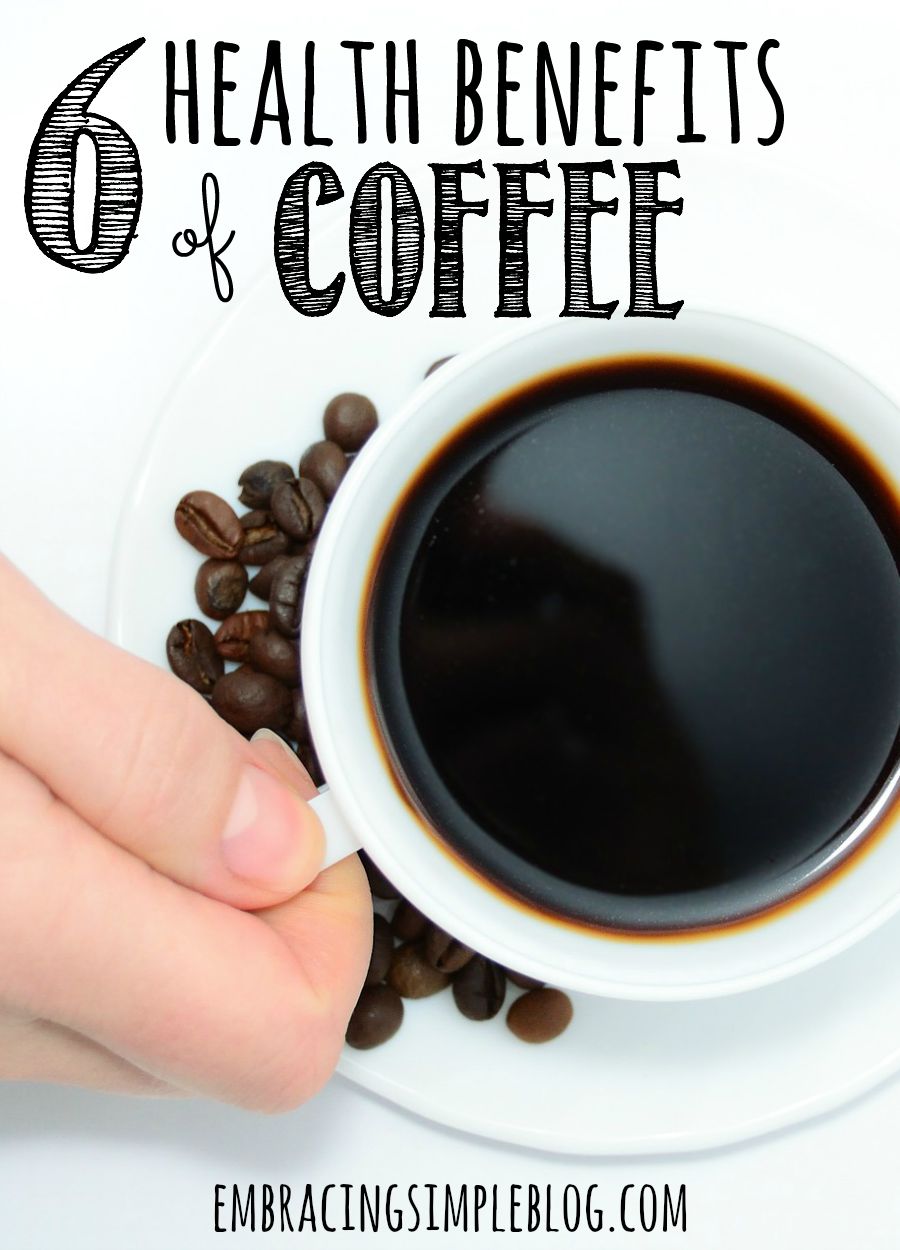 I am a coffee lover through and through. I need at least my one cup of coffee every morning to function on the same level as other humans. I love reading reviews and recommendations on The Full Moon Cafe, they really help me decide what I should buy next!
I typically have another cup in the afternoon as well, sometimes there is even a third cup in there somewhere….but who's counting?
My parents and grandparents have several cups of coffee throughout the day as well, and always have. So I think that my addiction is truly because caffeine runs through my veins 😉 .
I had a feeling that many of you may be dragging on this fine Monday morning as you start your work week, so I thought I would share with you an awesome list of 6 health benefits of drinking coffee that I found.
I thought it would be a great way to lose the guilt and drink that cup of joe worry-free today!
6 health benefits of drinking coffee:
1. Reduced risk of type 2 diabetes
A study led by researchers at Harvard School of Public Health found that increasing coffee consumption may reduce type 2 diabetes.
The researchers found that the participants who increased their coffee intake by more than one cup a day (on average, an increase of 1.69 cups per day) over a 4-year period had an 11% lower type 2 diabetes risk over the subsequent 4 years, compared with people who did not change their intake (source).
Type 1 diabetes runs in my family (my Dad is a diabetic), and I've actually seen several studies that have reported an increased frequency of type 2 diabetes in families where there is already a presence of type 1. I thought this was pretty interesting, and makes me feel better about my coffee habit too. I'm pretty freaked about the possibility of developing diabetes myself, so I'll do anything to help keep it at bay!
2. Decreased risk of heart disease and stroke
Type 2 diabetes alone makes heart disease and stroke more likely, and coffee has also been linked to lower risks for heart rhythm disturbances (another heart attack and stroke risk factor) in men and women, and lower risk for strokes in women.
A study of 83,700 nurses enrolled in the long-term Nurses' Health Study found a 20% lower risk of stroke in those who reported drinking two or more cups of coffee daily compared to women who drank less coffee or none at all. That pattern held regardless of whether the women had high blood pressure, high cholesterol levels, and type 2 diabetes (source).
3. Less likely to develop Alzheimer's and Parkinson's diseases
If you're an older adult, those extra cups of coffee you drink on a daily basis appear to definitely have an extra perk beyond keeping you alert.
A study monitoring the memory and thinking processes of people older than 65 found that all those with higher blood caffeine levels avoided the onset of Alzheimer's disease in the two-to-four years of study follow-up. Moreover, coffee appeared to be the major or only source of caffeine for these individuals (source).
Coffee consumption has also been shown to not only reduce the risk of Parkinson's disease, but to also help with movement symptoms for people who already have the disease (source).
4. Source of antioxidants
A study done by researchers at the University of Scranton found that coffee is the #1 source of antioxidants in the U.S. diet. "Americans get more of their antioxidants from coffee than any other dietary source. Nothing else comes close," says study leader Joe Vinson, Ph.D., a chemistry professor at the university.
Although fruits and vegetables are generally promoted as good sources of antioxidants, the new finding is surprising because it represents the first time that coffee has been shown to be the primary source from which most Americans get their antioxidants, Vinson says. Both caffeinated and decaf versions appear to provide similar antioxidant levels, he adds (source).
While this finding doesn't really say good things about Americans and our diets in general, I did find it fascinating that coffee is the primary source of antioxidants in our overall diets.
5. Decreased depression risk
A study led by Harvard School of Public Health researchers found that, among women, drinking coffee may reduce the risk of depression.
The researchers found the risk of depression to be 20% lower among women who drank four or more cups of caffeinated coffee than those who drank little or none. Those who drank decaf, tea, soft drinks, chocolate and other beverages containing less caffeine did not appear to be protected against depression (source).
Sounds to me like coffee is a great way to be happier! 🙂
6. Increased brain power
CNN reported that although caffeine cannot actually make you smarter, it does allow you to use the brain power you already have in a much more efficient and focused way (source).
I've definitely found this to be true for myself. When I've been properly caffeinated, I feel like I have a better ability to focus on the task at hand. This is especially true if I am running on little sleep and need an extra boost to help me work more efficiently.
Potential downsides of drinking coffee:
As with anything good in life, there are always potential downsides to be aware of.
1. Caffeine consumption should be limited during pregnancy
While I was pregnant with Little Miss, I managed to keep my coffee habit somewhat subdued and consumed under 200 mg of caffeine per day, as recommended by my midwife. This is about the equivalent of a 12 oz. cup of coffee, depending on how strong you make your own brew.
I always had my morning cup of coffee while pregnant (about 6 oz.) and then it wasn't until the very end of my pregnancy, after all the vital development was complete, that I allowed myself to have an afternoon cup as well on my more tired days.
The effects of caffeine consumption while pregnant aren't completely known, but it's better to be safe than sorry and not overindulge while you have a bun in the oven!
2. Those with anxiety disorders shouldn't partake
It's been shown that those who already have anxiety disorders may experience increased anxiety symptoms if they consume caffeine. It's probably best to stay away from coffee if you are someone who deals with anxiety on a regular basis.
More fun facts about coffee: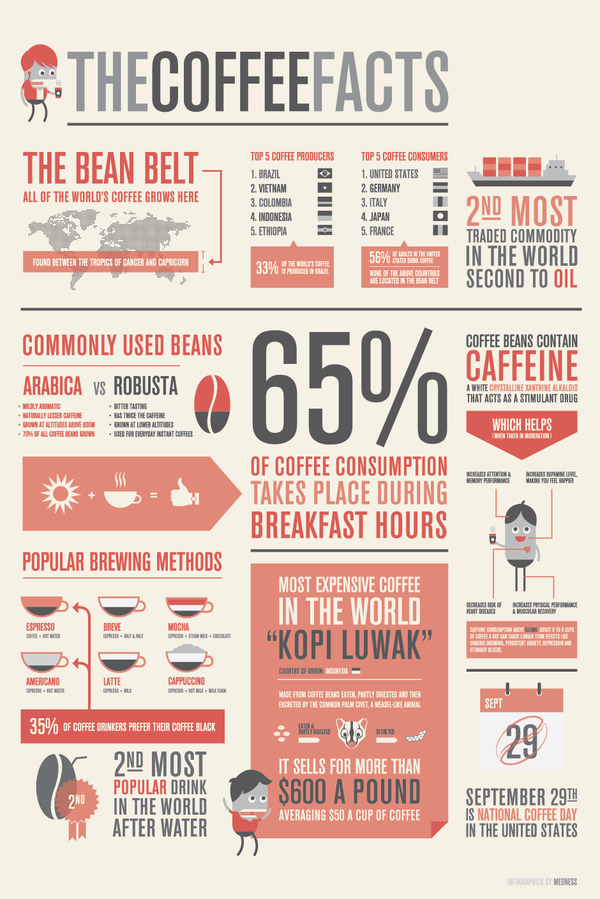 (infographic source)
Are you a coffee lover like me? If so, how do you take your cup of joe? I'll take mine with cream and a dash of raw sugar, please! 🙂