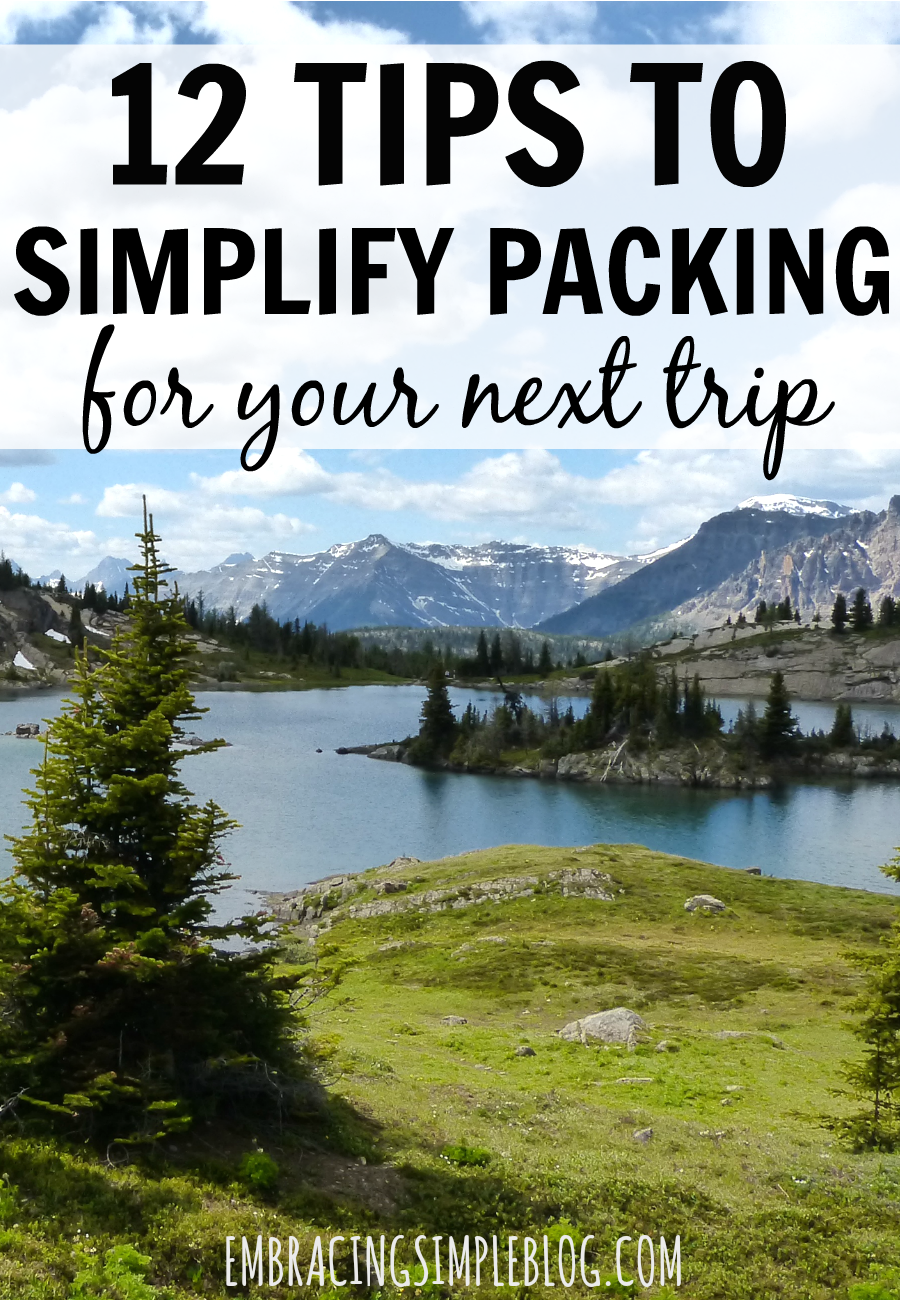 This is a sponsored post written by me on behalf of Atlantic Luggage. All opinions are 100% mine.
There's something seriously freeing about packing as light as possible when traveling.
After all, you want to be focused on creating memories while on a trip – not worrying about juggling all the stuff you brought with!
Pre-kid days, my Hubby and I would easily be able to pack only one small carry-on each and last for an entire week without even having to wear anything twice. On our 9 day honeymoon to Aruba three years ago, we both had just a carry-on and it was such a convenient and peaceful way to travel.
While our traveling adventures aren't quite as frequent since adding Little Miss to the mix, we have been on many a trip together in the last 9 years and have learned a lot about how to travel more simply while still being completely comfortable.
Today I'm sharing some tips I've used over the years to make the process of packing for your next trip as easy and painless as possible! I'm also sharing details below about the awesome opportunity you have to enter the Atlantic Luggage sweepstakes for a chance to Win a Yellowstone National Park Adventure, so be sure to check that out! 🙂
12 Tips to Simplify Packing for Your Next Trip:
1. Make a master list of consistent items you need to pack and keep it on file for all trips
I started doing this after Little Miss was born because I felt like I couldn't just toss everything into a bag without forgetting something important. It also helps to not have to recreate a packing list every single time we take a trip, but to just reference the one I already have created. Try to make a list of all the things you use throughout the course of an average day – like contact solution, underwear, a comb, etc. Write down all the things you use during your typical morning and nighttime routines as you go through them, and it will help ensure that you aren't forgetting anything important that you might need.
2. Take the time to look up the weather forecast at your destination
Planning ahead for exactly what you should be wearing to be comfortable is going to drastically cut down on the amount of clothing you'll need to bring. Of course you should plan for the weather being a bit different than what the forecast predicts, but it will give you a general sense of how many pairs of pants vs. shorts to bring and will hopefully allow you to cut down on the amount of each of these.
3. Choose one pair of shoes for any occasion
When traveling, I usually try to stick to one pair each of gym shoes, dress shoes, and flip flops. If you need to get more dressed up during your trip, choose a more neutral or black dress shoe so that it will go with any outfit you'd like to pair it with. This way, you aren't bringing multiples of something when just one will do.
4. Put small clothing items in zip top baggies inside your shoes
Putting items like underwear or socks into your shoes can not only save space in your suitcase by utilizing the area inside of your shoes, but it can prevent your shoes from crushing too.
5. Call your hotel ahead of time to see which items they provide for guests
If they provide things like a hair dryer or shampoo and conditioner, those are a few less things you have to pack and then remember to bring home. Take advantage of this! I usually never travel with a hair dryer because most hotels do provide them for guests.
6. Roll your clothes instead of folding if you are tight on space
I find that my clothes take up significantly less space when I fold them, which is always a nice option if you are wanting to travel light but need a bit more room in your suitcase. The only caveat to this is that I find my clothes are a little more wrinkly when I roll instead of fold. I find it worth it if it means bringing less suitcases with us or not having to pay a luggage fee though, so you just have to determine what works best for you.
7. Do laundry on your trip if possible
This is something I never did until we started traveling with Little Miss, but it is really nice if you have a laundry room available to you at your hotel. Not only does it cut down on the amount of overall clothing you need to bring, but you might even be able to come home with very little dirty laundry this way. I washed most of our clothes at the hotel before we came back from our road trip in early September, and it was such a treat to just have to unpack them when we got home instead of doing mounds of laundry all at once.
8. Travel only with carry-on luggage when flying
When we are flying, we almost never check bags. As I mentioned above, even on our 9 day honeymoon trip we both each had just a carry-on. And yes, I still had plenty of cute outfits to wear! Not only can this strategy save you fees for checking luggage depending on your airliner, but it will also save you the headache of your luggage potentially not showing up when you arrive to your destination.
I will say, this becomes a bit more difficult if you have a baby with you. At the toddler stage Little Miss is in, it is doable to travel this way, but definitely wasn't when we took a trip when she was 6 months old and I needed to pack significantly more items for her.
The bonus of carry-on luggage is that you can put your kids to work and make them haul it across the airport 😉 . Little Miss is apparently more than happy to help Mama out with this task!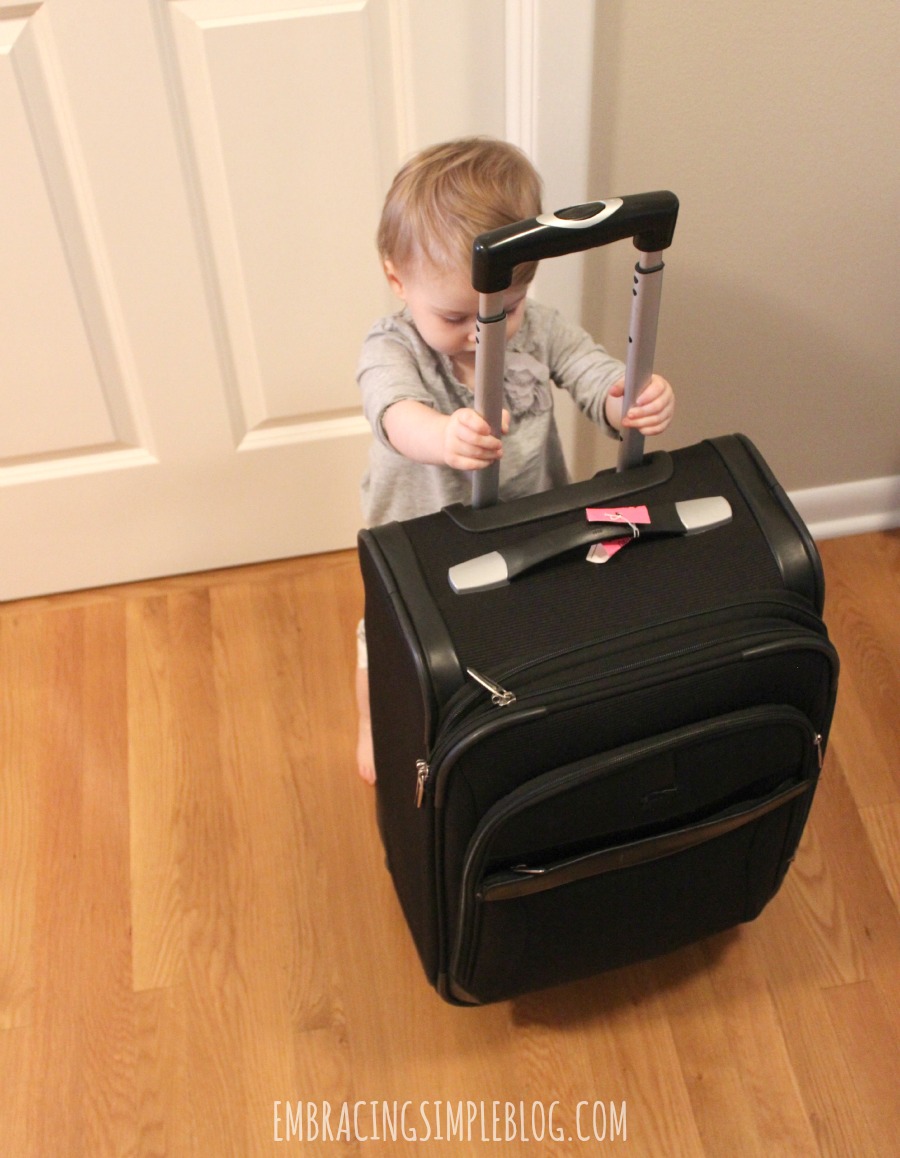 9. Buy travel-sized containers
While this is necessary to get through security if you only have a carry-on bag, it's also nice just in general to be traveling with less. We have reusable travel-sized containers that we put our shampoos and lotions, etc. into for every trip and it's nice even for road trips to only take what you need. A huge bottle of shampoo can really weigh down your suitcase and cramp your style!
10. Pack clothing that resists wrinkling
Clothing made from polyester blends, wool blends, microfibers, silk, and rayon tend to do much better with traveling than linen or 100% cotton. This isn't something I always practice, especially since Little Miss wears pretty much only cotton clothing and most of mine is too, but it's definitely nice to do if you can try. You'll avoid a lot of wrinkles this way!
11. Carry your essentials onto the plane
If you decide to check your luggage and not bring everything in a carry-on bag, make sure to have at least all of your important documents like your passport and other identification, any medications you need, essential toiletries, and one change of clothes. It's nice to have these things on hand in case your luggage gets lost. This way you can get by for a day or two at your final destination without too much inconvenience.
12. Invest in quality luggage
My hubby travels quite often for work, and I can't tell you how many suitcases we've gone through until we finally invested in more quality luggage that stands the test of time.
If you don't currently have quality luggage for your travels, Atlantic® Luggage can be a great resource for versatile, lightweight, and affordable luggage. Amazon is actually currently running a Special offer on Atlantic Luggage 21" Spinner so it's the perfect opportunity to invest in a quality carry-on bag to simplify your packing process if you don't have one already!
Now it's your turn to travel!
Atlantic Luggage is running an amazing sweepstakes where you have the opportunity to Win a Yellowstone National Park Adventure. This trip sounds like the trip of a lifetime to me! If you win, you will get to experience the beauty of Yellowstone National Park with your spouse and kiddos! It would be an adventurous family vacation filled with biking, hiking, fly fishing, kayaking or other countless activities that are available. Be sure to register today for your chance to win an adventurous trip for your whole family!
How To Enter:
Go to this link and fill out the sweepstakes form (shown below)
Dates:
The Sweepstakes runs 10/1/15 through 10/31/15
Winner will be chosen within 30 days following the close of the sweepstakes.
Prizes:
Win a family trip for four to Yellowstone National Park, courtesy of Atlantic Luggage!
Grand Prize package trip certificate is valid for: (all sweepstakes details can be found in the Official Rules, especially sections 5 and 6)
Trip is to last four days and three nights
Total prize value of $4,572
Do you have any trips planned in the near future? What tips do you like to use to simplify packing for trips?